Global agricultural equipment market revenues are likely to surpass USD 62 billion in 2020, according to Future Market Insights' new study. Unanimous projections for another rally in 2020 were stalled by the COVID-19 pandemic, and FMI rules out an immediate recovery in 2020. However, the fundamentals driving the market – notably lesser arable land, holistic attention to high crop yield, and high dependability of agrarian societies – are likely to sustain market growth over the long run.
FMI's latest study reveals that electrification, automation, and AI are the big three manufacturing-side trends – traditional manufacturers will either acquire or partner with Silicon Valley AgTech startups to be on the right side of the digital farming ecosystem
To Get Sample Copy of Report visit @ https://www.futuremarketinsights.com/reports/sample/rep-gb-523
Key Takeaways from FMI's Agricultural Equipment Market Study
Agricultural equipment suppliers are pairing with financial institutions to provide "rent to buy" option
Advanced agricultural practices such as precision farming for better yield per area will offer potential growth avenues to for manufacturers
Market players are leveraging digital and virtual platforms to promote their products to curb marketing expenses
Amidst the COVID-19 pandemic, businesses are shifting to localization of agricultural equipment to help local manufacturers survive
Europe remains the largest agricultural equipment market, attributable to strong foothold of manufacturers and booming agricultural industries in countries – Poland, and Germany.
"Augmented reality (AR) will emerge as the game-changer in the agricultural equipment market in the future. As social distancing is becoming the new normal amid the COVID-19 crisis, players are leveraging AR technologies to address several issues in the 24*7 working agricultural sector. Driven by AR, after-sales engineer will be able to look at the issue at the site and guide the local technician accordingly," says analyst at FMI.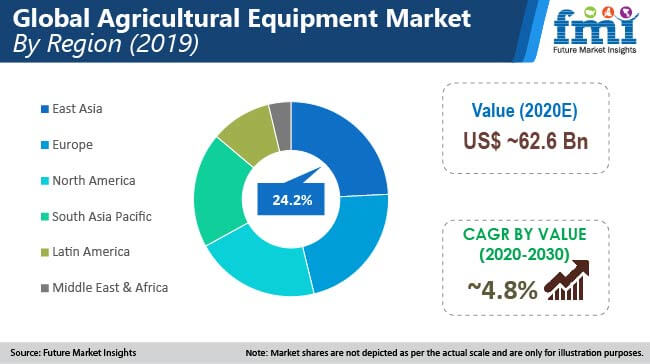 Agricultural Equipment Market: Competitive Intelligence
Key manufacturers in the agricultural equipment market include AGCO Corp, Deere & Company, CLAAS KGaA mbH, EXEL Industries, Bucher Industries AG, CNH Industrial N.V., and Kubota Corporation.
Market leaders are attuned to the age demographics of farmers in developed regions which is driving structural changes in farm set ups. Farms are scaling up with increased dependency on efficient operations at reduced cost. The concept of corporate farm ownership will also influence equipment purchasing decisions with more emphasis on the 'bottom line'. This in turn will lead to better buying power and more leverage for the agricultural equipment manufacturer.
Bigger players in the agricultural equipment market space are resorting to automation of their equipment for higher profit pools. Kubota Corporation for instance has introduced unmanned agricultural machinery which can be deployed remotely by farmers. This helps farmers with minimal capital to get access to cutting-edge equipment at a lower cost.
Similarly, regions such as APAC are doing well in the agricultural equipment landscape with high penetration of global players. CNH industrial NV is tapping into countries such as China and India with unique sugar cane harvesters that align with weather and farming conditions in these regions.
Download Methodology of this Report @ https://www.futuremarketinsights.com/askus/rep-gb-523
To Know More About Agricultural Equipment Market:
A new market research report published by Future Market Insights (FMI) on the global Agricultural Equipment Market report provides in-depth insights into the market demand trends and assessment of opportunities during the forecast period. The report analyses the Agricultural Equipment Market through four different segments- equipment type, category, ownership, and region. The agricultural equipment market report also offers detailed analysis of pricing analysis by different equipment type demand across end-use industry.
Agricultural Equipment Market: Taxonomy
The global Agricultural Equipment market is segmented in detail to cover every aspect of the market and present a complete market intelligence approach to the reader.
By Product type
Tractors
Rotavators
Threshers & Dehuskers
Power Tillers
Power Weeder
Plough
Baler
Seed Drill
By Category
Tractor Pulled / Attachment
Self-Propelled
By Ownership
By Regions
North America
Latin America
Europe
East Asia
South Asia & Pacific
Middle east & Africa