According to newly AI in fraud management industry analysis by Future Market Insights (FMI), the demand registered in the market will increase at a CAGR of 18.0% from 2021-2031.
The report also forecasts that the market will surpass a valuation of ~US$ 7.5 Bn by the end of 2021. As per FMI, rapid technological advancements in the IT & telecom industry have created prospects for AI in fraud management implementation. These technologies have become essential in improving economic competitiveness, thereby propelling the market growth.
AI in fraud management solutions can be utilized to detect and prevent fraud in real-time applications. AI capabilities help data scientists to determine which transactions are probably to be fake, while considerably reducing false positives.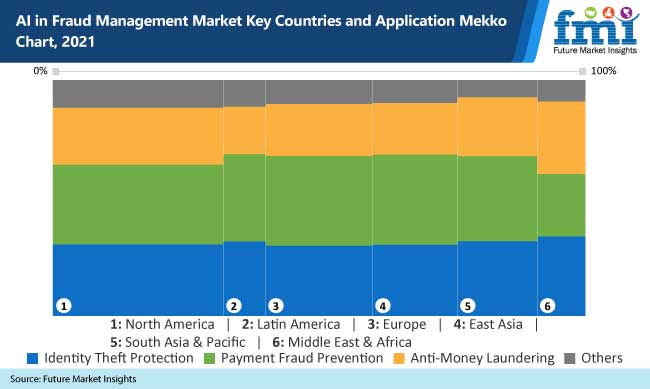 These technologies are more effective in fraud detection and prevention. The solution providers are integrating cloud platform and AI as well as machine learning in the fraud management services for providing an advanced cloud-based application to the customers for financial compliances.
Key Takeaways: AI in Fraud Management Market
By solution segment, the AI-powered fraud prevention software is anticipated to account for the leading share in the global demand for AI in fraud management during the forecast period. The segment estimated to grow at a robust CAGR of 18.6% through 2031.
The demand for AI in fraud management in small and medium enterprises (SMEs) is expected to rise at maximum pace as these organizations continue adopting AI in fraud management and cloud based solutions for better ROI.
Demand for AI in fraud management in IT & Telecom and BFSI sector is estimated to grow at impressive CAGR. Of these, BFSI industry is expected to account for leading share in AI in fraud management sales forecast during the forecast period.
North America is expected to lead the market followed by Europe in 2021. South Asia & Pacific is anticipated to emerge as the fastest growing region between 2021 & 2031.
The market in Japan is expected to progress at a CAGR of 20% through 2031.
In the U.K., sales are expected to increase at a CAGR of close to 21% over the next ten years.
Request a Complete TOC of this Report with figures:
https://www.futuremarketinsights.com/toc/rep-gb-13252
"Fraud detection has become more efficient and effective with the introduction of Artificial Intelligence (AI). AI technology, particular anomaly detection, has streamlined fraud detection and created a more efficient and accurate system for detecting and preventing fraud. Moreover, it also allows businesses to gain more information on their customers and enhance the capabilities of AI security software. Thus, it is more important than ever for organizations to utilize AI technology in fraud detection strategies," says FMI analyst.
COVID-19 Impact Analysis on AI in Fraud Management Market
The COVID-19 pandemic outbreak has disrupted many industries, including the AI in fraud management industry. The COVID-19 pandemic is fueling the need for increased businesses towards online, and e-commerce therefore digital fraud has spiked.
E-commerce fraud has considerably increased as COVID-19 continues to force retailers to take stores online to increase their sales and meet customers demand. For instance, at the initial stage of the coronavirus pandemic in the U.S., AI-based fraud management vendor Fraud.net saw a 40% surge in online retail fraud attempts.
AI in the fraud management market is expected to grow by 2.0X from 2020-2021 and would see a surge in demand amid the COVID-19 outbreak, as cloud-based AI fraud prevention becomes the new norm.
Hence, implementation of AI in fraud management tools would be highly valuable during the COVID-19 period due to several factors such as increasing use of electronic transactions amid pandemic crises, increased risks from remote access, and growing revenue losses due to fraudulent activities.
Thus, the demand for AI in fraud management solutions is estimated to grow around 14.4% to 16.6% Y-o-Y from 2019 to 2021.
AI in Fraud Management Outlook by Category
By Solution:
AI-powered Fraud Prevention Software
Services

Professional Services

Risk Assessment Services
Fraud & Risk Consulting
Integration & Implementation
Support & Maintenance

Managed Services
By Application:
Identity Theft Protection
Payment Fraud Prevention
Anti-Money Laundering
Others
By Enterprise Size:
Small and Medium Enterprises (SMEs)
Large Enterprises
By Industry:
BFSI
IT & Telecom
Healthcare
Government
Education
Retail & CPG
Media & Entertainment
Others
By Region:
North America
Latin America
Europe
East Asia
South Asia & Pacific
Middle East and Africa (MEA)
Advanced Analytics to Emerge as a New Trend
Some of the major providers are already taking advantage of advanced analytics to enhance their fraud detection toolkit. That might involve drawing on alternative data sources – such as purchasing history, tracking social media activities, and phone usage data – or using information about a customer's device type and location to validate the authenticity of a transaction. But across the payments sector as a whole, the use of advanced analytics is still at its infancy stage.
Advanced analytics techniques can dramatically improve the effectiveness and efficiency of fraud management. Firms can now use neural networks based on unsupervised and supervised architectures (such as pattern analysis and classification, respectively) to monitor dubious activities, rather than using traditional approach where fraud was detected by risk functions flagging suspect transactions for manual review. This is estimated to propel the demand for AI based fraud management software during the forecast period.
More Valuable Insights on AI in Fraud Management Market
FMI's report on the AI in fraud management industry research is segmented into four major sections – solution (AI-powered fraud prevention software and services (professional and managed), application (identity theft protection, payment fraud prevention, anti-money laundering, and others), enterprise size (small and medium enterprises (SMEs) and large enterprises), industry (IT & telecom, BFSI, retail & CPG, healthcare, education, government, media & entertainment, and others), and region (North America, Latin America, Europe, East Asia, South Asia & Pacific, and the Middle East & Africa), to help readers understand and evaluate lucrative opportunities in the AI in fraud management demand outlook.