The global sales of almond flour surpassed a value of US$ 1 Bn in the year 2015, after which the almond flour market has been thriving at a healthy rate. During 2019 – 2028, the global almond flour market will see a robust CAGR of over 8%, as indicated by a new Future Market Insights (FMI) report.
One of the first in gluten-free flours category, almond flour is significantly used within the bakery sector. The report opines that bakery will remain the prime consumer of almond flour through 2028, whereas emerging application areas such as dietary supplements and cosmetics & personal care products would be presenting lucrative opportunities to market players. Greater emphasis of agriculture promotion groups on setting sustainable standards for the almond cultivation space is projected to be an important factor that would shape the market for almond flour in the near future.
Get Sample PDF (including full TOC, Tables, and Figures) of Almond Flour Market @ https://www.futuremarketinsights.com/reports/sample/rep-gb-7931
Key Takeaways – Almond Flour Market Report
Although gluten-free/non-traditional flours are yet to mainstream, they have been capturing a considerable shelf space at retail stores, since the recent past.
Almond flour will witness accelerating consumer preference in the following years, with momentous expansion of vegan and paleo diet trends.
Blanched almond flour remains preferred over natural or unblanched almond flour, particularly among bakery sector operators. This preference is attributed to the former's superior texturizing properties.
Bakery sector, among all the industrial end users of almond flour, will continue to account for more than 50% share in the market.
The high-protein, low-carb profile of almond flour makes it a desirable ingredient for the manufacturers of dietary supplements.
High price point would remain a longstanding challenge to the growth of almond flour market.
Europe is projected to remain the significantly lucrative market for almond flour sales through 2028.
The grain-free trend continues to see increasing acceptance in bakery. While coconut flour and banana flour have been among the bakers' favorites, almond flour has garnered a lot of attention since the recent past. Blanched almond flour is usually in demand, as it acts as an excellent texturizer in terms of weight, appearance, taste, consistency, and mouthfeel. Its premium price however remains a notable constraint.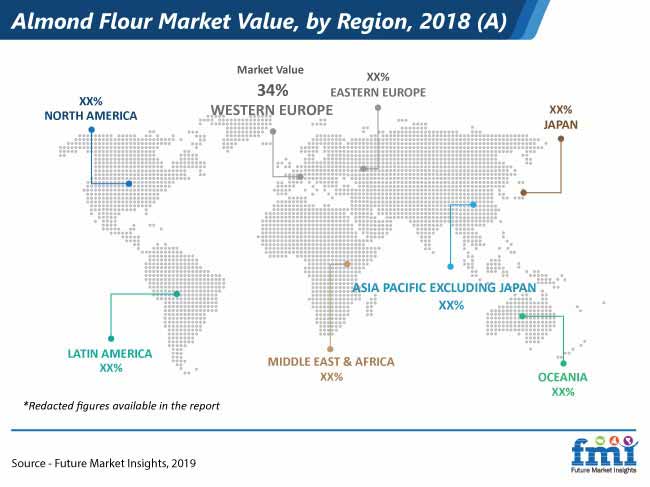 Market Leaders Emphasizing Application-specific Almond Products
Blue Diamond Growers, Inc., the almond specialist, recently launched a few products to extend the company's existing line-up. Some of the latest introduced products by the company include crackers made with almond flour and the refrigerated almond flour. While the former is successfully capturing retail shelves, the latter will witness spectacular sales owing to its higher shelf life. Eying the opportunities abound in consumer branded products, Blue Diamond Growers is innovating its almond flour offerings specifically for baking.
Besides Blue Diamond Growers, Inc., the report covers some of the globally leading almond flour manufacturers, including Bob's Red Mill, and Almondco Australia Ltd. The market for almond flour remains a fairly consolidated competition landscape, as the top five players continue to contribute nearly 40% revenues to the market. Companies are focusing on brand positioning and promotions in the premium healthy ingredients category. Several brands are looking up to capitalize on the expanding conscientious as well as affluent consumer base across developing economies.
Get more Insights Analysis on this Almond Flour Market @ https://www.futuremarketinsights.com/ask-question/rep-gb-7931
Learn More About the Report Inclusions
This study of FMI tracks the growth of global almond flour market over the projection period of 2019 – 2028, considering a set of growth influencers shaping up the performance of market. The market has been segmented on the basis of form, nature, end user, distribution channel, and region, and the report further sheds light on its competition structure. Insights on the key developmental imperatives of leading market players would help potential investors identify the profitable investment pockets in this market.