As per the revised report by Future Market Insights (FMI), the global fleet management market is expected to expand at a CAGR of 10.4% over the forecast period (2021-2031). The growth can be attributed to growing adoption of cloud computing and big data analytics solutions for streamlining fleet management operations.
The market valuation expected to surpass US$ 11.5 Bn in 2021. Cost benefits offered by cloud-based deployments of fleet management solutions and the widespread penetration of mobile networks, with the declining costs of hardware, will drive the market for the foreseeable future.
The COVID-19 pandemic has disrupted many industries, including the fleet management market. Services have been gravely affected including transport, tourism, and distributional services by mobility and travel restrictions for public health measures.
Disruptions in services are having an economic and trade impact, in offering inputs for economic activities such connecting supply chains and facilitating trade. However, the crisis is leading to greater adoption of online services in retail, education, health, telecom, and A/V sectors.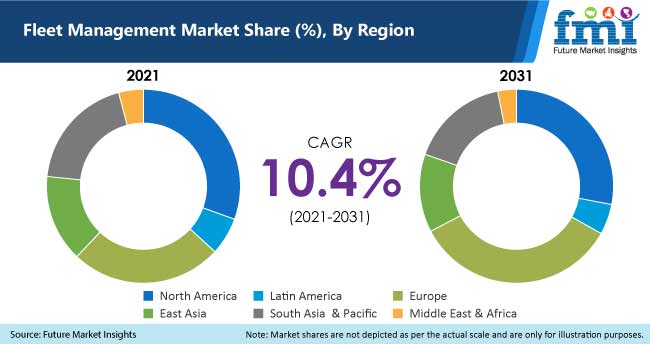 Suppliers are boosting efforts to enhance their online businesses as consumers adopt new habits that will contribute to long-term transition towards online services. Increased usage of online services during has highlighted connectivity and technology related inconsistencies.
Operators in developing and developed nations boosted data capacity and suspended data limits even as governments issued additional wireless connectivity spectrums to enhance service capacities.
Request a Complete TOC of this Report with figures:
https://www.futuremarketinsights.com/toc/rep-gb-3186
Key Takeaways from Fleet Management Market Study
Support and maintenance services will hold over 59% of the market share, driven by adoption in small and medium sized enterprises.
Transportation applications will exhibit higher demand, holding 37.8% of the market in 2021.
China will lead the East Asia market, exhibiting a CAGR of over 9.1% through 2031, with growing demand for cloud-based fleet management solutions.
The market in the U.S. is projected to expand at a CAGR of 10% through 2031, supported by presence of key players in the market.
Germany will hold the lead in Europe by the end of 2031, with a CAGR of over 11.8% owing to growing prominence of data analytics and predictive maintenance trends.
"Key players are focusing increasingly on the development and implementation of new solutions for improved fleet management operations. Digital transformation is expected to create opportunities in the foreseeable future with the incorporation of autonomous vehicles through the upcoming decade," says a Future Market Insights (FMI) analyst.
Who is winning?
The moderately consolidated fleet management market is characterized by players who are increasingly focusing on the development of new product offerings in addition to strategic geographical expansion efforts. Moreover, fleet management companies not only oversee financing and leasing, but also manage entire fleets.
Prominent players in the fleet management market include but are not limited to TomTom N.V., Trimble Inc., GoFleet Corporation, Cisco Systems, Inc., Geotab Inc., Digital Matter, GPS Trackit, Fleetmatics Group PLC, GoGPS, Wireless Links, Embitel, Gurtam, Teletrac Navman, Linxio, StreetFleet, TigerFleet, Zebra Technologies Corp., Ruptela, Trakm8 Limited, and WebEye Telematics Group, among others.
Market Segmentation by Category
Component:
Hardware

GPS Tracking Devices
Dash Cameras
Bluetooth Tracking Tags (BLE Beacons)
Data Loggers

Software

Fleet Management Software
Telematics Software

Services

Professional Services

Consulting & Advisory
Integration & Implementation
Support & Maintenance

Managed Services
Fleet Type:
Trucks/Cars/Buses
Ships/Vessels
Aircrafts
Railcars
Application:
Fleet Tracking and Geofencing
Vehicle Maintenance and Diagnostics
Driver Behavior Monitoring
Fuel Management
Others
Industry:
Construction
Manufacturing
Mining
Transportation
Oil and Gas
Others
Region:
North America
Latin America
Europe
East Asia
South Asia & Pacific
Middle East and Africa (MEA)
More Valuable Insights on Fleet Management Market
A revised market research report published by Future Market Insights (FMI) on the global Fleet Management market includes global industry analysis for 2016–2020 and opportunity assessment for 2021–2031. The report provides valuable insights on the basis of component (hardware (GPS tracking devices, dash cameras, Bluetooth tracking tags, data loggers), software (fleet management software and telematics software) and services (managed services, and professional services (consulting & advisory, integration & implementation, and support & maintenance); fleet type (trucks/cars/buses, ships/vessels, aircrafts, and railcars); application (fleet tracking and geofencing, vehicle maintenance and diagnostics, driver behavior monitoring, fuel management, and others); industry (construction, manufacturing, mining, transportation, oil and gas, and others), and across six major regions.
About Technology Division at Future Market Insights
The technology team at Future Market Insights offers expert analysis, time efficient research, and strategic recommendations with an objective to provide authentic insights and accurate results to help clients worldwide. With a repertoire of over 100+ reports and 1 million+ data points, the team has been analyzing the industry lucidly in 50+ countries for over a decade. The team provides a brief analysis on key trends including competitive landscape, profit margin, and research development efforts.