The astaxanthin market is poised to scale impressive heights, registering a robust 13.8% value CAGR through 2030. Widespread usage across a range of industries is the primary growth driver for the market.
Astaxanthins are a group of carotenoids which contain high antioxidant properties. Therefore, they have proven beneficial in containing and preventing various ailments ranging from cardiac arrest and stroke to debilitating cancers. Additionally, they are also known to stop the progression of Alzheimer's and Parkinson's diseases respectively.
Astaxanthins are extensively utilized across the aquaculture, cosmetics, animal feed and nutraceutical industries due to their useful properties. Based on these projections, the global market is only set to accelerate in the near future, opening up lucrative revenue prospects for vendors.
Global Astaxanthin Market- Key Takeaways
South Asia to emerge as a promising market, attributed to high demand for antioxidant and protein rich diets
Algae and crustacean-based natural astaxanthins to enjoy popularity, capturing 16.5% market share by 2030
95-97% grade astaxanthin to be the chief ingredient across key application areas
Major application is likely to be witnessed in the aquaculture segment
Powdered astaxanthin to capture over 80% market share by 2030
"Unhealthy lifestyles and subsequent habits is inducing a dietary shift among consumers, thereby heightening prospects for key vendors to introduce nutrient-rich foods," comments the FMI analyst.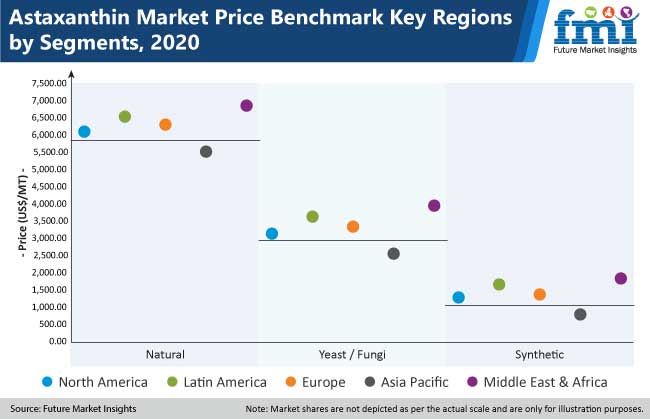 COVID-19 Impact Analysis
The COVID-19 pandemic has brought the entire world to a standstill. While various industries are struggling to address revenue shortfalls, prospects for the astaxanthin market appear extremely bright in the near future.
Attributed to its anti-inflammatory and antioxidant properties, natural astaxanthin is slated to play a pivotal role in modulating the immune response by regulating cytokine release among COVID-19 patients.
Acute inflammatory disease such as sepsis and acute lung injury (ALI) is a systemic inflammatory syndrome induced by the infection and causes multiple organ failure in extreme cases. Thus, to combat this, natural anti-inflammatory astaxanthin compounds are being considered as a viable option to reduce organ damage.
Therefore, continuous research and development efforts by the medical fraternity is laying fertile ground for the astaxanthin market to flourish in the remainder of the pandemic's duration.
For Information On The Research Approach Used In The Report, Ask Analyst @ https://www.futuremarketinsights.com/ask-question/rep-gb-1968
Competitive Landscape
Greater focus on flexibility while improving their production capacity is at the core of prominent players within the landscape. Those operating in animal feed, pet food, and food & beverage industries are refining supply chain efficiency, reducing the cost of operations to generate more profit in an extremely competitive environment.
Besides, product launches are given heavy emphasis as they provide the foundation for these players to remain afloat in the market. In addition, partnerships and collaborations also help expand vendors' product outreach.
In 2018, Algatechnologies, Ltd. became a major shareholder of a New Zealand plant-based natural health food company- Supreme Health, Ltd., to supply Asia-Pacific and China with astaxanthin and other algae-derivative products.
In 2020, BGG declared two main extensions of its farm capacity of astaxanthin as the company has seen a surge in its astaxanthin business lately as brand owners across the globe attempt to incorporate astaxanthin based formulations within their product portfolios.
More Valuable Insights on the Astaxanthin Market
A recent market study published by Future Market Insights on the astaxanthin market offers global industry analysis for 2010-2019 & opportunity assessment for 2020–2030. The study offers a comprehensive assessment of the most important market dynamics. The report is segmented on the basis of source (natural, yeast/fungi and synthetic), grade (> 98%, 95-97% and < 94%), form (powder and liquid), production technology (chemical synthesis and natural extraction), application (aquaculture, dietary supplements, food & beverages, personal care & cosmetics, pet food and animal feed) and region (North America, Latin America, Europe, East Asia, South Asia, Oceania and Middle East & Africa).
About Food Market Division at FMI
Expert analysis, actionable insights, and strategic recommendations – the food & beverage team at Future Market Insights helps clients from across the globe with their unique business intelligence needs. With a repertoire of over 1,000 reports and 1 million+ data points, the team has analysed the food & beverage industry lucidly in 50+ countries for over a decade. The team provides end-to-end research and consulting services; reach out to explore how we can help.