As per FMI – an ESOMAR-certified market research firm, the automated cell culture systems market will showcase a CAGR of 8% over the forecast period, 2020-2030.
High-throughput screening technology has turned out to be the need of the hour, especially with large number of biological/chemical compounds being tested to target a particular ailment. As such, leveraging automation and robotics for quick testing of biochemical or biological activities is bound to drive the automated cell culture systems market.
Besides, 3D cell cultures, which were cumbersome and costly earlier, have become feasible, owing to advent of spheroids. Also, they imitate tumors better due to hypoxic core and presence of nutrient gradient.
Researchers in the US and Germany have come up with a protocol to grow 3D cultures of generally used cancer cells to facilitate drug screenings. These factors will continue to put North America and Europe at the top pedestal in the automated cell culture systems market.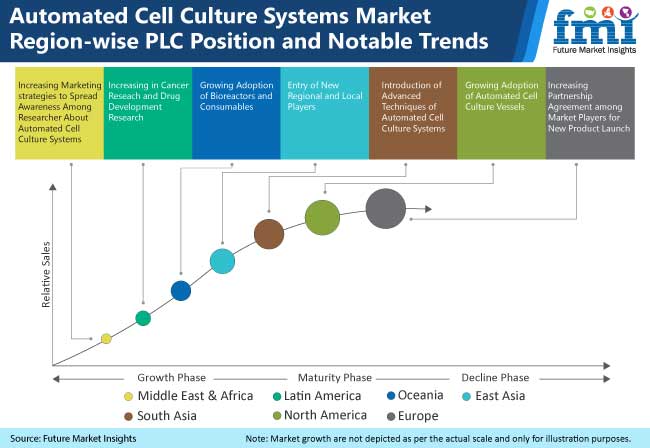 Further, requirement of cell lines for devising vaccines against COVID-19 infection will augur well for the automated cell culture market in spite of the pandemic-induced economic downturn.
Key Takeaways from Automated Cell Culture Systems Market
Consumables are expected to reach US$ 11 Bn by 2030
Academic institutes are expected to take greater interests in research related to cell culture over the forecast period due to increased government funding in developed countries
North America and Europe collectively accounted for more than 60% of market share in 2019
Infinite cell line cultures held close to 75% of market share in 2019
Request a Complete TOC of this Report with figures:
https://www.futuremarketinsights.com/toc/rep-gb-7860
"Advancements in technology, coupled with large-scale applications in cell-based drug delivery and drug discovery, are projected to drive the global automated cell culture systems market" – says the FMI analyst.
New Product Launches to Remain Key Strategic Focus of Market Players
Players in automated cell culture systems market are focusing on new product launches for expanding their global footprint and strengthening product portfolio.
For instance –
In Jun 2020, faCellitate announced launching "BIOFLOAT", its very first product to improve 3D cell culture.
In Mar 2020, BioProcess International started implementing single-use miniature bioreactors for supporting intensified cell culture by using functional performance indicators for assessing small-scale model
Corning Incorporated, in Oct 2019, came up with Corning Elplasia Plates and Matrigel for organoid culture. It was an addition to its 3D cell culture portfolio
Ori Biotech has started developing an automated way of manufacturing cell and gene therapies
In May, 2020, Sartorius announced launch of the Incucyte SX5® for live-cell analysis, for live-cell analysis experiments
Automated Cell Culture Systems Market: Competitive Insights
The global automated cell culture systems market is set to expand its scope in the forecast period, stimulated by increasing drug discovery research and diverse applications of cell lines in research purposes. Furthermore, automated cell culture systems are used for experiments in drug discovery research and in cell banking process. In addition, cost effectiveness and rise in alternative methods for traditional cell culture production is augmenting the adoption of automated cell culture systems.
Key market players covered in the market include Thermo Fisher Scientific, Corning Incorporated, Merck KGaA, Lonza, Sartorius AG, Tecan Trading AG, Hamilton Medical AG., Biospherix and Promocell GmbH.  Key players integrate their positions through acquisitions, mergers and new product launches.
Automated Cell Culture Systems Market Key Segment
Product Type
Automated Cell Culture Storage Equipment
Automated Cell Culture Vessels
Bioreactors
Consumables
Cell Culture Type
Finite Cell Line Cultures
Infinite Cell Line Cultures
Application
Drug Development
Stem Cell Research
Regenerative Medicine
Cancer Research
End User
Biotech Companies
Research Organizations
Academic Institutes
Region
North America
Latin America
Europe
East Asia
South Asia
Oceania
MEA
Want more insights?
The study provides compelling insights on automated cell culture systems market on basis of product type (automated cell culture storage equipment, automated cell culture vessels, bioreactors and consumables), cell culture type (finite cell line cultures, infinite cell line cultures), application (drug development, stem cell research, regenerative medicine and cancer research) and end user (biotech companies, research organizations, academic institutes), and across seven major regions.
About the Healthcare Division at Future Market Insights
Future Market Insights facilitates corporates, government, investors, and associated audiences in the healthcare sector to identify and accentuate vital aspects applicable to product strategy, regulatory landscape, technology evolution, and other crucial issues to achieve sustainable success. Our unique approach to gathering market intelligence equips you in devising innovation-driven trajectories for your business. Know more about our sector coverage here