The global beverage flavoring market size is anticipated to reach US$ 6,933.8 Mn by the end of 2029. According to a study by Future Market Insights (FMI), the market will show a steady rise at 5.6% CAGR between 2019 and 2029. According to the report, the rising demand for functional beverages will fuel market growth. The report provides a complete overview of the market, covering its key growth drivers, opportunities, restraints, and prevailing trends. It uses unique research methods to offer the most accurate analysis of the market.
It includes in-depth insights into the beverage flavoring market. Some of these are:
The estimated value of the market was at US$ 4,021.0 Mn in 2019. Through the course of the report's forecast period, the market is exhibited to show a steady pace of growth.
Regionally, South Asia and East Asia emerged as a key market for beverage flavoring market.
Europe and North America will remain stable as key markets for beverage flavoring.
Artificial category is expected to remain dominant in terms of type.
Key players are likely to focus on product innovations to stay relevant in developed markets.
"Increasing concerns regarding health and wellness among the consumers are anticipated to drive the market. It is also expected that the increasing per capita spending on nutritional beverages will have a progressive influence on the growth of the beverage flavoring market", said a lead analyst at FMI.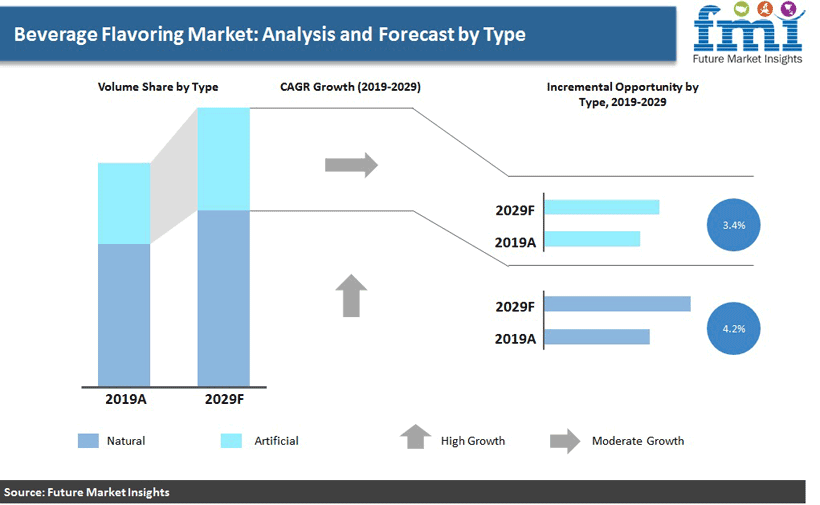 Rising Demand for Citrus Flavors Amidst Spread of Coronavirus to Boost Growth Prospects
Citrus has persistently remained one of the most popular choices in beverage flavor for drinks/beverages. It provides a wide range of taste and tones as compared to any other fruit flavor categories. Citrus flavors are accepted more in the beverage industry than other flavors and are constantly one of the most preferred flavors for sweet food and beverage products across the globe. Citrus flavors are widely preferred by the younger consumer group including Gen Z, and millennials, and also preferred by older consumer groups. The most commonly used citrus flavors are lime, lemon, and orange. The rising demand for citrus flavors is anticipated to boost the growth of beverage flavorings market.
Experts have revealed that the demand for citrus flavors obtained from natural resources will rise in the coming years. The recent spread of coronavirus outbreak has rendered consumers more cautious about their food and beverage choices. Besides this, the rising awareness about vitamin C present in citrus food will bode well for the beverage flavoring market. Vitamin C is believed to strengthen immune system in human. This is likely to fuel the demand for citrus flavors, in turn enabling growth in the market.
Who is Winning?
Some of the key players operating in the beverage flavorings market are Givaudan, International Flavors & Fragrances, Sensient Technologies, Takasago International Corporation, Symrise, Firmenich, Mane, Dohler, and Robertet SA among others.
Due to the increasing competition, some of the leading manufacturers of beverage flavors are concentrating on their product range development in the global market along with ensuring technical developments in the production process. Their growth approaches are further sustained by agreements with local/ regional producers across the emerging market. These companies are mainly focusing on catering to shifting consumer inclination across numerous applications.
Furthermore, mergers and acquisition persist as common approach among these players. Manufacturers intend to progress their regional manufacturing units by strategic partnerships.
REPORT SCOPE
Base year considered- 2019
Actual estimates/Historical data – 2014 – 2018
Forecast period – 2019 – 2029
Market Value in 2019 – US$ 4,021.0 Mn
Segments covered – Ingredient Type, Source, Form, and Region
Regions covered – North America, Latin America, Europe, South Asia, East Asia, Oceania, Middle East and Africa,
Key Players – Givaudan, International Flavors & Fragrances, Sensient Technologies, Takasago International Corporation, Symrise, Firmenich, Mane, Dohler, and Robertet SA
Growth Drivers

Launch of advanced technologies in flavor processing
Increasing consumer inclination toward clean-label and organic products
Growing demand for a variety of innovative flavors in soft drinks
Favorable regulatory environment for fortified products