The global body armor market size is expected to reach ~US$ 3,231 Mn by the end of 2029. According to a study by Future Market Insights (FMI), the market will show a steady rise at a CAGR of ~5.2% between 2019 and 2029. According to the report, rapid escalation on boarder line, ensuring soldier survivability, and cross-border terrorist insurgencies are the major factors that drive the requirement of body armor products in the market. The report offers a comprehensive overview of the market, covering key growth drivers, restraints, opportunities, and prevailing trends. It uses unique research methods to offer the most accurate analysis of the market.
It includes in-depth insights into the body armor market. Some of these are:
The estimated value of the market was at ~US$ 1,946 Mn in 2019. Through the course of the report's forecast period, the market is exhibited to show a steady pace of growth.
Regionally, North America dominates the body armor market globally.
East Asia emerges as one of key markets owing to increasing focus on defense and ensuring safety of soldiers in the country.
The level II segment body armors are expected to expand at highest CAGR owing to surge in demand in the law enforcement application segment.
The composite ceramics segment dominated the market in 2019 in terms of revenue.
Key players are likely to focus on new product innovation such as developing lightweight and hi-tech bodysuits for delivering enhanced performance, comfort, and flexibility.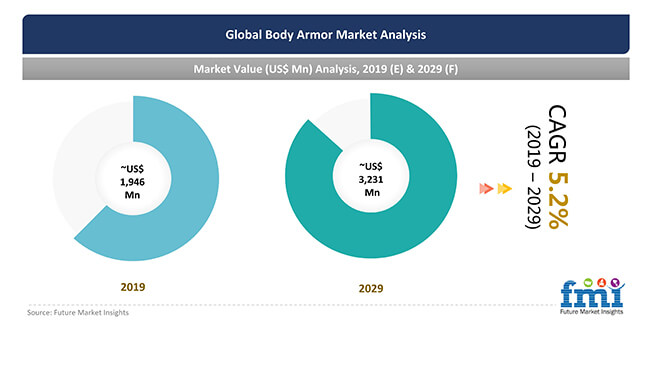 Soft Body Armor to Uplift the Market Scale
Soft body armor are the most preferred body armor among private security guards and policemen where flexibility and comfortable movement are of paramount importance. Advancement in technology, and growing security concern of guards, & policemen have pushed the market for lightweight body armor which is found as soft body armor. Technological innovations and modernization initiatives prompt security agencies and military forces to opt for the latest equipment. Moreover, flexibility and lightweight feature of soft body armor pushes the market further for higher usage.
Composite Ceramics Segment to Dominate the Market
The composite ceramic material of body armor are considered to hold the major market share in 2019 owing to its high usage in body armor. The composite ceramic material perform well in resistance of ballistic attack. Moreover, it is lightweight which gives the user of flexible movement and thus known for high performance material type.
Who is Winning?
Some of the leading players operating in the body armor market are BAE Systems; Aegis Engineering Ltd.; AR500 Armor; Craig International Ballistics Pty Ltd.; Ceradyne, Inc.; Hellweg International; Point Blank Enterprises, Inc.; Kejo Limited Company; Ballistic Body Armor Pty; Pacific Safety Products; and Safariland, LLC etc. As a result of increasing competition, companies are focusing on expanding their product portfolio with new innovation. In addition to this, mergers and acquisition remains a popular strategy among market players. Companies intend to expand their regional footprint through strategic collaborations.
For Information On The Research Approach Used In The Report, Ask Analyst @ https://www.futuremarketinsights.com/ask-question/rep-gb-11146
At present, industry players are focusing on developing lightweight, high performance body armor. Technological advancement such as liquid armor technology, using para-aramid material, CORDURA® technology boost the body armor manufacturers to innovate new products.
Get Valuable Insights into Body Armor Market
Future Market Insights, in its new report, presents an unbiased analysis of the global body armor market, covering historical demand data and forecast figures for the period between 2019 and 2029. The study divulges compelling insights on the body armor market based on product type (hard, soft, accessories), material type (steel, UHMWPE, aramid, composite, ceramic, others), application (defence & security personnel, law enforcement officers, and civilians), level (level i, level ii a, level iii a, level iii, level iv), region (North America, Latin America, Europe, East Asia, South Asia, Oceania, Middle East & Africa).
About Consumer Products division of FMI
Expert analysis, in-depth insights, and strategic recommendations – the Retail & Consumer Products team at Future Market Insights helps clients from all over the globe with their unique business intelligence needs. With a repertoire of over 500+ reports, the team has analyzed the consumer goods industry lucidly in 80+ countries for over a decade. We provide end-to-end research database on retail & consumer products market and consulting services; reach out to explore how we can help.