The global cacao beans market is anticipated to be valued at ~ US$ 10 Bn in 2019. Future Market Insights projects that the cacao beans market is expected to show a high growth rate of more than 7% in terms of value during the forecast period 2019-2029.
Cacao beans for a very long time have reached consumers in the form of chocolate blocks, and bars. Cacao beans, therefore, were in high demand in the industrial sector. But a recent rise in the demand for natural and organic products, with utmost transparency, has enabled cacao beans to gain popularity among household consumers and foodservice operators. Continuous innovation to incorporate chocolate in one form or other in products that they manufacture has increased the demand for cacao beans.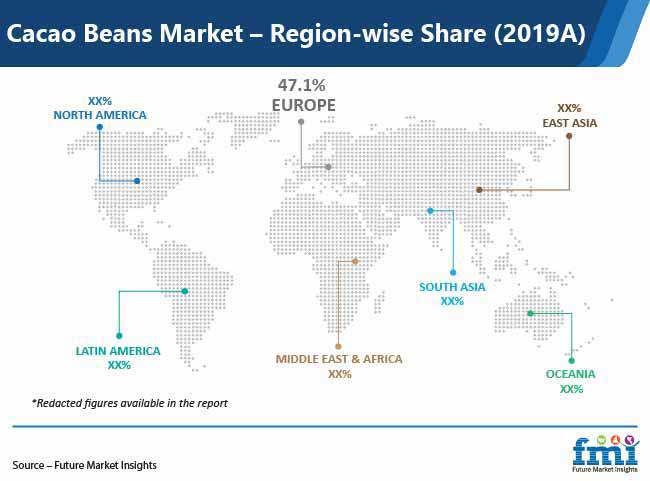 Key Takeaways from the Cacao Beans Market Study
Forastero cacao beans are highly used as the availability of this type of cacao beans is more than any other type. But the demand for Criollo beans is the highest as they are very rare and are cultivated less in commercial plantation due to their low yield
Cacao beans are primarily used in the bakery and confectionery sector. The demand for cacao beans is expected to increase significantly in the foodservice industry, especially in European countries
Leading manufacturers in the global market for cocoa are projected to come up with innovative and healthier cocoa products using cacao beans with the motive of attracting health-conscious consumers around the world. Raw chocolate bars, quinoa vegan bars, and 'ruby' chocolate are just some of the products companies have brought into the market to retain their health-conscious consumers
With the presence of leading cocoa grinders/processors in countries like Netherlands, Germany, Belgium, France, UK, and others, the European Union is expected to be the most lucrative region in the global cacao beans market throughout the period 2019 to 2029
Request a Complete TOC of this Report with figures:
https://www.futuremarketinsights.com/toc/rep-gb-11089
"Despite fluctuating prices and inconsistent supply-demand of cacao beans, the demand for chocolate products has not reduced. On the contrary, the incorporation of chocolate flavor in the pharmaceutical and nutraceutical industry has increased the demand for cacao beans globally. With that said, organic and high-quality cacao beans are being introduced in the market as consumers are willing to pay a premium price for quality products," says an FMI analyst.
While cocoa continues to be a popular flavour and ingredient for a majority of dessert preparations, the global cocoa industry needs more investments in order to maintain sustainable growth in the future. Prices of cocoa in the international market are increasing due to additional expenses incurred by manufacturers for getting certifications to distribute cacao beans in the market. Rising prices of cocoa and economic uncertainties in the global market are creating challenges for the global market for cacao beans. However, specific measures are being taken by regulatory bodies to curb this inconsistency.
Cacao Beans Market: Segmentation
The global cacao beans market is segmented in detail to cover every aspect of the market and present complete market intelligence to readers.
| | |
| --- | --- |
| Product Type | ForasteroCriolloTrinitario |
| End Use Application | Food and Beverages Bakery and ConfectioneryBeveragesDairy Products Syrup, Toppings and Fillings Other ApplicationsPharamaceuticalsCosmetic and Personal CarePet Food Household/RetailHoReCa/FoodService |
| Distribution Channel | B2BB2CHypermarkets/ Supermarkets Convenience StoresIndependent Grocery StoresSpeciality StoresOnline Retail |
| Region | North AmericaLatin AmericaEuropeEast AsiaSouth AsiaOceaniaMEA |
Who is Winning in Cacao Beans Market ?
Some of the key players operating in the cacao beans market are Cargill Inc., Theobroma B.V., Olam International Limited, Ciranda Inc., Edna Group, Barry Callebaut AG, Dutch Cocoa B.V., Kakao Berlin, Niche Cocoa Industry Ltd., PT. Danora Agro Prima, Nederland SA, Cocoa Processing Company, India Cocoa Pvt Ltd., United Cocoa Processors Inc., BT Cocoa among others.
The cocoa supply chain is concentrated both at vertical and horizontal levels as most of the cocoa and chocolate companies are strategically merging with competitors. For instance, key processors Barry Callebaut and Cargill after its merger with ADM shall produce about 70-80% of the world's couverture.
In January 2020, Häagen-Dazs has introduced two new ice creams, which contain ruby cacao. The ruby cacao beans used in these products have been sourced and processed by Barry Callebaut.
SoChatti, an artisanal brand of Trade Secret Chocolates, launched a 72% dark chocolate, crafted with cacao beans from sites like Peru, Tanzania, and Trinidad, which is squeezable vegan chocolate.
Mars, Inc. has collaborated with agricultural analytics company Nature Source Improved Plants to boost cacao yields. Mars is well-known for its candy bars which use cacao beans in its production, and is thus is interested in maintaining a sustainable cacao supply.
CACAO BEANS MARKET TAXONOMY
The global cacao beans market is segmented in detail to cover every aspect of the market and present complete market intelligence to readers.
Product Type
Forastero
Criollo
Trinitario
End-Use Application
Food and Beverages

Bakery and Confectionery
Beverages
Dairy Products
Syrup, Toppings and Fillings
Other Applications

Pharamaceuticals
Cosmetic and Personal Care
Pet Food
Household/Retail
HoReCa/FoodService
Distribution Channel
B2B

B2C
Hypermarkets/ Supermarkets
Convenience Stores
Independent Grocery Stores
Speciality Stores
Online Retail
Region
North America
Latin America
Europe
East Asia
South Asia
Oceania
MEA
Find More Valuable Insights on Cacao Beans Market
Future Market Insights, in its new offering, offers an unbiased analysis of the global cacao beans market, presenting historical demand data (2014-2018) and forecast statistics for the period from 2019-2029. The study divulges compelling insights on the cacao beans market based on the product type (forastero, criollo and trinitario), distribution channel (B2B and B2C) and end use application (food and beverages, pharmaceuticals, cosmetics and personal care, pet food, household/retail, foodservice/HoReCa) across seven major regions.