As per the findings of a new market research report by Future Market Insights, the call centre market reached a valuation of US$ 18.5 Bn in 2018, and the market is anticipated to expand at a healthy CAGR of more than 10% over the forecast period. The rising adoption of cloud-based call centre solutions and services, integration of technologies such as Artificial Intelligence, Customer Relationship Management, and Knowledge Management, and surge in the demand for omni-channel call centre solutions are the key factors shaping the growth of the call center market.
Key Takeaways of Call Centre Market Study
North America and Asia Pacific are key markets holding a significant share in the global call centre market. Increasing digitalization and growth in number of call centres are the factors driving the growth of the market in these regions.
The software/solutions segment is expected to hold a significant share in the global call centre market. Rising demand for solutions such as interactive voice response, intelligent call routing, and automatic call distributors are factors driving the growth of the software/solutions segment.
By deployment, the cloud-based segment is anticipated to retain its significant share in the global call centre market over the forecast period. Various call centre organizations are adopting cloud-based solutions to easily manage their daily operations and keep pace with the changing business landscape.
The retail and consumer goods vertical is expected to witness high growth, as retailers are moving towards omni-channel call centre solutions to offer a personal touch to customer interactions, while offering their support and services.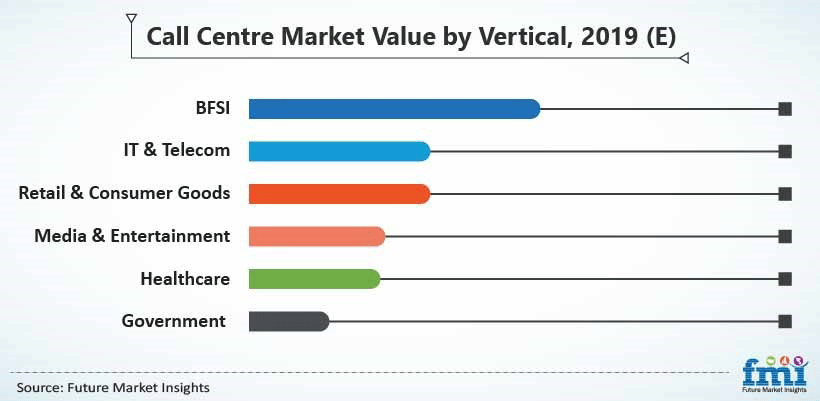 "Digital channels such as email, web chat, SMS, and social media have opened new doors for the growth of the call centre market. Moreover, with the integration of digital technologies, the success of call centres is now being measured by new metrics, which reflects their critical role in overall business performance."
Call Centres Becoming More Predictive and Social
In recent times, innovative call centre marketing plans have transformed them into experience hubs, where they are not only dealing with emergencies and customer calls but also driving positive interactions and delivering leads to sales and marketing teams, customer feedback to product teams, and key insights for product development and innovation. With advancements in predictive analytics, call centre organizations are keeping themselves one step ahead of their customers by anticipating their needs, and are helping enterprises in strengthening customer relationships.
For Information On The Research Approach Used In The Report, Ask Analyst @ https://www.futuremarketinsights.com/ask-question/rep-gb-11134
More Valuable Insights on Call Centre Market
Future Market Insights offers an unbiased analysis of the global call centre market, providing historical data of 2014-2018 and forecast statistics for 2019-2029. To understand the opportunities in the call centre market, the market has been segmented on the basis of component (solutions/software and services), deployment (on-premise, cloud-based, and hybrid), and vertical (BFSI, retail & consumer goods, IT & telecom, media & entertainment, government, healthcare, travel & hospitality, and others), and across six major regions.
About Technology Division at Future Market Insights
The technology team at Future Market Insights offers expert analysis, time efficient research, and strategic recommendations with an objective to provide authentic insights and accurate results to help clients worldwide. With a repertoire of over 100+ reports and 1 million+ data points, the team has been analyzing the industry lucidly in 50+ countries for over a decade. The team provides a brief analysis on key trends including competitive landscape, profit margin, and research development efforts.