The global catechin market size is expected to reach US$ 19.7 Mn by the end of 2029. According to a study by Future Market Insights (FMI), the market will show a steady rise at 3.1% CAGR between 2019 and 2029. According to the report, the rising demand for functional beverages will stoke growth in the market. The report offers a comprehensive overview of the market, covering key growth drivers, restraints, opportunities, and prevailing trends. It uses unique research methods to offer the most accurate analysis of the market.
It includes in-depth insights into the catechin market. Some of these are:
The estimated value of the market was at US$ 14.5 Mn in 2019. Through the course of the report's forecast period, the market is exhibited to show a steady pace of growth.
The U.S. emerged as a key market for catechin in North America.
China Emerged as the leading producer and consumer of catechin pushing market in Asia Pacific.
India and Japan expected to show steady demand for catechin through the forecast period.
Key players are likely to focus on product innovations to stay relevant in developed markets.
Get Free Sample PDF (including full TOC, Tables, and Figures) of Catechin Market @ https://www.futuremarketinsights.com/reports/sample/rep-gb-11069
"Catechin finds application in a wide array of beverages. For instance, products such as green tea often contain catechin. Spurred by rising applications in diverse industries, the global catechin market will record steady growth in the coming years," said a leading analyst at FMI.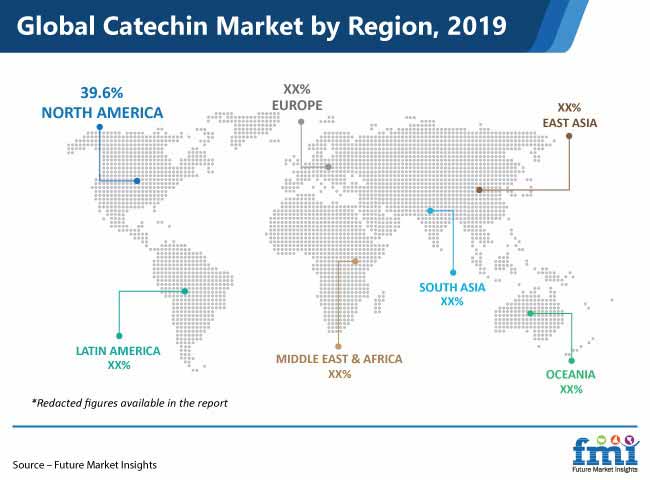 Rising Demand for Functional Beverages Creates Opportunity for Expansion
People around the world have become increasingly conscious about their health. The rising incidence of cardiovascular disease and the high prevalence of obesity are two primary factors causing the shift in consumer preference. This, coupled with the rising awareness the benefits of functional beverages, stokes growth opportunities for catechin producers. In addition to this, the market is expected to gain considerably from the increasing application in nutraceutical and pharmaceutical segments. Several catechin-based products are approved by FDA as prescription drugs. For instance, topical gels used in the treatment of external and perianal warts often contain catechin.
Who is Winning?
Some of the leading players operating in the catechin market are (Taiyo Green Power Co., Ltd., Koninklijke DSM N.V., TEAREVO, Hunan Sunfull Bio-tech Co., Ltd., Infré SA, Hunan NutraMax Inc., Guangdong Yilong Industry Group Co., Ltd., Hangzhou Qinyuan Natural Plant High-tech Co., Ltd., Shanghai Novanat Bioresources Co., Ltd., Chengdu Wagott Bio-tech Co., Ltd. and others.
As a result of increasing competition, catechin manufacturers are focusing on expanding their product portfolio and integrating the value chain. These companies are particularly focusing on catering to changing consumer preference across various applications.
Get more Insights Analysis on this Catechin Market @ https://www.futuremarketinsights.com/ask-question/rep-gb-11069
Get Valuable Insights into Catechin Market
Future Market Insights, in its new report, presents an unbiased analysis of the global catechin market, covering historical demand data and forecast figures for the period between 2019 and 2029. The study divulges compelling insights into growth witnessed in the market. In terms of application, nutraceutical, pharmaceutical, beverages, and mouth rinsing agents are key segments in the market. Regionally, the market covers North America, Latin America, Europe, East Asia, South Asia, Oceania, and the Middle East and Africa.