Citric acid is rapidly gaining popularity with demand rising considerably from multiple industrial end users, especially with a growing focus on clean label trends in the food and beverage industry. According to a report by Future Market Insights (FMI), the niche applications in pharmaceuticals and animal feed products will bolster sales and create lucrative opportunities between 2021 and 2031. According to the study the market sales revenue is expected to rise at more than 4.5% CAGR through the end of the forecast period in 2031.
Investments into the development of modern production technologies are positively influencing the rise in advanced offerings, while also cutting down costs. Emerging economies in particular including India and China will prove to be lucrative markets owing to easy access and low costs of raw materials.
Players in the citric acid market are expected to face challenges in terms of fluctuating costs, and changes in yield from natural sources which could impact profitability in the industry. However, the wide range of end use applications will play a key role in sustained growth for the market for the foreseeable future.
Key Takeaways from the Citric Acid Market Study
Powder forms of citric acid will hold the lead accounting for more than 60% of the global market in 2021.
Food & beverage applications of citric acid continue to dominate the market landscape, with impetus from use as additives and ingredients in dietary supplements.
United States the U.S. will emerge as a major market for citric acid, driven by demand from the food processing and pharmaceutical sector in the country.
Germany will showcase lucrative opportunities driven by increased levels of consumer awareness in digestive health.
China is projected to reflect relatively higher levels of growth owing to higher levels of lifestyle-based ailments, especially amidst the vast geriatric Chinese demographic.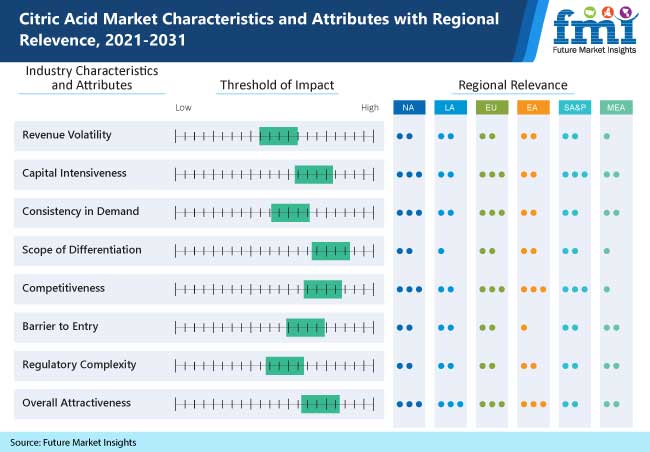 "The global citric acid market will witness substantial growth, with rising demand as a key intergradient in food & beverages, pharmaceuticals, personal care products and more. Furthermore, the increasing demand for organic food additives which is caused by the higher degree of consumer health awareness will prove to be a very important factor positively influencing market growth throughout the assessment period," says the FMI analyst.
Application of Citric Acid in Pharmaceuticals Creating Growth Opportunities
Growing interest in natural ingredients in pharmaceutical offerings, has increased the demand for citric acid. The material is considered to be an effective and financially viable excipient, with minimal risk of side effects in the human body. Leading players are exploring niche opportunities by widening their portfolio in the pharma sector.
The powder form of pharmaceutical grade citric acid will primarily find use in medicine production. Also, consumers are increasingly likely to spend on pharmaceutical products with clean label certifications. Better health outcomes are expected to result in higher levels of citric acid being incorporated in terms of pharmaceutical safety standard parameters. This is a key factor positively influencing the use of citric acid products.
Who is Winning?
Leading companies operating in the citric acid market are increasingly focused on investing into research and development to widen the scope of applications for citric acid products. In addition, manufacturers are also pushing towards strategic divestment and acquisition of assets to optimize profitability as per demand, with a growing interest in emerging economies.
Some of the leading players in the citric acid market include but are not limited to Shandong Juxian Hongde Citric Acid Co. Ltd., Archer Daniels Midland Company, Basel, Jungbunzlauer Suisse AG, Cargill Incorporated, Delek Group, Tate & Lyle plc., Weifang Ensign Industry Co., Ltd., RZBC GROUP, COFCO Biochemical (AnHui) Co. Ltd., and Pfizer Inc.
For Information On The Research Approach Used In The Report, Ask Analyst @ https://www.futuremarketinsights.com/ask-question/rep-gb-890
Get Valuable Insights on the Citric Acid Market
Future Market Insights, in its new offering, provides an unbiased analysis of the citric acid market presenting historical demand data (2016-2020) and forecast statistics for the period from 2021-2031. The study divulges compelling insights on the citric acid market based on application (acidulant, cleaning agent, binding agent, preservative, and others), by form (Powder and Liquid), By grade (food grade, industrial grade, and pharmaceutical grade), and by end use (food & beverages, pharmaceutical, animal feed, personal care, metal finishing & cleaning, and others) across seven major regions.
About Food Market Division at FMI
Expert analysis, actionable insights, and strategic recommendations – the food & beverage team at Future Market Insights helps clients from across the globe with their unique business intelligence needs. With a repertoire of over 1,000 reports and 1 million+ data points, the team has analysed the food & beverage industry lucidly in 50+ countries for over a decade. The team provides end-to-end research and consulting services; reach out to explore how we can help.