The citrus pulp market continues to reflect an upward trajectory, despite slowdown induced by COVID-19 pandemic. Opportunities arising from demand for health and convenience foods, and stockpiling behavior of consumers for essentials will provide opportunities for market players to leverage in the short term.
According to Future Market Insight (FMI), the citrus pulp industry is projected to grow steadily between 2020 and 2027. The new report has indicated that investments from food processing and animal feed producers are likely to be major influencers for developments in the sector for the foreseeable future.
As consumers seek better solutions for nutritionally balanced diets, public and private bodies are also investing in initiatives to mitigate nutritional deficiencies, particularly in developing countries.
The use of citrus pulp ingredients to bolster shelf life of end products is also contributing to demand as a viable alternative to conventional, synthetic preservatives. On the other hand, market players are expected to face challenges in terms of fluctuating yield and product pricing, owing to environmental factors such as weather and disease, and lack of standardization in regulations associated with organic citrus production.
The market report by FMI provides an exhaustive analysis of the sector, covering major influencers of the market. Some of the more important takeaways of the study include:
The market for citrus pulp was valued at more than US$ 598 million in 2019, with growth of the industry marginally hurt in the short term, owing to the covid-19 outbreak and associated lockdown restrictions on the food service industry.
Applications of citrus pulp products as bakery product ingredients contribute significantly to revenue generation, supported by the demand for non-GMO, natural, gelling and binding agents for confiture production.
Organic citrus pulp is rapidly gaining attention for food and personal care sector applications, driven by growing consumer aversion towards synthetic ingredients and additives. However, conventional sources of citrus fruits will remain dominant through 2027 owing to higher global yield.
Europe is a frontrunner in the global market, aided by a robust supply chain for retail distribution channels, and consumer interest towards natural foods. However, Asian markets, led by China and India are providing profitable opportunities for growth owing to rising investments in the regional food processing industry.
"Growing consumer demand for free-from, natural ingredients, and heightened levels of health awareness in recent years is supporting the application of citrus pulp products. Also, superior characteristics of binding and texturization in plant-based end products will dominate the industry in terms of food and pharma applications for the foreseeable future," said a lead analyst at FMI.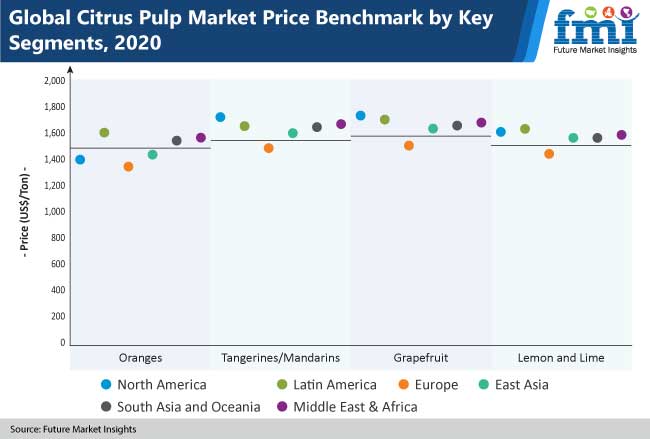 Coronavirus Impact on Citrus Pulp Market
The rapid worldwide spread of the coronavirus pandemic has had a moderate impact on the citrus pulp market, especially as demand from the food service industry has been restricted by lockdown regulations imposed by governments in many parts of the world. However, the market is likely to recover towards 2021 as steps are taken to open up economy gradually.
Improved access of technologies for food processing operators in terms of packaging and storage capabilities is expected to create a favorable environment for the industry. This will provide further impetus to the citrus pulp market as consumers display increased willingness to spend on healthy foods to minimize health risks from the covid-19 virus.
Further, changes in consumer behavior towards stockpiling food, personal care, and pharmaceuticals is also likely to bolster demand for citrus pulp and its derivatives creating lucrative opportunities for market players in the short term.
For Information On The Research Approach Used In The Report, Ask Analyst @ https://www.futuremarketinsights.com/ask-question/rep-gb-12668
Who is Winning?
In its latest report, Future Market Insights has discussed a detailed analysis of business strategies considered and employed by leading producers in the citrus pulp market. Prominent participants in the industry are focusing their resources towards the development of new citrus pulp derivative products, aimed towards new end user industries to expand scope of revenue generation.
Some of the citrus pulp players include Cargill Corp., Compania Espanola de Algas Marinas S.A., E.I. DuPont De Nemours and Company, Fiberstar Inc., Citromax S.A.C.I., CP Kelco U.S. Inc., Herbafood Ingredients GmbH, Firmenich SA, Lucid Colloids Ltd., Quadra Chemicals Ltd., Naturex SA, and Dohler among others.
About Food Market Division at FMI
Expert analysis, actionable insights, and strategic recommendations – the food & beverage team at Future Market Insights helps clients from across the globe with their unique business intelligence needs. With a repertoire of over 1,000 reports and 1 million+ data points, the team has analysed the food & beverage industry lucidly in 50+ countries for over a decade. The team provides end-to-end research and consulting services; reach out to explore how we can help.