A new study of Future Market Insights (FMI) estimates the global spending on clinical trials in 2019 at ~US$ 90 Bn, recording a ~4% Y-o-Y over 2018. The healthcare sector is closing in on a new era of clinical trials, which are more engaged with patients, streamlined and connected. With development costs reaching record highs and patents approaching cliffs, companies are strengthening their R&D efforts to keep pace with change. Medical device and pharma giants are already eyeing better approaches for clinical trials, implementing a combination of their current systems and better technologies to ebb challenges in critical areas – orphan drugs and rare diseases.
The ubiquity digital technologies is evidently growing, as these (including but not limited to ingestible devices, sensors, and wearable health monitors) hold the potential to disrupt the aspects of clinical trials. Digital technologies are revolutionizing the antiquated process of new drug development, even as optimizing the way health data is collected, measured, and assessed.
Download the Sample copy of Report with Table of Contents and Figures @ https://www.futuremarketinsights.com/reports/sample/rep-gb-384
According to the study, the clinical trials landscape is witnessing a paradigm shift toward patient centricity, in a bid to incorporate perspective of patients during the clinical trial design. Clinical trial sponsors have aligned their methods with the voice of patients, by launching communication channels during the study's execution. Key enterprises are adopting unconventional approaches by implementing site-centric method, using operational support systems and technology for bringing studies to the trial-naïve physicians.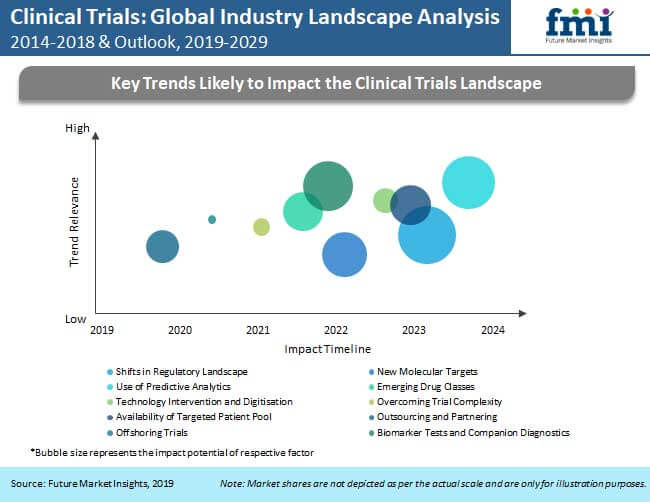 Industry Sponsors Account for Majority Clinical Trial Spending
The most remarkable advances in medicine are realized from sponsorships of companies for clinical trials, in the anticipation of turning a profit. A notable percentage of clinical trials being conducted to support approval of vaccines, devices, or drugs, and track their safety, have been industry-sponsored in recent years.
The study estimates industry-sponsored clinical trials to account for ~60% of overall spending in 2019, and in the foreseeable future. Recent studies state that industry-sponsored trials yield positive results compared to academic-run trials, which also account for a significant share of clinical trial spending.
According to FMI, sponsors, such as academic institutes, research institutes and medical centers, are estimated to account for ~30% clinical trial spending in 2019. As the imperativeness of evidence-based therapies continue to be progressively emphasized, most of the randomized clinical trials are driven by the ability of developing profitable new therapies. Guidelines recommended by regulatory bodies for clinical trial enrichment, and risk-based monitoring are likely to lay the groundwork for more targeted approach toward cost-intensive clinical trials.
The study offers a long-term forecast of the clinical trials landscape for the period between 2019 and 2029. The clinical trials landscape is projected to record a 4.5% CAGR through 2029.
Our advisory services are aimed at helping you with specific, customized insights that are relevant to your specific challenges. Let us know about your challenges and our trusted advisors will connect with you: https://www.futuremarketinsights.com/customization-available/rep-gb-384
Clinical Trials Landscape: Stakeholder Assessment
A significant proportion of clinical trials were initiated by large pharmaceutical companies, with Bristol-Myers Squibb, AstraZeneca, Merck & Co., Roche, and Johnson & Johnson rounding out the top 5 in terms of the number of trials.

Emerging pharmaceutical and biotechnology companies are continuing to exert their influence on the clinical trials sector, with a robust pipeline of therapeutic agents paving the way.

Companies such as Bristol-Myers Squibb, Merck & Co., Amgen, and some others focused their efforts on clinical trials for currently approved drugs to obtain marketing expansion, while companies such as AstraZeneca, GlaxoSmithKline, Johnson & Johnson, among others have a greater focus on drugs with no prior marketing authorization.

While assessing the therapeutic area focus, most companies heavily depended on oncology, where the number of clinical trials initiated was disproportionately large compared to the rest of their respective portfolios. Only a limited number of companies had a diverse allocation of therapeutic focus.