Compound semiconductor materials are critical building blocks for next-gen electrification technologies, and are slated to be at the core of nearly every prominent industrial sector of the 21st century. Recent analysis by Future Market Insights (FMI) reveals that global compound semiconductor material market will grow at 7.2% CAGR through 2030.
Think tanks in various regions are striving to develop new materials and device technologies to keep pace with rapidly emerging gallium nitride (GaN) power device industry.
The semiconductor manufacturing space has been progressing considerably over the past decade, owing to advancements in nanotechnology. At present, nanoparticles are utilized in doping process to develop semiconductor sensors accenting substantially high scales of accuracy.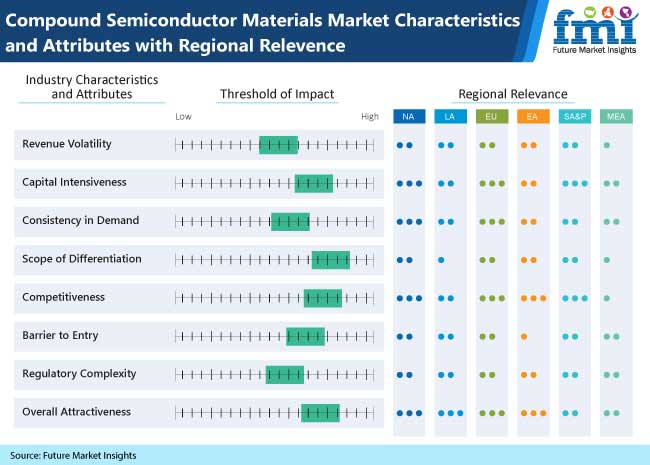 Compound Semiconductor Materials Market
Market to grow at 7.2% CAGR over 2020-2030
Adoption of silicon carbide (SiC) based compound semiconductor materials to surge in coming years
LED epitaxial wafers and lasers to remain key application areas
Presence of well-established technology space to drive markets in North America and Europe
Visit For Sample>> https://www.futuremarketinsights.com/reports/sample/rep-gb-12410
COVID-19 Impact on Compound Semiconductor Materials Market
As the COVID-19 pandemic rages across continents, market players are swiftly changing their manufacturing practices and focusing on priorities to fulfil the demand of pandemic that has capped the need for market-centric semiconductor materials.
Export-reliant regions are already at the wrong end of the COVID-19 curve, amid uncertainties in global economy. While various manufacturers of compound semiconductor materials are either shutting down or reducing their production due to inadequate downstream demand, some have suspended their production units as a preventive measure by the governments of respective countries to battle the COVID-19 contagion.
For any queries linked with the report, ask an analyst >>https://www.futuremarketinsights.com/ask-question/rep-gb-12410
Samsung Electronics shut down its operations in South Korea in March 2020, and for about 45 days in India from March through April 2020.
Qorvo reduced its manufacturing for Q1 of 2020 and anticipates the revenue to dip as the COVID-19 pandemic is affecting smartphone production and consumer demand more than expected.
"Nanotechnology is broadly used in production of compound semiconductor materials with significantly huge surface area to volume ratio, leading to materials with greater surface area depending aspects, which are leveraged for manufacturing electronic devices. In addition, the technology is commonplace in manufacturing of semiconductor devices for smartphones and automotive industry," says analyst at FMI.
Compound Semiconductor Materials Market – Competitive Intelligence
The global compound semiconductor materials market is highly fragmented, given presence of tech-driven players emphasizing on product differentiation. Majority of players are zeroing in on capacity expansions and product launches in order to cater to rising demand, for instance,
With silicon carbide (SiC) wafers running short in supply, Cree is striving to boost its capability by almost 30X by 2024 and to allocate huge investments for its GaN business.
OSRAM has rolled out novel OSRAM 24V TEC Flex pipeline that provides consistent illumination for wide array of outdoor and indoor use cases.
Sumitomo Electric Device Innovations Inc. (SEDI) has procured MOCVD system from Aixtron in a bid to stretch its production capability of GaN-on-SiC radio frequency (RF) equipment for wireless use cases such as satellite communication, radars, and base stations for swiftly growing 5G networks.
General FAQs:
Can I receive market report created as per particular region (s)?
Although the market report is created as per global trends and industry dynamics, our analysts can also offer reports for specific regions or countries according to your needs.
Does the market report offers detailed background of mentioned players?
Apart from the market players covered in the report, we provide insights about other players that are associated with the global compound semiconductor materials market.
Can we get market size and growth rate of any year?
Yes, we provide market size and growth rate (both in terms of value and volume) of any year within the specified historic and projection timeframe.
To Know More About Compound Semiconductor Materials Market:
A new market research report published by Future Market Insights (FMI) on the global compound semiconductor materials market report offers comprehensive insights into the market demand trends and analysis of opportunities over the forecast period, 2020-2030. The report examines the compound semiconductor materials market through three different segments – material type, application and region. The compound semiconductor materials market report also provides extensive assessment of pricing by different key market dynamics, life cycle analysis, and technologies that are being deployed in the manufacturing of compound semiconductor materials and product adoption across several end-use industries.