Container liner sales will consistently increase driven by application across diverse sectors. A study of Future Market Insights (FMI) presents a positive growth forecast for the container liner market at 4.7% CAGR between 2021 and 2031.
After a period of tepid sales amid restrictions imposed in response to the COVID-19 outbreak, growth will gradually recover. Expansion of packaging and food industries will present lucrative prospects for growth over the coming years.
Container liner as a bulk packaging solution has gained immense popularity across the world. It is increasingly used for transporting bulk cargo safely from one part of the world to another. These reusable bulk container liners are used in shipping loose bulk cargo, which is yet to be filled inside the container to avoid tampering while transiting.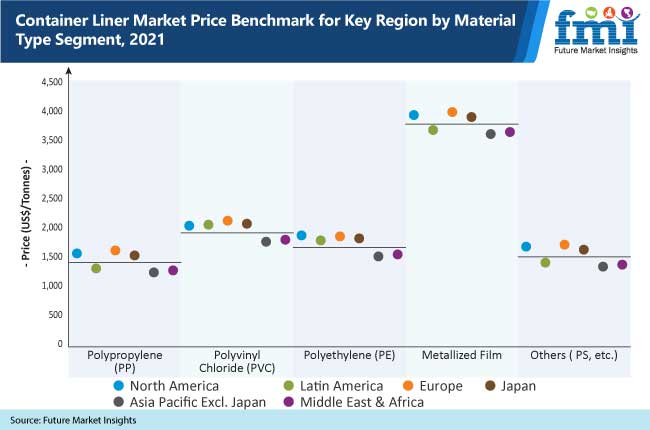 The availability of different types of container liners such as end fill to cater to specific industry requirements will emerge as the chief growth driver. As per the report, end fill and wide access container liners will remain highly sought-after.
The availability of container liners has addressed the demand for protective and safe packaging solutions in the agricultural, chemical and pharmaceutical industries.
In the last few years, manufacturers have been focusing on the use of recyclable materials such as Polypropylene (PP), Polyvinyl Chloride (PVC), and metallized films. This is intended to ensure that adverse effects on the environment are curbed.
Such steps taken towards introducing sustainable packaging solutions will bode well for the market.
Key Takeaways from Container Liner Market
By material type, polypropylene material holds the dominant share of nearly 40% in the market.
The U.S. has emerged as a key market, accounting for nearly 87.8% of the North America container liner market in 2021.
After two consecutive years of marginal sales in 2020 and 2031, the U.K. market will exhibit 5.6% y-o-y growth by the next decade.
Rising in demand in the pharmaceutical sector will support growth in Germany and France.
Japan will emerge as an attractive market, driven by increasing application in the building and construction sector.
"Manufacturers are focusing on expanding their footprint globally. As a result there is high focus on strategic collaborations. Besides this, increasing emphasis on launching sustainable packaging solutions will drive growth in the market in the coming years." says FMI analyst.
Demand for Lightweight Protective Packaging Solution for Bulk Cargo
A new packaging trend of lightweight packaging materials and products is witnessed in the industrial packaging and shipping industry. All requirements of these latest trends are met by container liners used for packaging and transport of dry, liquid and granule forms of bulk cargo.
The easy handling of bulk packaging solutions such as container liners, which are easy to store and flexible since they can be folded and can be packed in small-sized packs will aid its application. The easy to carry packaging and less space-consuming attributes of container liners make them easy to be shipped from manufacturers to end-users in a cost-effective way.
Container Liner Market by Category
By Material Type:
PP ( Polypropylene)
PVC ( Polyvinyl Chloride)
PE ( Polyethylene)
Metallized Film
Others (PS, etc.)
By Capacity Type:
By Product Type:
End Fill
Open Top
Top Fill
Wide Access
By End Use:
Agriculture
Chemical
Building & Construction
Mining
Food & Beverage
Pharmaceutical
By Region:
North America
Latin America
Europe
APEJ
Japan
MEA
Container Liner Market Landscape
Berry Global, Inc. and Grief, Inc., are the top players operating in the Container Liner market. Furthermore, LC Packaging International B.V., and Display Pack, Inc., are some of the leading players in the container liner market. Key players contribute almost 30-35% of the global market.
Container Liner Market Report
Future Market Insights, in its new report, offers an unbiased analysis of the global Container Liner market, analyzing historical demand from 2016-2020 and forecast statistics for 2021-2031. The study reveals growth projections on the Container Liner market on the basis of material type (Polypropylene, Polyvinyl Chloride, Polyethylene, Metallized Film and Others), capacity type (20 foot, 30 foot, 40 foot), product type (End Fill, Open Top, Top Fill, Wide Access and the end-use (Agriculture, Chemical, Building & Construction, Mining, Food & Beverage, Pharmaceutical sectors) across six regions.