According to a recent report by Future Market Insights (FMI) the market for corrugated automotive packaging is likely to reflect moderate growth from 2020 to 2030. The sector is expected to benefit from sustainability initiatives in the packaging industry. The growth trajectory of the global corrugated automotive packaging market is projected to be significantly affected throughout 2020. A substantial dip in comparison to previous years is likely, largely owing to the effects of the coronavirus pandemic on the global automotive sector.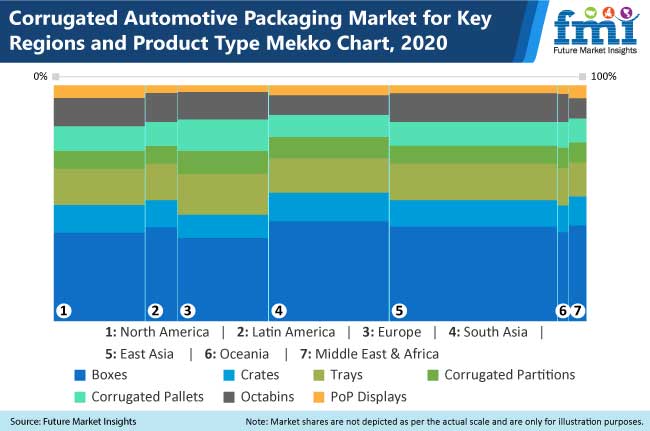 Ask an Analyst @ https://www.futuremarketinsights.com/askus/rep-gb-11375
According to the report applications of corrugated packaging will primarily find use for lighting components, owing to safety standards associated with electronic parts, with boxes remaining a popular option for efficient logistical supply chain operations. The market is expected to gain from industry acquisition and capacity expansion strategies and investments towards product development.
In addition, continued demand for plastic and foam based corrugated packaging and increased niche applications for engine and battery components are likely to aid the industry for years to come. On the other hand, strict regulations about automotive component standards in terms of safety and the environment will restrict industry prospects. Also, high capital costs in the industry are expected to restrict market developments to large scale players.
The FMI report provides an overview of the industry, covering key dynamics in the market. Some of the top takeaways of the report include:
The corrugated automotive packaging market has been valued at over US$ 1.7 billion in 2019, and the growth rate of the market is likely to be strongly affected by the covid-19 outbreak, owing to lockdown restrictions on the manufacturing and automotive sectors
Corrugated boxes remain the preferred packaging format, owing to benefits in stacking, and efficiency in logistical operations from suppliers to end users
Packaging for automotive lighting will generate higher demand as that of batteries, engine components, filters, and electrical among others. Engine and battery packaging applications are likely to reflect faster growth owing to lower risk of accidental discharges
East Asia remains a leading market, supported by a vast automotive industry and numerous packaging material manufacturing facilities. Further, South Asia is also expected to be a key contributor on the back of demand from India, Indonesia, and Thailand.
Request a report sample to obtain authentic analysis and comprehensive market insights at  @ https://www.futuremarketinsights.com/reports/sample/rep-gb-11375
Covid-19 Effect on Corrugated Automotive Packaging Market
The coronavirus outbreak has had a largely negative impact on the corrugated automotive packaging industry. Lockdown restrictions on the automotive, manufacturing, and packaging sectors will result in a sharp decline in demand.
Also, restrictions imposed on international trade in terms of raw materials and components and restricted operations at production plants are likely to have a disruptive impact on the market in the short term. Recovery is likely to be sluggish owing to uncertainty over duration and severity of the outbreak, with growth likely to rise through 2021.
Key Segments
Layer Type
Single Face
Single Wall
Double Wall
Triple Wall
Product Type
Boxes
Crates
Trays
Corrugated Partitions
Corrugated Pallets
Octabins
PoP Displays
Automotive Parts
Automotive Filter
Battery
Engine Components
Lighting Components
Underbody Components
Electrical Components
Cooling System
Regional Outlook
North America (US, Canada)
Latin America (Brazil, Mexico, Argentina, Rest of LATAM)
Europe (Germany, UK, Russia, France, Italy, Spain, BENELUX, Nordics, Poland, Rest of Europe)
South Asia (India, Thailand, Indonesia, Malaysia, Rest of South Asia)
East Asia (China, Japan, and South Korea)
Oceania (Australia and New Zealand)
Middle East & Africa (GCC Countries, Turkey, Northern Africa, South Africa, and Rest of MEA)
Buy Now@  https://www.futuremarketinsights.com/checkout/11375
Product Synopsis
A recent market report published by FMI on the corrugated automotive packaging market provides global industry analysis for 2015-2019 & forecast for 2020-2030. The report offers a comprehensive assessment of the most important market dynamics. After conducting thorough research on the historical, as well as current growth parameters of the corrugated automotive packaging market, the growth prospects of the market are obtained with maximum precision.