According to a recent report by Future Market Insights (FMI), the cosmetics ODM market is expected to surpass a valuation of US$ 12.02 Bn, registering a CAGR of over 6.2% through 2031
Besides female beauty, male beauty has gained impressive momentum in the past few years, thus reshaping trends in the cosmetics ODM market. Social media has put spotlight on male beauty, breaking all stereotypes and normalizing makeup and skincare for boys, which is expected to boost the market growth.
Men have become more image conscious, which is why they are spending comparatively more time on grooming on average. This is an indication that skin care sales are expected to increase with the increasing beauty concerns among men.
Additionally, companies are looking to capitalize on opportunities prevalent in the market for men's personal care products. Big players such as The Man Company, an Indian brand, markets a full range of premium men's grooming products enriched with natural essential oils. The brand claims to be free of harmful chemicals, and targets male beauty trends.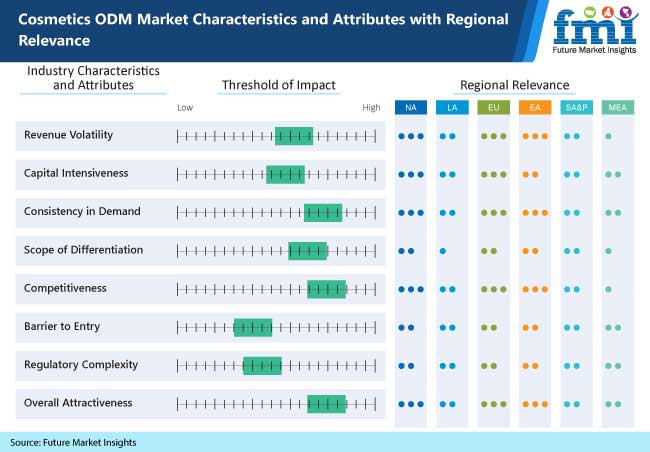 Growing awareness about the importance of overall personal care regime coupled with emerging trends in fashion, and social media's influence promoting aesthetically appealing looks, is also expected to boost the market growth.
Key Takeaways from the Cosmetics ODM Market Study
Skin care products are expected to hold a revenue share of 42.9% in 2021 aided by growing preference for skincare routine among men and women.
The U.S. will account for a value share of 87.6% in North America in 2021 as cosmetic manufacturers are increasingly focusing on technology development and product innovation.
Natural product segment is expected to expand at a CAGR of 7.9% from 2021 to 2031, as prominent brands are focusing on green formulation in response to the growing demand for natural ingredients.
In terms of packaging, cosmetic industry is more focused into safe, practical and natural formula for packaging.
Green packaging is the new marketing strategy followed by companies.
South Korea showcases major opportunities for the Cosmetics ODM owing to evolving K-beauty trends in the region.
"The launch of latest technology in beauty industry like 3D printing, artificial intelligence (AI) along with the expansion of Korean cosmetic brands and changing preferences of consumers from synthesized products to green and natural products will influence growth in the cosmetics ODM market in the coming decade," says an FMI analyst.
For More Details, Ask Analyst @ https://www.futuremarketinsights.com/ask-question/rep-gb-10319
Impact of Covid-19 on the Market
The outbreak of the novel coronavirus has impacted the cosmetics ODM market. Increase in the number of Covid-19 cases in the mid 2020 has led to global lockdown and restricted supply chains. Several premium beauty product outlets were shut down and some of these never opened again. Further, the work from home culture, compulsion on wearing masks and social distancing measure, it has become less important for people to wear makeup.
Moreover, Covid-19 reduced the discretionary spending and companies witnessed a behavioral shift towards safe, reliable and necessary products. Consumers spent less than usual on makeup products which negatively impacted the Cosmetics ODM industry.
Who is winning?
Leading manufacturers of cosmetics ODM are focused on aggressive promotional strategies, advertisements, and new product launches that have driven sales growth of cosmetics ODM globally.
Major players present in the cosmetics ODM market are
COSMAX Corporation,
Toyo Beauty Co. Ltd.,
Nox Bellcow Cosmetics Co. Ltd.,
Picaso Cosmetic Laboratory Group,
Kolmar Korea,
Ancorotti Cosmetics S.r.l.,
Cosmo Beauty Company Ltd.,
Cosmecca Korea,
The Fareva Group,
B. Kolormakeup & Skincare S.p.a.,
BioTruly Group,
ANC Corporation,
Intercos Group,
Francia Beauty,
Nowcos Co. Ltd.,
Sanshokaken K.K.,
Global Cosmetics (HK),
Japan Colmar Co. Ltd.,
Quality Plus Aesthetic International Co. Ltd.,
Milliona Cosmetics, and Caolion Cosmetics among others.