In a new market study, Future Market Insights (FMI) opines global domestic booster pumps market to surpass US$ 4.6 Bn by 2030, growing at 6.9% CAGR through 2030.
The report attributes the growth of the market to rising awareness among consumers regarding the availability of energy-efficient technologies. Furthermore, the expansion of the e-commerce industry is widening the sales channel for domestic booster pumps.
Rapid urbanization in emerging economies and the consequential increase in the number of residences is also propelling demand for booster pumps designed for domestic and residential purposes.
Having studied the impact of the COVID-19 pandemic, the report opines that the demand for residential pumps is expected to experience a downtrend during the pandemic, as the focus of both manufacturers and consumers shifts towards essential and emergency utilities.
Key Takeaways
The 50-150 W segment will capture nearly 1/3rd of global value as pumps with a power rating in this range are ideal for medium-sized buildings.
By water pressure, 1 bar segment is expected to account for over 2/5th of market value by the end of the forecast period.
Domestic booster pumps find the majority of applications in gardening sprinklers and pipes, capturing around 2/5th of total market value.
The offline sales segment will continue to channel the majority of revenue, while the online sales segment is poised to grow at an impressive rate.
East Asia, led by China, is poised to hold the lion's share in global market value, backed by the presence of a flourishing residential construction sector.
North America and Europe will cumulatively account for a prominent market share, owing to the presence of major market players.
"Market players are focusing on developing energy-efficient products to leverage the increasing consumer inclination towards energy-saving alternatives," remarks FMI analyst.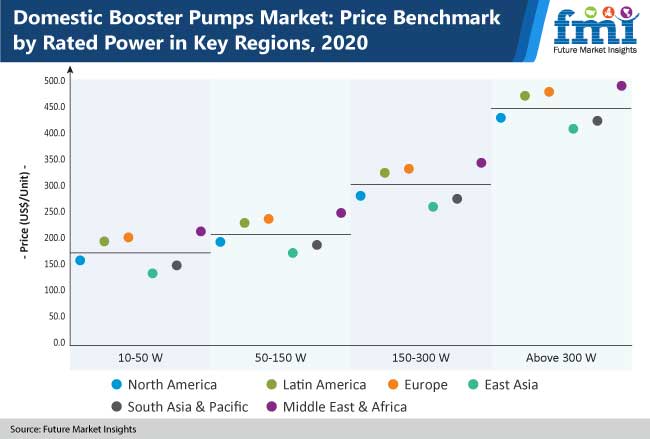 COVID-19 Impact
The COVID-19 outbreak is posing challenges to the market on both the supply and demand fronts. Owing to the pandemic-related consequences such as government restrictions on travel, social distancing norms, and disruption of the supply chain, the production of domestic booster pumps has taken a severe hit.
Similarly, the pandemic has adversely affected the residential construction activities, causing complete shutdown across several nations, and this is likely to impede the demand for systems designed for the residential sector, including home and domestic booster pumps market.
Who is Winning?
Domestic booster pumps manufacturers are directing their efforts towards the research and development activities to produce booster pumps with innovative features. On these lines, plug-and-play booster pumps have emerged as a lucrative design and an increasing number of players are jumping on to the bandwagon to develop energy-efficient designs.
Moreover, organic growth strategies such as acquisitions and partnerships will continue to shape the competitive landscape of the domestic booster pumps market through the assessment period. A few key developments in recent times on these lines include:
In 2019, Franklin Electric Co., Inc. acquired 70% of the outstanding stock of Pluga Pumps and Motors Private Limited.
In the same year, Grundfos Holding A/S entered a partnership with Siemens AG to focus on global water challenges and save energy with a focus on water and wastewater applications.
FMI's report includes profiles of some of the most prominent names in the market including Grundfos, Xylem Inc., KSB SE & Co. KGaA, Flowserve Corporation, Sulzer Ltd., WILO SE, Gorman Rupp Pump Company, Torishima Pump Mfg. Co., Ltd., LEO Group, CAT Pumps, Zoeller Company, Luckpump Machinery Co., Ltd, CAT Pumps, Zoeller Company, Luckpump Machinery Co., Ltd, Mazzoni SRL, Vossche Pump Group, among others.
For Information On The Research Approach Used In The Report, Ask Analyst @ https://www.futuremarketinsights.com/ask-question/rep-gb-12676
To Know More About Domestic Booster Pumps Market
A new market research report published by Future Market Insights (FMI) on the global domestic booster pumps market offers an executive-level blueprint of the market. It offers insights into demand trends and provides analysis of opportunities over the forecast period, 2020-2030. The report examines the market through four different segments – rated power, water pressure, applications, sales channel, and region. The report also provides extensive assessment of pricing by different key market dynamics, life cycle analysis, and technologies that are being deployed in the supply and product adoption across several end-use industries.
About Industrial Automation Division at Future Market Insights
The Industrial Automation & Equipment division at FMI adopts a novel approach and innovative perspective in analyzing the global machinery and industrial automation market. A range of FMI's market research reports offer comprehensive coverage of capital, portable, process, construction, industrial, and special purpose machinery used across manufacturing sector. The team also conducts distinctive analysis about installed base, consumables, replacement, and USP-feature application matrix, making us a prominent voice of authority in the industry. We are associates of choice for established as well as budding industry