According to a recent report by Future Market Insights, the demand for pelvic floor diagnostics is expected to rise at a significant pace, enabling the market to reach US$ 3,313.4 Mn in valuation by the end of 2031.
The pelvic floor diagnostics market will witness strong demand owing to the prevalence of associated ailments especially in pregnant women, and increasing awareness levels towards pelvic floor diagnostic testing. The rise in adoption of advanced imaging systems is resulting in superior patient outcomes.
Developed economies such as the U.S. show an increasing trend of adoption of advanced diagnostic devices. Favorable reimbursement scenarios boost market growth. The healthcare and diagnostic infrastructure in the U.S. has advanced at an elevated rate due to increasing research and development activities pertaining to healthcare.
Rising healthcare expenditure, along with growing government support by funding's and faster approvals has led to the establishment of pelvic floor diagnostic laboratories and a larger number of professionals.
Rising number of grants by private and government players for pelvic floor diagnostics has increased the focus on innovative research solutions for the development of advanced testing systems.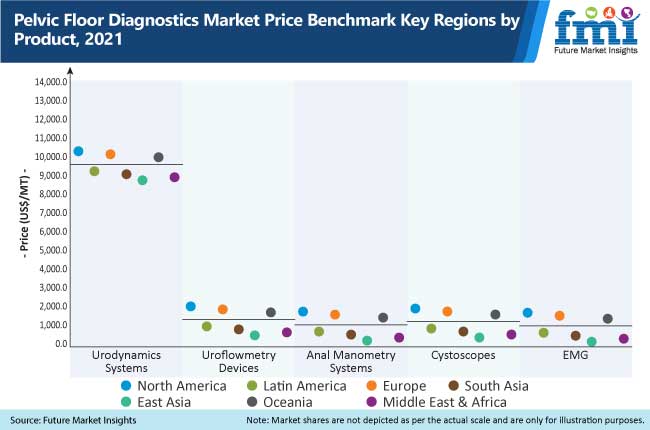 Healthcare standards with advanced diagnostic procedures have gained ground during the last two decades and with the rise in income and the increased investments in research. The pelvic floor diagnostics market has experienced a substantial shift in the adoption of molecular diagnostic devices.
Key Takeaways from Pelvic Floor Diagnostics Market Study
Ultrasound systems are expected to reach a revenue share of 37.1% in 2021 with a growing CAGR of 5.7% during forecast period.
Hospitals will drive sales accounting for over 60% value share through 2031, owing to higher spending capacity.
Mexico will reflect a 6.1% CAGR through 2031, supported by growing access to superior medical facilities.
U.K. and France are leading markets in Europe, accounting for over 20% and over 18% of the Europe market respectively in 2021.
The U.S. is the largest and fastest growing market in North America, exhibiting 5.7% CAGR through the forecast period.
Request a Complete TOC of this Report with figures:
https://www.futuremarketinsights.com/toc/rep-gb-13752
"The growing global geriatric population is prone to pelvic floor disorders. Consequently, advancements diagnostics including imaging and ultrasound systems, coupled with investments in research and academic bodies are set to boost the growth of pelvic floor diagnostics market over the coming decade," says a Future Market Insights analyst.
Investments in Tech Development to Offer Growth Opportunities
The pelvic floor diagnostics market has emerged as a lucrative area of research in terms of pelvic dysfunction. The development of imaging technology is gaining traction with the rising demand of high-resolution images.
The demand is fueled by increasing awareness among the growing population about the diagnostic options available. Ultrasound systems offer reliable high-resolution imaging. The evolution in the processes involving detection, diagnosis, and treatment of associated diseases is anticipated to cause a demand surge in the pelvic floor diagnostics market.
Pelvic Floor Diagnostics Market by Category
By Product:
Urodynamics Systems
Uroflowmetry Devices
Anal Manometry Systems
Cystoscopes
Ultrasound Systems

Cart/Trolley Based
Portable Bladder Ultrasound Systems

EMG
By End User:
Hospitals
Diagnostic Imaging Centers
Specialty Clinics
By Region:
North America
Latin America
Europe
East Asia
South Asia
Oceania
Middle East and Africa
Who is winning?
Key players in the pelvic floor diagnostics market are focusing on tapping market potential through strategic mergers and acquisitions. This is driven by efficiency in innovative and specialized product portfolios. The market is also set to expand due to increasing activities in research and development to diagnose pelvic floor disorders.
Some of the leading players in the pelvic floor diagnostics market include but are not limited to Laborie, Inc., Cooper Surgical Inc., Medtronic Plc., SRS Medical, Stryker's, MEDSPIRA, MEDKONSULT medical technology s.r.o., EndoMed Systems, Richard Wolf, Schölly Fiberoptic, Zhuhai Seesheen Medical Technology, KARL STORZ, Cadwell, The Prometheus Group, Neurosoft, Noraxon USA.
Want more insights?
Future Market Insights brings the comprehensive research report on forecasted revenue growth at global, regional, and country levels and provides an analysis of the latest industry trends in each of the sub-segments from 2016 to 2031. The global pelvic floor diagnostics market is segmented in detail to cover every aspect of the market and present a complete market intelligence approach to the reader. The study provides compelling insights on the pelvic floor diagnostics market on basis of the main indication in detail, cover every aspect of the market such as product, and end user across major regions.