Future Market Insights recently published a report on global dried yeast market. According to the report global dried yeast market is estimated to surpass USD 40 million by the end of 2020. A sizable surge in demand is likely to be reported from animal feed industry.
Asian countries such as India and China have witnessed stalled economic activity earlier this year but recovered quickly. These countries exhibited increased demand for animal feed with high nutrific value. This is anticipated to sensitize the animal feed and nutrition for the use of dried yeast.
Another reason for the growth, is the growing consumption of animal-based products, which is leading to a rapid growth in the poultry sector. Asia Pacific is experiencing rapid urbanization along with growing agriculture and food security, which is also contributing to the growth of the poultry sector in the region. This has increased the demand for yeast-included animal feed ingredients from feed manufacturers.
For Instance, in 2018, feed production in India was 7% higher than in 2017, which is likely to increase to 13 % in 2019. Not only is this for one species, but feed production has risen in various categories.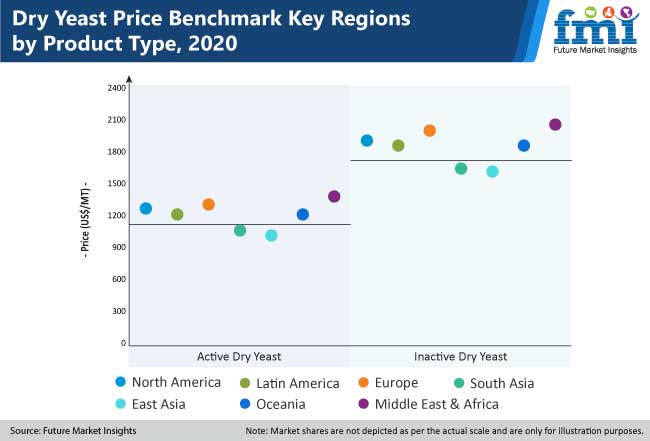 Dry yeast is known to give umami taste to the food items to which it is added. Palatability is a very significant component in pet food. In addition, suppliers of pet food must have additional palatability for some pet species for which the food is being made. Dry yeast may be used to provide a range of tastes by modifying the method of production. In addition, the growing demand for natural additives in the pet food market and the rise in premiums has increased the demand for dry yeast in the pet food industry.
Key Takeaways from the Dry Yeast Market Study
The Dry Yeast market is estimated to be valued US$ 39.0 Mn in 2020, registering a CAGR of 6.9% between 2020 and 2030
Europe accounts for a higher value share in the global dry yeast for pet food applications market in terms of value sales by 2030. In EU-4, the pet parents are becoming cautious about health of their pets due to which use of dry yeast is rising in EU-4 as it enhances the nutritional properties, quality and sustainability of the pet food products.
The companies in the global dry yeast for pet food applications market are investing in innovation and developments by offering animal-free, organic, and gluten-free pet products.  Manufacturers are offering it in different nature, forms and base for pet food applications market.
Request a Complete TOC of this Report with figures:
https://www.futuremarketinsights.com/toc/rep-gb-12013
Key Segment
Product Type
Active Dry Yeast
Inactive Dry Yeast
Form
Powder
Flakes
Tablet
Capsule
Base
Nature
Sales Channel
B2B
B2C
Modern Trade
Specialty Stores
Convenience Store
Online retail
Other Sales Channel
Region
North America
South America
Europe
South Asia
East Asia
Oceania
Middle East & Africa
Who is winning?
There are some of the key players, which driving the growth of global dry yeast market such as, Kerry Group, Bio Springer S.A., Koninklijke DSM N.V., A. Costantino & C. spa, Lallemand Inc, Sensient Technologies Corporation, Leiber GmbH,, KOHJIN Life Science Co., Ltd, Angel Yeast Co., Ltd, Titan Biotech Ltd., Associated British Foods Plc, and many others.
Producers of Dry Yeast are innovating products and experimenting with product type to woo consumers. For instance:
Bond Pet Foods, Inc. launched a high-protein, animal-free dog treat bar in May 2020. Dry yeast is the main component of the dog's treat bar, working to increase the digestibility of pets and providing vital nutrients.
ADM, Animal Nutrition, introduced yeast protein for animals in April 2018. The organization has built this product to offer health and nutrition versatility in animal feed and to treat the framework. Versity is a highly palatable dry yeast alternative to standard animals and plants proteins that offers a low sugar and calcium combination of essential nutrients.
"The key companies in the dry yeast market are focusing on building better and more influential advertisements for these lesser known and accepted products specially targeting millennial population through internet and several e-commerce platforms. "says an FMI analyst.
Get Valuable Insights into Dry Yeast Market
Future Market Insights, in its new offering, provides an unbiased analysis of the global dry yeast Market, presenting historical demand data (2015-2019) and forecast statistics for the period from 2020-2030. The study divulges compelling insights on the dry yeast market-based product type (active and inactive), form (powder, flakes, tablet, capsules), base (fortified and unfortified), nature (organic and conventional), sales channel (B2B and B2C) across seven major regions.
About Food Market Division at FMI
Expert analysis, actionable insights, and strategic recommendations – the food & beverage team at Future Market Insights helps clients from across the globe with their unique business intelligence needs. With a repertoire of over 1,000 reports and 1 million+ data points, the team has analysed the food & beverage industry lucidly in 50+ countries for over a decade. The team provides end-to-end research and consulting services; reach out to explore how we can help.