Increasing use of duct tapes for Do-it-Yourself (DIY) activities is primarily driving their demand in global market. During 2019 – 2029, the global duct tapes market is projected for a promising 5.8% CAGR, as indicated by a new Future Market Insights (FMI) report. Duct tapes continue to be the most economical and efficient solution for indoor general purposes and in DIY activities. High tacking property of duct tapes offers an ideal packaging solution to indoor purposes like sealing ductwork, holding, dustproofing filter banks, seaming carpet padding, and other general purposes. 
Ask an Analyst @ https://www.futuremarketinsights.com/askus/rep-gb-2641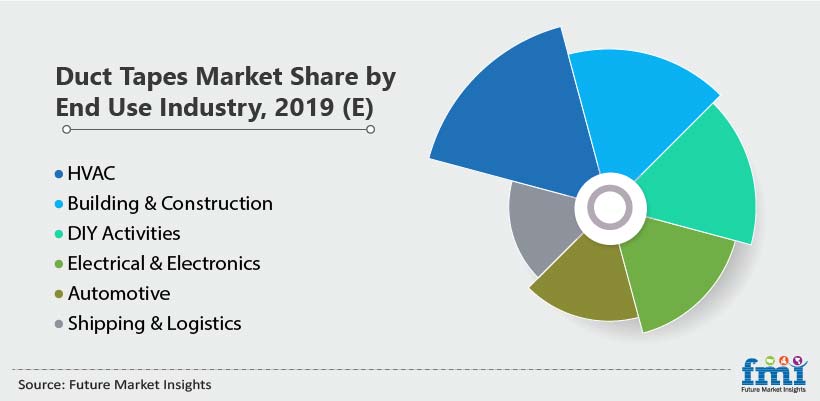 Key Takeaways – Duct Tapes Market Study
Sealing applications continue to hold a significant market share among all segments by application during the forecast period.

Waterproofing and repairing will also remain profitable application areas of duct tapes during the forecast period.

Professional grade duct tapes segment is expected to create substantial incremental $ opportunities from 2019-2029, attributable to rising demand from building and construction industries.

Natural rubber-based adhesive duct tapes are gaining traction in duct tapes market over synthetic rubber-based adhesive tapes. Cost-effectiveness and eco-friendly nature of raw materials remain the key attributes responsible for boosting sales of natural rubber-based adhesive duct tapes.

HVAC industry holds a major market share among all segments by end use industry. This segment is expected to retain its dominance throughout the forecast period.

Europe continues to lead its way in the global market. However, the East Asian market for duct tapes is projected to outperform European market over the course of following decade. East Asia's solid growth projection in the duct tapes landscape is attributed to high resource availability and low labor cost, particularly in China.
Get Complete TOC Of this Report @ https://www.futuremarketinsights.com/toc/rep-gb-2641
Who Is Winning in Duct Tapes Market?
The global duct tapes market is dynamic and significant growth is anticipated in next decade, owing to excellent adhesive properties and ease of handling offered by duct tapes over other alternatives such as mastic fluids and fiber tapes.
3M Company, Berry Global Group Inc, Shurtape Technologies LLC, Scapa Group plc, and tesa SE Group are some of the leading manufacturers of duct tapes. 3M Company and Berry Global Group Inc. are Tier I and Tier II companies in the global duct tapes market. Manufacturers are targeting emerging markets, especially in East and South Asia, to enhancing their production capacities.
In 2019, Scapa Group plc established a new manufacturing plant at Delhi, India, for expansion of its global business footprint and product portfolio.

In 2018, tesa SE Group invested nearly US$ 34 Mn to increase the production capacity of its China-based plant.
What Does the Report Cover?
Future Market Insights, in its new offering, offers an unbiased analysis of the global duct tapes market, analyzing historical demand from 2014-2018 and forecast statistics for 2019-2029. The study offers growth projections on the duct tapes market on the basis of product type (removable duct tapes, professional grade duct tapes, utility duct tapes, and specialized high strength duct tapes), adhesive type (natural rubber-based adhesive and synthetic rubber-based adhesive) and backing type (plastic (polyethylene, polyvinyl chloride, and polyester), application (sealing, repairing, holding, waterproofing, coding, strapping, splicing, and others ), thickness (<10 Mil, 10 to 15 Mil and >15 Mil), and end use industry (HVAC, automotive, building & construction, electrical & electronics industries, shipping & logistics, and DIY activities) across seven major regions.
Request a report sample to obtain authentic analysis and comprehensive market insights at  @ https://www.futuremarketinsights.com/reports/sample/rep-gb-2641