The global earphones market size is expected to reach ~US$ 14,386 Mn by the end of 2029. According to a study by Future Market Insights (FMI), the market will show a steady rise at a CAGR of ~4.9% between 2019 and 2029. According to the report, growing smartphone usage especially increasing internet-related services, and declining price of earphones are one of the major drivers for the growth of earphones in the market. The report offers a comprehensive overview of the market, covering key growth drivers, restraints, opportunities, and prevailing trends. It uses unique research methods to offer the most accurate analysis of the market.
To Get Sample Copy of Report visit @ https://www.futuremarketinsights.com/reports/sample/rep-gb-11153
It includes in-depth insights into the earphones market. Some of these are:
The estimated value of the market was at ~US$ 8,917 Mn in 2019. Through the course of the report's forecast period, the market is exhibited to show a steady pace of growth.
Regionally, North America dominates the Earphones market globally.
East Asia emerges as one of key markets owing to increasing smartphone users, growing internet related services & activity and lower prices of earphones in the region.
Over ear earphones holds most of the market however in ear earphones are expected to expand at highest CAGR owing to better sound quality and noise cancellation.
Key players are likely to focus on new product innovation such as using of increasing sound quality, noise cancellation etc. to stay relevant in developed markets.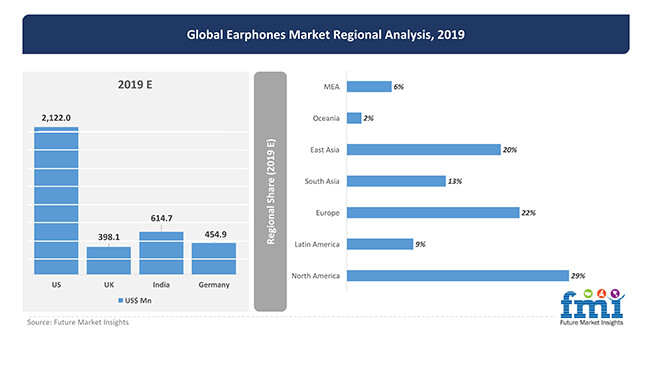 Wireless Earphones to Witness Highest Growth
Based on technology, the earphones market is categorized into wired and wireless. The wired segment holds most of the earphone market value share however the wireless segment is estimated to witness the fastest CAGR over the forecast period owing to product innovation and advancements in technology such as W-Fi, infrared, Bluetooth etc. Well established companies are trying to come up with innovative products with minimum possible prices due to intense competition in the market. Giant manufacturers such as Bose Corporation, Samsung Electronics, Sony Corporation, are currently investing more on their R&D to gain advantage over rivals. Moreover, hands free feature for earphones h0061ve also fuelled the market for further growth.
Who is Winning?
Some of the leading players operating in the Earphones market are Apple, Inc., JVC; Sony Corp., Skullcandy, Inc., Bose Corp., Sennheiser Electronic; and Shure, Inc, Bose Corporation, Sennheiser Electronic GmbH & Co. KG, Grado Labs Inc. , Jays AB AIAIAI ApS , AKG Acoustics GmbH , Skullcandy Inc. , Beyerdynamic GmbH & Co. KG , Creative Technology Ltd , Denon Electronics LLC (US), House of Marley, LLC, Sony Corporation, Audio-Technica Corporation, Harman International Industries, Inc. (JBL) etc. As a result of increasing competition, companies are focusing on expanding their product portfolio with new innovation. In addition to this, mergers and acquisition remains a popular strategy among market players. Companies intend to expand their regional footprint through strategic collaborations.
In January 2019, Sennheiser Electronic GmbH & Co. KG had launched the Grey headsets series with high-quality sound.
In May 2019, the company Bose Corporation had launched its noise cancellation headphone as wireless Bose Earbuds 500
Download Methodology of this Report @ https://www.futuremarketinsights.com/askus/rep-gb-11153
Get Valuable Insights into Earphones Market
Future Market Insights, in its new report, presents an unbiased analysis of the global Earphones market, covering historical demand data and forecast figures for the period between 2019 and 2029. The study divulges compelling insights on the Earphones market based on product type ( in ear, over ear), by technology (wired, wireless), price range (High, Mid-range, Low), application (music & entertainment, sports & fitness, gaming & virtual reality), sales channel (wholesaler/ distributor, hypermarket/ supermarket, specialty stores, exclusive stores, online stores, others), region (North America, Latin America, Europe, East Asia, South Asia, Oceania, Middle East & Africa).
Market segmentation
The global earphones market is segmented in detail to cover every aspect of the market and present complete market intelligence to readers.
Product Type
Technology
Application
Music & entertainment
Sports & fitness
Gaming & virtual reality
Price Range
Low
Mid-range
Premium Range
Sales Channel
Wholesaler/ Distributor
Hypermarket/ Supermarket
Specialty Stores
Exclusive Stores
Online Stores
Others
Region
North America
Latin America
Europe
East Asia
South Asia
Oceania
Middle East & Africa