The electrical steel market value will total US$ 37.5 Bn in 2021, as per Future Market Insights (FMI). Exhibiting a CAGR of 6.5% for 2021-2031, the market is expected to reach US$ 70.5 Bn by the end of 2031. Despite logistical challenges amid restrictions imposed to contain the pandemic in 2020, the market is forecast to register 5.3% year-on-year growth in 2021.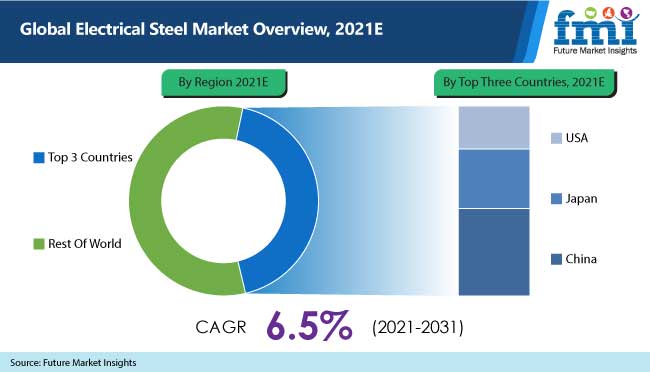 The demand for electrical steel will surge particularly in emerging economies, as they leverage renewable energy sector and invest in infrastructure activities. Consequently, the market will register rising application of electrical steel in transformers. This factor however is not restricted to a particular region, rather it will guarantee global market growth on account of increasing energy consumption around the world.
Request Complete TOC Of this Report @ https://www.futuremarketinsights.com/toc/rep-gb-883

Among various types, application of grain-oriented steel will continue increasing in transformers and generators, which will stimulate growth of the market. Also,growing demand for automobiles, spurred by the rise in population, lifestyle changes, and emergence of technological innovations has spurred sales of the non-grained electrical steel.
According to the study, the demand for non-gain oriented electrical steel is anticipated to rise at a CAGR of 5.7% in 2021. On the other hand, grain-oriented electrical steel will account for over 55% of the market share in 2021.
The market for electrical steel in Europe is forecast to grow at a CAGR of 5% over the assessment period. Meanwhile, factors such as presence of key market players, rising research and developmental activities, and expansion of production facilities will aid in electrical steel market growth in the U.S.
"Increasing demand for highly-efficient transformers across the globe will bolster sales of electrical steel. To capitalize on available opportunities, manufacturers are likely to focus on capacity expansion," said a Future Market Insights analyst.
Request a report sample to gain comprehensive insights at https://www.futuremarketinsights.com/reports/sample/rep-gb-883
Key Takeaways from Electrical Steel Market Survey
Japan is projected to exhibit growth at a CAGR of 6.3% between 2021 and 2031, accounting for over 35.6% of the East Asia market.
The U.S. is the leading market for electrical steel in North America and is estimated to register a CAGR of 5% over the forecast period.
The electrical steel market in China is likely to register impressive growth, accounting for over 52% of the East Asia market through 2031.
Indian market is expected to grow at a steady pace, accounting for over 44% sales in the South Asia and Pacific region in 2021.
Based on application, transformers will account for 45% of the overall market share in 2021.
Key Drivers
Growing manufacturing activities in developing regions is boosting sales of electrical steel.
Rising global automobile production is a key factor diving growth of the market.
Key Restraints
Volatile prices of raw materials is a key factor impeding growth of the electrical steel market.
For any Queries Linked with the Report, Ask an Analyst@ https://www.futuremarketinsights.com/ask-question/rep-gb-883
Product Synopsis
A recent market study published by Future Market Insights on the electrical steel market includes global industry analysis for 2016-2020 and opportunity assessment for 2021-2031, and delivers a comprehensive assessment of the most important market dynamics. After conducting thorough research on the historical and current growth parameters of the electrical steel market, the growth prospects of the market are obtained with maximum precision.