A recent study published by ESOMAR-certified Future Market Insights on the global ESD packaging market establishes that the market is slated to expand impressively through 2030.
Deepening internet penetration has accelerated the adoption of various electronic and IoT devices with a view to streamline production and operational efficiency. Hence, production of integrated circuit boards, chips and other material has risen, providing immense scope for expansion of electrostatic discharge packaging solutions.
Prolific developments are expected in the automobile manufacturing segment, with companies seeking to leverage automation and cloud computing systems to generate greater output. However, near-term prospects appear sluggish in the wake of the COVID-19 pandemic.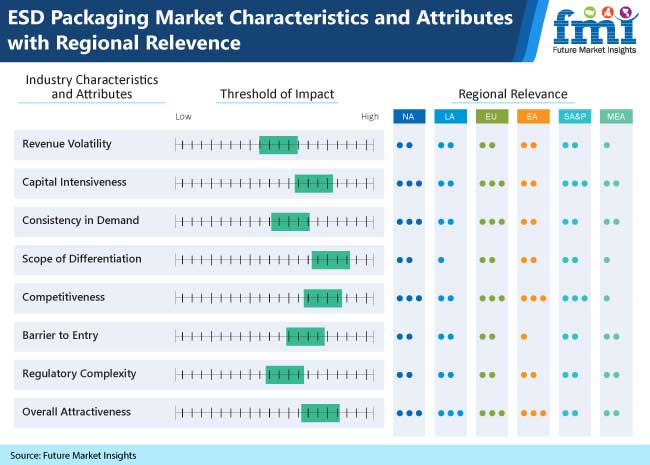 Key Takeaways from FMI's ESD Packaging Market Report
ESD packaging bags continue to witness high demand
Electrical & electronic components manufacturing to witness high adoption of ESD packaging
North America to emerge as market hegemon, East Asia to be the fastest expanding market
Presence of metallic powder in ESD packaging is likely to impede adoption, owing to high possibility of component damage
"Vendors are relying on customization of product offering to cater to multiple industries, thereby enhancing their future revenue prospects," comments the FMI analyst.
COVID-19 Impact Analysis
The COVID-19 pandemic has had varying impacts on the growth prospects of electrostatic discharge packaging across different end-use industries. While uptake across electronics and electrical goods manufacturing has surged, industries such as manufacturing and automotives have registered substantial decline in the past few months.
In the former case, growth has remained sustained due to the enforcement of work from home guidelines by various business organizations. This has stimulated demand for IoT devices such as smartphones and laptops. Hence, production of these devices' internal assembly parts has accelerated, broadening revenue prospects for ESD packaging solutions.
In the latter scenario, falling production and output levels as a consequence of government-enforced shutdowns has stalled demand for IoT devices in these sectors. Thus, sales of ESD packaging solutions have suffered a substantial fall. This sluggishness is expected to prevail until 2021-end.
Competitive Landscape
A plethora of manufacturers operate within the ESD packaging landscape. Some prominent vendors include, but are not restricted to: Conductive Containers Inc., Tandem Equipment Sales Inc., Elcom (UK) Ltd., Global STATCLEAN SYSTEMS and NEFAB Group among others.
Amongst all strategies deployed by the abovementioned market players, it has been discovered that offering customized packaging solutions is the best approach in order to withstand the high degree of competition within the market.
Furthermore, vendors are capitalizing on mergers and acquisitions in order to cope with the ever changing market scenario across the most lucrative growth regions. Product innovation is yet another approach adopted by several players.
More Valuable Insights on the ESD Packaging Market
Future Market Insights, in its new report, offers an unbiased analysis of the global electrostatic discharge packaging market, analyzing historical demand from 2015-2019 and forecast statistics for 2020-2030. The study reveals growth projections on the hermetic packaging market on the basis of product type (bags, trays, clamshell, shrink films, boxes & containers, tapes & labels, foams, totes/IBC, racks and others), application (electrical & electronic components, equipment, explosive powders, drugs and others), material & additive type (conductive & dissipative polymers, metal and additive) and end user base (electrical & electronics, automobile, defense & military, manufacturing, aerospace, healthcare and others) across seven regions.
For More Details, Ask Analyst @ https://www.futuremarketinsights.com/ask-question/rep-gb-12664
Key Segments
Product Type
Bags
Trays
Clamshell
Shrink Films
Boxes & Containers
Tapes & Labels
Foams
Totes/IBC
Racks
Others
Application
Electrical & Electronic Components
Printed Circuit Boards (PCBs)
Semiconductors
Screens
Other Components
Equipment
Diagnosis Equipment
Therapeutic Equipment
Other Equipment
Explosive Powders
Drugs
Others
Material & Additive Type
Conductive & Dissipative Polymers
Metal
Additive
End User Base
Electrical & Electronics
Automobile
Defense & Military
Manufacturing
Aerospace
Healthcare
Others