Future Market Insights (FMI) forecasts the ethoxyquin market to exhibit 3.5% CAGR between 2020 and 2030. Despite an overall positive outlook, FMI fears stunted growth amid ban imposed on ethoxyquin use in the EU.
Nonetheless, growth is expected to remain steady in North America, backed by FDA approval on ethoxyquin (EQ) use in specified limit. FMI offers an executive-level blueprint of the global ethoxyquin market in its latest report.
It covers the factors market players could capitalize on to enjoy sustainable growth through the course of the forecast period. According to FMI, the market's valuation stood at US$ 230 Mn in 2019.
The continued application of ethoxyquin in animal and fish feed stands as the chief market driver. As a preservative, it has proven high level of efficacy in preventing lipid peroxidation. Ethoxyquin is not intended for human consumption, however, it might be carried ahead by poultry or farmed fish.
Get Free Sample PDF (including full TOC, Tables, and Figures) of Ethoxyquin Market @ https://www.futuremarketinsights.com/reports/sample/rep-gb-11215
FMI offers insights into some of the prevailing market trends. These include:
Until 2011 ethoxyquin was used as a pesticide, however, the market now mostly capitalizes on its antioxidant properties
Ethoxyquin is a registered antioxidant that can be used for controlling scald or browning in apples and pears
Fishmeal and aquaculture sectors outside the EU continue to use ethoxyquin to prevent fishmeal from lipid oxidation
In some countries, ethoxyquin is used to preserve color in rosemary and chili
Unprecedented COVID-19 outbreak may put a dent in growth prospects as fisheries struggle to keep up their operations amid lockdown orders
Pessimistic approaches, banning the use of ethoxyquin in the EU may push market players to scavenge for opportunities in East and South Asia
Market Players Invest in Researches Highlighting Potential Effects of Ethoxyquin as an Effective Preservative
Ethoxyquin is primarily used as antioxidant in canned pet food and in animal feed. It is a synthetic ingredient used as a preservative to prevent oxidative degradation in fat-soluble vitamins in animal feed.
It is also widely used in the fishmeal industry to prevent lipid oxidation in fish. Being highly unsaturated, fish oil has the tendency of autoxidizing. This could decrease their energy and nutritional value. Stabilizing polyunsaturated fatty acids and omega-6 present in fishmeal using ethoxyquin helps in preserving their fatty acid characteristics during storage and transportation.
Despite being as ubiquitous to the fishmeal and aquaculture sector as food stabilizers are to the food and beverages industry, claims suggesting their negative impact on human health are inhibiting the market's trajectory. For instance, new regulations implemented in the EU bans the use of ethoxyquin in feed.
To counter this, several leading companies are investing in research and development to cite how ethoxyquin can prove to be a helpful and inexpensive preservative. Such initiatives might spur growth in the market in the coming years.
"In response to recent studies, several leading pet food manufacturers have voluntarily limited EQ concentration in pet foods to prevent possible side effects. Additionally, several companies are developing natural alternative to synthetic preservatives, which could hamper the market's expansion to an extent," revealed a lead analyst at FMI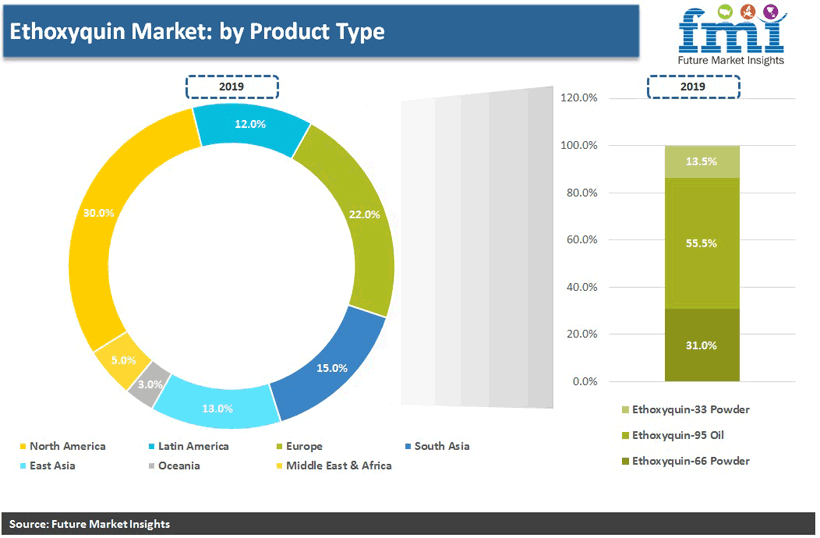 Who is Winning?
FMI profiles some of the leading companies operating in the market. These include Shanghai Fuda Fine Material Co. Ltd., Merck KGaA., Mitsui & Co. Ltd., Skystone Feed Co. Ltd., Kemin Industries Inc., Industrial Técnica Pecuaria S.A., Impextraco N.V., among others.
FMI observes immense focus on research and development to cite the benefits of EQ. Owing to the recent launches of natural alternatives, most leading companies are looking to strengthen their foothold via strategic collaborations.
Get more Insights Analysis on this Ethoxyquin Market @ https://www.futuremarketinsights.com/ask-question/rep-gb-11215
Get Valuable Insights into Ethoxyquin Market
Future Market Insights, in its new report, presents an unbiased analysis of the global Ethoxyquin market, covering historical demand data and forecast figures for the period between 2020 and 2030. The study divulges compelling insights into growth witnessed in the market. In terms of product, the market can be segmented in ethoxyquin-95 Oil, ethoxyquin-66 powder, and ethoxyquin-33 powder. In terms of application, it is divided into pet food preservative, pesticides, and spice colour preservative. Regionally, the market can be segmented into North America, Latin America, Europe, East Asia, South Asia, Oceania and MEA