Floriculture market revenues are set to reach US$ 40 Bn by 2019 end, further progressing at a robust CAGR through 2029. Majorly contributed by cut flowers, the market for floriculture will particularly thrive on the back of booming popularity of edible flowers that has been observed over the recent past.
Edible flowers such as citrus blossoms, hibiscus, lavender, roses, and nasturtium are gaining popularity among a select chunk of health conscious consumers. These flowers are rich in Vitamin C and antioxidants, which helps in reducing cholesterol levels, improves skin and hair health, and enhances heart functioning. Growing acceptance of flowers as a healthy food ingredient creates new opportunities for producers in the global floriculture market to expand their businesses.
Marco Ravera, a producer in Italy that cultivates aromatic plants, plans to expand its floriculture business footprint by adding edible flowers to its product portfolio. Currently, it has allocated around 15% of its organic farm for production of edible flowers.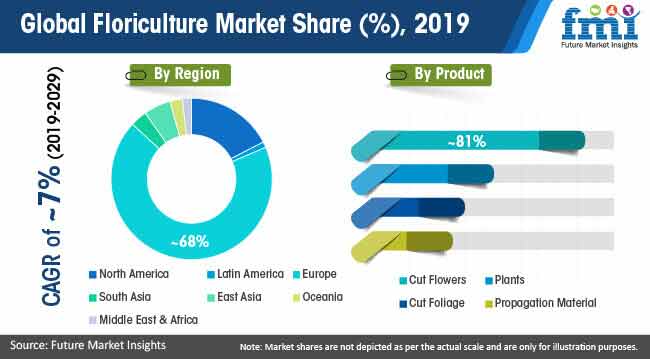 Key Takeaways – Global Floriculture Market Study
Europe is expected to retain its dominant position in the global floriculture market, attributed to increasing adoption of gardening activities in the region.
Among product type, the cut flowers segment is considered a key contributor to growth of the global floriculture market, due to high consumption of fresh roses in decorations such as bouquets at events, vase arrangements, and as gifts on special occasions.
The cut foliage segment is expected to witness a significant CAGR in the global floriculture market, owing to increasing use of mix bouquets in flower arrangements at events and festivals.
Leading players in the global floriculture market would discover significant profits in trending offerings such as dried and pressed flowers that are being increasingly used in wedding arrangements, bouquets, and jewelry.
For More Details, Ask Analyst @ https://www.futuremarketinsights.com/ask-question/rep-gb-7855
Rising Environmental and Social Responsibility to Shape Market Trends
Consumers demand sustainably produced flowers, attributable to increasing consumer awareness regarding environmental and social impact of production and trade of floriculture products worldwide. Thus, all participants in the floriculture value chain aim adopt sustainable agricultural practices such as integrating pest management and conservation agriculture to reduce negative impact of their activities on the environment.
Consumers in the market are also willing to pay more for sustainably grown flowers. Thus, companies aim to obtain certifications and are offering fair trade, FPP, and other certified flowers to their consumers in order to improve their market position.
Floriculture Market: Competitive Landscape
Prominent players in the global floriculture market are Tropiflora Ltd., Forest Produce Ltd., Selecta Cut Flowers S.A.U., Native Floral Group, Tropical Foliage Plants, Inc., Oserian Group, Esmeralda Farms, Marginpar BV, DOS GRINGOS, LLC, Flamingo Horticulture Ltd., Danziger Group, Florensis Flower Seeds UK Ltd., Verbeek Export B.V., Florance Flora, Karuturi Global Ltd., and others.
Players in the floriculture industry are focusing on Asia for production and sales of commercial floriculture products, owing to significant rise in demand for low cost flowers in this region. Companies are also entering various strategic partnerships with domestic players to expand their market footprint.
Florance Flora Company has developed various partnerships and collaborations with leading floriculture companies with the objective to introduce latest crops, technology, and crop varieties in the market in India.
Know More About Floriculture Market Report
Future Market Insights, in its new offering, provides an analysis of the global floriculture market, presenting historical demand data (2014-2018) and opportunity assessment for the period of 2019-2029. The report on the global floriculture market reveals compelling insights on the basis of product type (cut flowers, cut foliage, plants, and propagation material), flower type (rose, chrysanthemum, tulip, lily, gerbera, carnations, Texas bluebell, freesia, hydrangea, and others), end use (personal use, institutions/events, hotels/resorts/spas, and industrial), and sales channel (direct sales, specialty stores, franchises, florists & kiosks, supermarkets/hypermarkets, independent small stores, online retailers, and other sales channel), across seven major regions.