Based on the new study by FMI, sales of natural antioxidants are estimated to go beyond US$ 1.7 Bn in 2019. Recent studies have revealed that today's consumers are investing more in their health expenditure to prevent or slow down the lifestyle diseases. Further, aging is a very complex biological process and characterized by progressive, time-dependent deterioration of physiological function followed by dysfunction leading to death. Skin aging is one of the prime concern among the population which drives the population to consume products which can slow down the process of aging.
Natural antioxidants have gained significant recognition among the consumers, manufacturers and the aesthetic practitioners, which led to a boom in the application of natural antioxidants in the food and cosmetic industry. Although the human skin contains a variety of antioxidants, increasing pollution and harsh environmental conditions misbalances ROS and antioxidants ratio of the skin, leading to oxidative stress of cells followed by apoptosis. Natural antioxidants protect the cell from oxidative damage and delay the process of aging.
Request a Complete TOC of this Report with figures:
https://www.futuremarketinsights.com/toc/rep-gb-9481
Key Takeaways from the natural antioxidants Market Study
Consumption of natural antioxidants by the food & beverage industry, especially in meat, fish, poultry sectors, is likely to account for relatively high sales.
Prevention of off-flavors and color change are key concerns among the meat product manufacturers, thereby potentially raising the demand for natural antioxidants.
Preventive effects of natural antioxidants in the development of rancidity and off-flavors along with lipid oxidation and color stability have been demonstrated in numerous studies.
The unique property of natural antioxidants to retard the product deterioration, changes in color and flavor has stimulated a wide interest among food manufacturers to incorporate such ingredients in their end products.
"A better understanding of health benefits of natural ingredients among today's consumers and their widening application in various food and beverages are anticipated to fuel the demand for natural antioxidants in the near future. Further manufacturers continue to leverage the experience and maturity to crack the code on the right portfolio balance between health and indulgence," says the FMI analyst.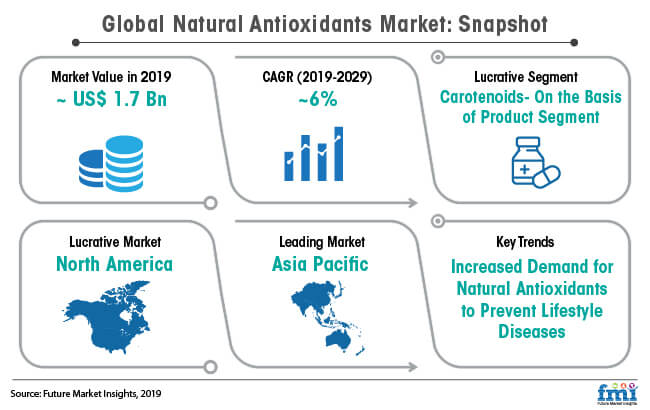 Ability of Natural Antioxidants to Enhance Shelf Life of Products – Key Influencer
Increasing the shelf-life is possible by improving the recipe and with advanced packaging techniques under modified atmospheric application of interrupted bread-making or intelligent packages. Shelf life is one of the major concerns among the bakery manufacturers as bakery products contain the subsequent amount of moisture, lipid, protein, carbohydrates, and others. These biological compounds are prone to auto-oxidation and generation of free radicals leading to spoilage and rancidity. Owing to unique mechanism in preventing ROS generation, natural antioxidants such as tocopherols and derived compounds have become an indispensable group of food additives to enhance the shelf life of bakery products. Further, natural antioxidants scavenge free radicals without altering the overall taste and texture of the food products. Burgeoning demand for bakery products is putting a positive impact on the growth of the natural antioxidants market over the years and the trend is likely to continue in the coming years.
Natural Antioxidants Market Key Segment
Product
Vitamins
Carotenoids
Polyphenols
Nature
Source
Fruits & Vegetables
Herbs & Spices
Microalgae & Seaweed
End-Use
Food & Beverages

Meat, Fish & Poultry
Spice & Condiments
Oil, Fat & Margarine
Packaged Food
Bakery & Confectionery
Others

Cosmetics
Nutraceuticals
Pharmaceuticals
Feed Industry
Region
North America
Latin America
Europe
Asia Pacific
Middle East & Africa
Find More Valuable Insights on Natural Antioxidants Market
Future Market Insights, in its new offering, brings to fore an unbiased analysis of the global natural antioxidants market, presenting historical demand data (2014-2018) and forecast statistics for the period, 2019-2029. The study provides compelling insights on the natural antioxidants market on the basis of product (carotenoid, polyphenols and vitamins), nature (organic and conventional), source (fruits and vegetables, herbs and spices and microalgae and seaweeds), end use (food and beverages, cosmetics, nutraceuticals, pharmaceuticals and feed industry) across five major regions.