The global fruit pomace market is expected to show a steady 4% CAGR between 2019 and 2027. The market's valuation in 2019 was US$ 3,028.7 Mn, finds Future Market Insights in a report, titled "Fruit Pomace Market: Forecast, Trend, Analysis & Competition Track – Global Review 2018 to 2027." The increasing focus on weight management, stoking dietary supplements sale is expected to bolster growth in the market. According to the report, the fruit pomace market is expected to reach US$ 4,155.6 Mn by the end of 2027. The report offers in-depth insights into the market, covering prevalent trends, hidden opportunities, and potential threats. It is intended to help stakeholders get an executive-level blueprint of the market.
Key Takeaways
Eastern Europe emerged dominant in 2019. Through the course of the forecast period, it is expected to remain an attractive market for fruit pomace.
In terms of form, liquid/ paste segment held the leading share in the market in 2019. It is expected to grow at a steady pace over the report's assessment period.
Among key segments based on application, the market is expected to witness increasing use in the dairy products segment. In addition to this, the demand from dairy supplements, food processing, beverage processing, and other segments will rise steadily in the coming years.
The rising health awareness among consumers has emerged as a chief market driver.
Food pomace is a cost-effective ingredient that can be used in foods and beverages to up their nutrient content. Spurred by this, the use of food pomace is expected to rise significantly in the food and beverages industry.
Get Sample PDF (including full TOC, Tables, and Figures) of Fruit Pomace Market @ https://www.futuremarketinsights.com/reports/sample/rep-gb-8136
"Fruit pomace, otherwise a byproducts of the food processing industry, has found use across diverse applications. It contains seeds, pulp, and peels, which if disposed of irresponsibly, can cause pollution. With government authorities across the world taking crucial steps to curb pollution, the increasing use of fruit pomace in dietary supplements, dairy products, beverage and food processing, and other industries will ensure environmental sustainability," said a lead analyst at FMI.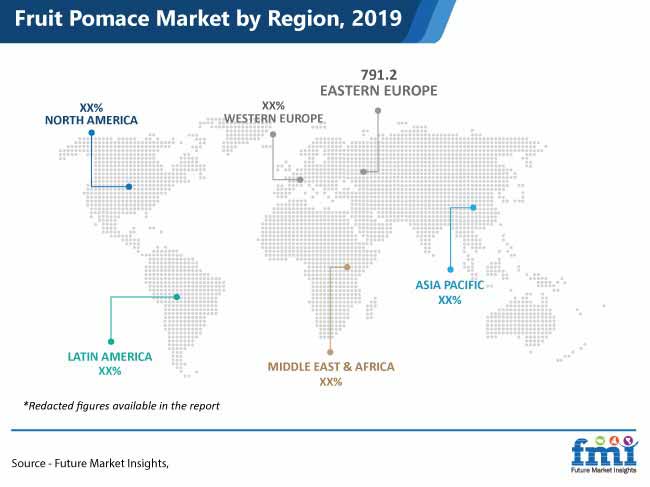 Demand for Cost-effective Ingredient to Ensure Higher Nutrient Content in Food Products Creates Sales Opportunities
Rising penetration of the internet and increasing awareness regarding health and wellness have rendered consumers more conscientious than ever before. Therefore a food product to get successfully sold across the market must fulfil the nutrient expectation of consumers. A key point to consider here is, high prices will can restraint sales. Therefore, manufacturers are looking for healthier yet cost-effective nutrient to incorporate in their food products. Fruit pomace offers exactly that, which has guaranteed the market's steady rise over the years. Furthermore, it is easier to obtain fruit pomace at a lower price from the food processing industry. Spurred by this, the fruit pomace market is forecast to exhibit a steady growth over the course of the forecast period.
Extra Cost Incurred on Processing Fruit Pomace, May Lead to It Getting Discarded as Waste
In order to get distributed across various industries, fruit pomace may require additional processing. This needs to be carried out by fruit processing companies. This could incur additional cost for them. Because the price of fruit pomace is less, the cost incurred on additional processing is often not covered by sales. Therefore, a lot of time pomace generated by fruit processing is often discarded as waste, rather than selling it to various end-use industries. Once discarded, no value is left to fruit pomace, which may negatively affect its sales.
Get more Insights Analysis on this Fruit Pomace Market @ https://www.futuremarketinsights.com/ask-question/rep-gb-8136
Who is Winning?
To strengthen their foothold in the fruit pomace market, leading companies are experimenting with various strategies. While some are focusing on research and development, a few others are aiming at expanding their product portfolio to expand their footprint. Still there are others who concentrate on forging strategic collaborations to stay ahead in the competition.
Some of the leading players operating in the fruit pomace market are Lemon Concentrate S.L., LaBudde Group, Inc., Citrosuco S.A., Sucocitrico Cutrale Ltd, Agrana Beteiligungs-AG, Marshall Ingredients, LLC, Louis Dreyfus Company B.V., Polyphenolics Inc., FruitSmart Inc., Pacific Coast Fruit Products Ltd., GreenField Sp. z o.o., Appol sp. z o.o., Whole Vine Products, and Yantai North Andre Juice Co. Ltd.
Get Valuable Insights into Fruit Pomace Market
Future Market Insights, in its new report, presents an unbiased analysis of the fruit pomace market, covering historical demand data (2013-2018) and forecast figures for the period between 2019 and 2027. The study divulges compelling insights into growth witnessed in the market. It segments the market on the basis of source (apples, citrus, banana, berries, grapes, mango and other fruits such as guava, pear), in terms of end-use (dairy products, beverage processing, food processing, edible oils and fats, animal feed, biofuel production, cosmetics and personal care, pectin production, and dietary supplements) and by form (powder, pellets, liquid/ paste) across six major regions.