Exhibiting a year-on-year growth of above 5%, the garment steamer market is projected to remain steady through 2020-2030. Future Market Insights (FMI) attributes liberal spending by consumers for the expansion of the market, in its recently published report on global garment steamer market.
Consumers are currently enjoying unbridled access to information through digital and offline platforms. Consequently, they are rendered conscious, now more than ever before. Consumer's purchase decisions often reflect their product knowledge and increasing desire to own technology driven home appliances.
The garment steamer market although not saturated yet is a highly competitive one. Frequent product launches and lower brand loyalty among consumers have compelled market players to maintain a competitive pricing for their products.
FMI observes a higher focus among manufacturers to make their products more user-friendly. They are offering easy operation modes, better convenience in maintenance, and portable and lightweight designs to woo consumers.
Consumer tendency for using products for different purposes has increased. This tendency could hamper growth prospects for the market. However, manufacturers are trying to use this very aspect to their benefit.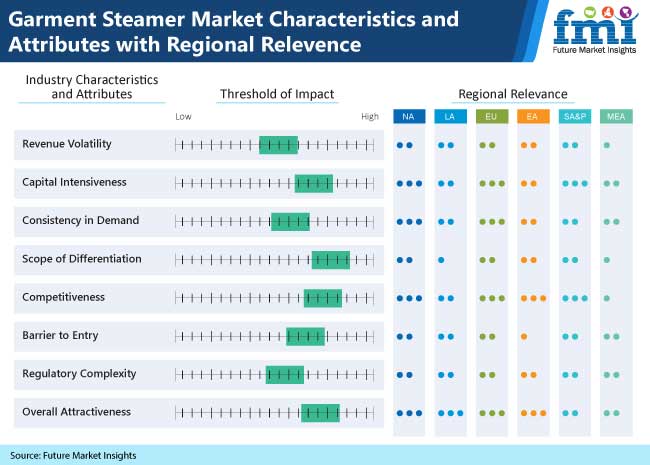 An increasing number of them are promoting the multi-purpose uses of garment steamers, which can be used for cloth steaming as well as drying. The inclusion of multiple features will enable the companies to tap into the prevailing trends.
Driven by these factors, the global garment steamer market is expected to surpass US$ 1.4 Bn by 2020. FMI offers in-depth analysis of the garment steamer market in its report. Some of the key takeaways from the report are:
An increasing number of companies are expected to capitalize on the trend of product premiumization. Targeting mass audiences is not enough for companies to sustain in the competitive market hence they are likely to leverage brand power to uptick sales
Online platforms are expected to emerge as highly lucrative sales channels. Consumer inclination towards purchasing online to avail various offers will aid the expansion of the segment
Behemoths such as Walmart Inc., Amazon.com, Inc., and others are likely to leverage their online presence as well as venture into offline sales. This could make competition prevailing in the market fiercer
The demand in handheld garment steamer segment is expected to surge exponentially. The utility and efficiency of these products with regards to advanced features and easy storage will spur their sales
Europe is expected to remain dominant garment steamer market through the course of the report's forecast period.
Request a Complete TOC of this Report with figures:
https://www.futuremarketinsights.com/toc/rep-gb-7883
Who is winning in Garment Steamer Market?
Some of the key players operating in the garment steamer market Koninklijke Philips N.V., Groupe SEB, Panasonic Corporation, Electrolux AB, Jiffy Steamer Company, LLC, Bear Down Brands LLC, Pursteam Company, SALAV USA, MARYANT, INC., Reliable Corporation, Hamilton Beach Brands Holding Company, AICOK, Pro Breeze, Steamfast Company, Stanley Black & Decker, Inc., Conair Corp., Secura Inc., Epica company, LG Electronics, Godrej & Boyce Mfg. Co. Ltd., IFB Industries Ltd., Samsung Electronics, GE Appliances, Midea Group Co., Ltd., Shanghai Flyco Electrical Appliance Co., Ltd., Haier Group Corporation, and among others.
Garment steamer companies are investing in product innovation and technology, expanding their footprints, and launching new products to cater to the growing demand in the market. This will allow companies to increase their brand awareness and will help them gain competitive advantage. The market is therefore witnessing a slew of launches. Some of these are:
In 2020, PurSteam launched its newest portable/handheld garment steamer.
In 2019, AICOK launched its upright garment steamer, BG525 with adjustable pole from 81.9cm/ 32in to 165cm/ 64.9in.
In 2019, Panasonic Corporation launched upright garment steamer, NI-GWE080 with a fabric board for stability of ironing.
Garment Steamer Market Segmentation
Product Type
Handheld/ Portable garment steamer
Upright/Non-Portable garment steamer
Power
Below 750 Watt
750-1000 Watt
1000-1500 Watt
1500-2500 Watt
2500 Watt & Above
Water Tank Capacity
Below 500 ml
500 ml- 1 Litre
1-2 Litre
2-3 Litre
3-4 Litre
4 Litre & Above
Material
Plastic
Anti-Lock Braking System (ABS)
Metal
Aluminium
Stainless Steel
Cast Iron
Ceramic
Price Range
Economy/ Mid-Range
Premium
End User
Households
Others
Commercial

Hotel & Restaurants
Hospitals
Long Term Care Centers
Sales Channel
Direct
Indirect

Supermarkets/Hypermarkets
Convenience Stores
Independent Small Stores
Discounted Stores
Online Sales Channel
Others
Region
North America
Latin America
Europe
South Asia
East Asia
Oceania
MEA
Get Valuable Insights into Garment Steamer Market
Future Market Insights, in its new offering, provides an unbiased analysis of the global garment steamer market, presenting historical demand data (2015-2019) and forecast statistics for the period from 2020-2030. The study divulges compelling insights on the garment steamer market based on the product type (handheld/portable garment steamer & upright/non-portable garment steamer), power (below 750 watt, 750-1000 watt, 1000-1500 watt, 1500-2500 watt, and 2500 watt & above), water tank capacity (Below 500 ml, 500 ml- 1 litre, 1-2 litre, 2-3 litre, 3-4 litre, and 4 litre & above), material (plastic, anti-lock braking system (ABS), metal, aluminium, stainless steel, cast iron, and ceramic), price range (economy/ mid-range, and premium), end-user (commercial and household), sales channel (direct and indirect) across seven major regions.
About Consumer Products division of FMI
Expert analysis, in-depth insights, and strategic recommendations – the Retail & Consumer Products team at Future Market Insights helps clients from all over the globe with their unique business intelligence needs. With a repertoire of over 500+ reports, the team has analyzed the consumer goods industry lucidly in 80+ countries for over a decade. We provide end-to-end research database on retail & consumer products market and consulting services; reach out to explore how we can help.