According to FMI's recent study, the global heat pumps market was valued at around US$ 32 Bn in 2019 and is estimated to expand at a CAGR of 5% over the forecast period of 2020-2030, with a limited impact of the current pandemic situation on long-term growth forecasts. Increasing demand for tech-advanced cooling solutions with low carbon footprint, government initiatives to curb greenhouse gas emissions, and advancements in heating, ventilation, and air conditioning (HVAC) systems are factors contributing to the revenue pool of the global heat pumps market.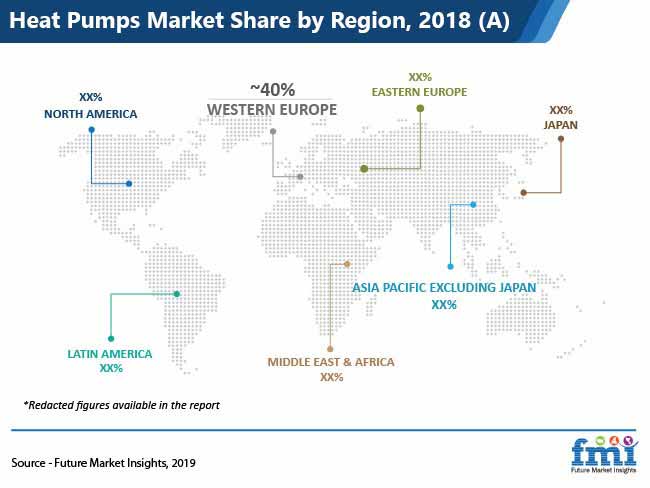 Ask an Analyst @ https://www.futuremarketinsights.com/askus/rep-gb-480

Amidst the global health crisis, cooling as well as heating systems are critical to fulfil the immediate needs of consumers, such as providing thermal comfort in hospitals and homes, preserving food and medicines, and keeping data centers running. In line with this, refrigeration and heat pumps are essential for consumers.
As the world attempts to fight the COVID-19 pandemic, it has led to delayed production across several heat pump production facilities in major coronavirus hit countries such as the US, China, and Germany, This is expected to dampen heat pump sales by around US$ 1 Bn in 2020. Moreover, the COVID-19 pandemic will significantly impact consumer behavior in the short term, with domestic shipments from China for air source heat pumps (ASHPs) registering drop of over one-third in January 2020.
The global heat pumps market will witness v-shaped recovery growth, owing to rising inclination towards innovative construction solutions, especially in countries such as India, China, and Mexico.
Request a report sample to obtain authentic analysis and comprehensive market insights at  @ https://www.futuremarketinsights.com/reports/sample/rep-gb-480
Key Takeaways from Heat Pumps Market Study
Air-water heat pumps are finding immense use in domestic hot water, floor heating, and space heating/cooling applications.
Heat pumps having flexible or twin-speed features to reduce energy consumption and improve overall efficiency throughout are likely to garner substantial traction over the forecast period.
Demand for CO2 refrigerant heat pumps is expected to increase, given its excellent recyclability, low cost, and environment-friendly attributes.
Hybrid heat pumps are likely to see significant rise in adoption, owing to their high efficiency, lower energy consumption, and cost effectiveness as compared to other heat pumps.
Air-source heat pumps continue to grab huge attention of market players, owing to their low installation cost and high demand in North America and Western Europe.
HEAT PUMPS MARKET TAXONOMY
The global heat pumps market is segmented into six segments in detail to cover every aspect of the market and present complete market intelligence to the readers.
Type
Air-water Heat Pumps
Air-air Heat Pumps
Ground Source Heat Pumps
Hybrid Heat Pumps
Power Source
Electric
Others (Gas Driven)
End User
Residential
Commercial
Industrial
Refrigerants
HFC
CO2
Ammonia
Hydrocarbon
Others
System Type
Air-source Heat Pumps
Ductless Mini-split Heat Pumps
Geothermal Heat Pumps
Absorption Heat Pumps
Region
North America
Latin America
Western Europe
Eastern Europe
APEJ
Japan
MEA
Buy Now@  https://www.futuremarketinsights.com/checkout/480
Product Synopsis
This FMI study offers a ten-year analysis and forecast of the global heat pumps market between 2016 and 2026. The study considers 2015 as the base year with market values estimated for the year 2016 and a forecast developed for the duration of 2017 to 2026. Compound Average Growth Rate (CAGR) is represented from 2016 to 2026. The study covers various perspectives of the market, including market dynamics, value chain, pricing analysis, competition analysis, regional and segmental growth comparison and macro-economic and industry growth analysis, along with segment level projections in a comprehensive manner. As per the findings of the study and perspectives of industry participants, the global heat pumps market is projected to grow at a CAGR of 7% between 2016 and 2026 in terms of value. Growing environmental concerns, supportive policy frameworks and reasonable costs of operations are some of the factors positively impacting the uptake of the heat pumps in the global market.