Hydroponics techniques have the distinctive capability to yield any type of crop throughout the year, in any season. Inconsistent climatic conditions cause a major strain on the supply chain of the global food market. The growing adoption of hydroponics systems by agriculturalists in several parts of the globe to ensure year-round harvest and to lessen food scarcity at regional levels is estimated to drive the growth of the global hydroponics market over the forecast period. Moreover, a yearlong and consistent supply of hydroponics fruits/vegetables ensures the constancy of food prices, irrespective of bad climatic conditions.
Key Takeaways from the Hydroponics Market Study
To reduce high energy costs associated with hydroponics cultivation, many companies are launching new LED lights that consume less electricity, and will be easier on the pockets of hydroponic farmers. For instance, In March 2017, HydroGarden, which is a U.K. based hydroponics equipment manufacturer, entered into an agreement with Plessey, which is a leading solid state lighting manufacturer. Plessey manufactures Hyperion series of LED units, which enable around 40% energy saving in comparison to sodium grow lights.
To maintain freshness and capitalize on the locally-grown appeal quotient, restaurants are increasingly using on-site hydroponic and aeroponic gardens for cultivation of vegetables and herbs. This trend is gaining popularity and is expected to continue to witness adoption in food outlets and food chains in many developed countries across the globe.
Microgreens are also called as sprouts, defined as young or baby vegetables that are primarily used to enhance the sensory appeal of dishes. Using hydroponic farming grown baby squash is also witnessing high demand from retail and restaurants. Thus, a number of farmers are adopting hydroponic farming in order to leverage this rising demand for such products in markets in developed countries, and this trend is expected to continue over the forecast period.
Request a Complete TOC of this Report with figures:
https://www.futuremarketinsights.com/toc/rep-gb-8993
"Adoption of hydroponics in lawns and backyards of houses is a major trend in developed countries. Much of this produce is for personal consumption, but in some cases is sold through local farmer markets and to unorganized small stores in the neighbourhood. Hydroponics based vegetables grown in houses are much cheaper as they are grown in small batches." says FMI analyst.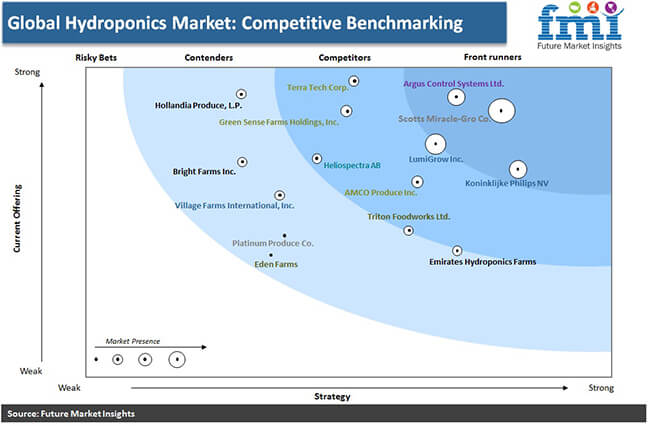 Awareness regarding healthy lifestyle and nutritious food is increasing among consumers due to which they prefer natural and organic food products. Consumers also prefer high quality and sustainable vegetables and fruits due to which the adoption of the hydroponics farming method is increasing as it ensures year round harvest. Multiple restaurants are using hydroponics gardens for the production of vegetables and fruits as it helps to maintain freshness for a long period of time. Hydroponically grown plants are witnessing high demand from retail and restaurants. Thus, a number of farmers are adopting hydroponic farming in order to leverage this rising demand for such products in markets in developed countries, and this trend is expected to continue over the forecast period.
Hydroponics Market Who is winning?
Some of the key players operating in the hydroponics market are Heliospectra AB, LumiGrow Inc., Green Sense Farms Holdings, Inc., Koninklijke Philips NV, Scotts Miracle-Gro Co., Argus Control Systems Ltd., Emirates Hydroponics Farms, Platinum Produce Co., Hollandia Produce, L.P., Eden Farms, AMCO Produce Inc. and many other players.
Several leading players in the hydroponics market are acquiring smaller businesses to expand their geographical presence and to broaden the product portfolio. The companies are investing in adopting advanced technologies of hydroponics farming to produce organic and natural food products.
In August 2016, Philips signed a contract with Innovatus, Inc. (Japan), one of the world's largest vertical farms to use LED lighting. The factory grows five varieties of lettuces, green leaf, and romaine, and has advanced, automatically-controlled equipment that monitors everything from air temperature, humidity, and CO2 concentration to nutrient liquid.
In June 2018, the company acquired Sunlight Supply, Inc., which enhanced Scotts Miracle-Gro Co.'s ability for improved performance while meeting the needs of the rapidly evolving hydroponic market. It also reinforces the confidence of the company in the future of the hydroponic growing market and creates a unique competitive advantage for the company.
HYDROPONICS MARKET TAXONOMY
The global hydroponics market is segmented in detail to cover every aspect of the market and present complete market intelligence to readers.
Crop Type
Vegetables

Kohlrabi
Radish
Cucumber
Tomatoes
Peppers
Others

Herbs & Greens

Arugula
Lettuce
Cilantro
Basil
Mint
Parsley
Spinach
Others

Fruits

Strawberry
Blueberry
Watermelons
Grapes
Cantaloupe
Others

Flowers
Solutions
Organic

Bone meal
Hoof / Horn meal
Fish meal
blood meal
Cottonseed meal
Dried locust or Grasshopper
Animal Manure
Others

In Organic

Macronutrients
Micronutrients
Farming Type
Indoor Farming
Outdoor Farming
Distribution Channel
B2B
B2C

Modern Trade
Grocery Stores
Specialty Stores
Bulk Suppliers & Distributors
Online retailers
Region
Global
North America
Latin America
Europe
East Asia
South Asia
Oceania
Middle East & Africa
Get Valuable Insights into Hydroponics Market
Future Market Insights, in its new offering, provides an unbiased analysis of the global hydroponics market, presenting historical demand data (2014-2018) and forecast statistics for the period from 2019-2029. The study divulges compelling insights on the hydroponics market based on crop type (vegetables, fruits, flower, and herbs & greens), solutions (organic and inorganic), farming type (indoor framing and outdoor type), distribution channel (B2B and B2C), across seven major regions.