As per a new market research report on hydroxyapatite published by Future Market Insights (FMI), the market is anticipated to reach a value over US$ 700 Mn by 2030 expanding at a CAGR of 8.7%.
Calcium phosphate, most commonly known as hydroxyapatite, is used as a bio active material, which interacts with tissues and also aids bone growth. It accounts for a relatively smaller share in the current scenario; however, it is expected to expand significantly over the forecast period. It is mostly applied as coatings over the conventionally-used titanium or stainless steel implants and are projected to play an important role in 3-D printing over the coming years. From medical research it has been found that the natural human bone comprises of 70% hydroxyapatite.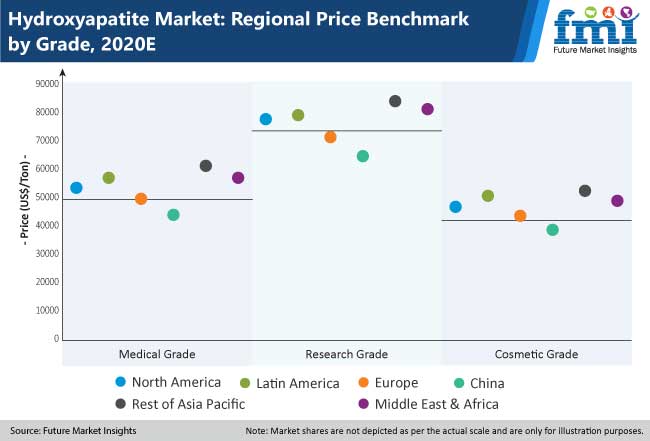 "In recent years, with the advent of 3D printing and use of biomaterials for prosthetics and implants, hydroxyapatite has continued to gain prominence in its use as a biomaterial. Moreover, with increased spending on healthcare devices and treatment, the market participants will benefit from adding a good value proposition" says the FMI analyst.
Request a Complete TOC of this Report with figures:
https://www.futuremarketinsights.com/toc/rep-gb-12308
Key Takeaways of Hydroxyapatite Study
In terms of application, orthopedic implants are projected to hold a significant share in the global hydroxyapatite market owing to an increase in the number of knee, hip and joint replacement cases due to several factors such as the increasing aging population, accident and physical trauma, etc.
China and North America are expected to be the most promising regions in terms of product sales. Collectively, both regions are estimated to hold over half of the market share, in terms of value, during the forecast period
The global market for hydroxyapatite is fairly competitive, with consolidation primarily between the top 3 manufacturers
Key players in the market are focusing on product development as well as mergers and acquisitions to strengthen their business footprint in domestic and overseas market. Pre-emptive strategy has proven to be a key differentiator
In spite of the COVID-19 pandemic and the resultant lockdown on manufacturing, the perceived growth trend will continue to be unhindered. Though, in the initial months of 2020, the immediate lockdown will affect the production, supply and sales process, yet from the consistent demand from critical medical cases and required prosthetics, the demand of hydroxyapatite as the principal material would be sustained in the successive years. The global hydroxyapatite market is expected to witness a rebound during the first and second quarters of 2021.
Key Segment
Grade
Medical Grade
Cosmetic Grade
Research Grade
Application
Dental
Orthopedic
Biochemical research
Others
Region
North America
Latin America
Western Europe
Eastern Europe
China
India
Japan
SEAP
Middle East & Africa
Competitive Landscape:
Fluidinova, Bonesupport AB, Berkeley Advanced Biomaterials, Sigma Graft, Nano Interface Technology, SofSera, Plasma Biotal Ltd., and Premier Biomaterials are considered as some of the leading market players in the Hydroxyapatite market. The top 3-4 manufacturers hold around half of the global market share in which these players are adopting inorganic growth strategies for the business development. Key players such as Bonesupport AB and Berkeley Advanced Biomaterials are focused on collaboration and acquisition to expand their presence in the global market.
Conclusion:
The positive outlook of the prosthetics and medical implants especially in developing countries of South East Asia and Latin America is expected to fuel growth of the hydroxyapatite market. Market participants are need to stick to the stringent regulations related to product composition and formulation in several countries. Development of 3D print compliant grades is the key trend amongst the market participants.
The research report analyzes the consumption of hydroxyapatite on the basis of value (US$ Mn) and volume (Tons). The global market projection is based on the factors such as dental and orthopedic implants market growth, biomaterials market growth outlook, availability of substitute materials, stringent regulations employed for medical implants, demand rate from region and respective scope of application, pricing and availability of the product. As per our research scope, we have drilled down the market by considering the medical grade, research grade and cosmetic grade. The scope of the research report includes the application of Hydroxyapatite used in dental, orthopedics, biochemical research and others.
About Chemicals & Materials division of FMI
The Chemicals & Materials division at FMI offers distinct and pin-point analysis about the chemicals & materials industry. Coverage of the chemicals and materials market extends from commodity, bulk, specialty and petrochemicals to advanced materials, composites, and nanotechnology. The team also puts special emphasis on 'green alternatives', recycling and renewable technology developments, and supply-demand trade assessment. Our research studies are widely referred by chemical manufacturers, research institutions, channel partners, and government bodies for developing – 'The Way Forward'.