The constant need to upgrade operational efficiencies has prompted large, small, and medium enterprises to make serious investments in document outsourcing in recent years. Multitude of organizational benefits such as flexibility, scalability, and efficiency has created a fertile ground for the growth of these outsourcing services.
Seamless shift from on-premise servers to cloud-based solutions has given the end users an incredible advantage of secured access to tall piles of documents. With dedicated service providers and expert guidance, players in the global document outsourcing market are personalizing the services to save the turnaround time for their customers.
The critical task of managing lengthy and complex documents across verticals such as government, financial services, publishing, and research has been reformed with document outsourcing services. This has been a pivotal turning point for the players in contributing towards digital transformation of sectors, fueling the demand for efficient document outsourcing services.
Future Market Insights states that the global document outsourcing services market is expected to rise steadily at a CAGR of 3% during the forecast period of 2020 to 2030.
"Document outsourcing service providers are offering a complete turn-key scanning solution on-site. Mobile on-site scanning unit provides its services for all levels of legal, pharmaceutical, financial, and educational sectors. On-site team brings with it an expert team led by certified document imaging architects. In addition, the production facility provides on-line chat, video resources and many other features that assures success of the project," says an FMI analyst.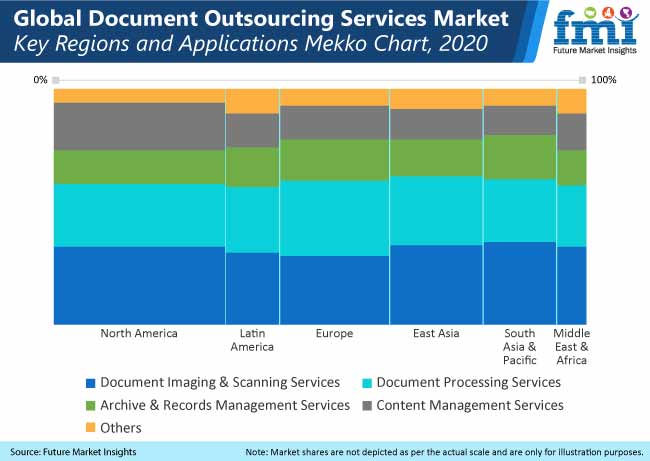 Key Takeaways of Document Outsourcing Services Market Study
The document processing services segment to grow 1.5x of the current market value by the end of 2030
SMEs to show higher interest in deploying document outsourcing service as efficiency and transparency remain integral to cost savings
Healthcare sector to witness adoption of document outsourcing services up by 1.4x of current market value by end of 2030 as it records tremendous volume of new document generation amidst COVID-19 pandemic
North America document outsourcing services market to surge at a CAGR of 2.7% during the forecast period of 2020-2030
COVID-19 Pandemic Impact Analysis
Remote working amidst the COVID-19 crisis has prompted higher uptake of document outsourcing services. Companies have had to make massive shift in operations overnight as nationwide lockdowns were announced. Paperless operations, remote communication, payroll processes, and tax filings amongst others have been moved to a virtual space, making it critical for companies to maintain their documentation accurately in these unprecedented times.
These factors are projected to drive the document outsourcing cloud-based solutions segment at a growth rate of 1-2% in the coming period. Need to streamline core functions for businesses is projected to push them to opt for document outsourcing services that are cost-effective in the long run.
Currently, the greater demand to focus on delivering seamless services to consumers, achieving great quality, and enhancing processing time is expected to make SMEs and new entrants towards document outsourcing services.
Accredited Conformity Assessment Ensure Reliability Prompting Adoption
The usage of accredited conformity assessment and quality standards is increasingly required in different sectors such as supply chain, manufacturing, and others, which are often seen in tender documents.
Many companies require their service providers to maintain management system standards such as ISO 27001, ISO 9001, and others. Some industry sectors have even created their own management system standards such as TL 9000 for telecommunications sector and AS9100 for aerospace. Such specificity is has worked in favor of service providers who ardently strive to up their game to offer improved solutions
As per a survey conducted it is found that non-compliance with regulations and standard costs companies two to three times more than proactively spending to stay in compliance.
Thus, document outsourcing service providers approve quality standards and give purchasers the confidence about the safety and reliability of products as well as their ability to meet certain specifications. These accredited conformity assessment and quality standards operate with international standards and mutual recognition accreditation agreements. In the long term this facilitates trade through the reduction of potential transactional costs and creates new opportunities by removal of technical barriers to trade.
More Valuable Insights on document outsourcing services Market
In its latest report, Future Market Insights offers an unbiased analysis of the global document outsourcing services market, providing historical data for period of 2015-2019 and forecast statistics for the period of 2020-2030. To understand opportunities in the document outsourcing services market, the market is segmented on the basis of services (document imaging & scanning services, archive & records management services, content management services, document processing services, others), enterprise size (small and medium enterprises, large enterprises), and industry (BFSI, manufacturing, legal, media & entertainment, government, retail, healthcare, IT & Telecom, others), across six major regions.
Table Of Content
1. Executive Summary
1.1. Global Market Outlook
1.2. Demand Side Trends
1.3. Supply Side Trends
1.4. Analysis and Recommendations
2. Market Overview
2.1. Market Coverage / Taxonomy
2.2. Market Definition / Scope / Limitations
3. Key Market Trends
3.1. Key Trends Impacting the Market
3.2. Innovation / Development Trends
3.3. Key Success Factors
4. Global Document Outsourcing Services Market – Pricing Analysis
4.1. Pricing Analysis, By Types of Services/Service Contract
4.2. Global Average Pricing Analysis Benchmark
5. COVID-19 Pandemic Crisis Impact Analysis
5.1. Impact of COVID-19 Pandemic Crisis on Outsourcing Services Market in Global
5.2. Pre-COVID-19 Growth Analysis (2018-2019)
5.3. Post-COVID-19 Impact Analysis (2020 & beyond)
5.4. Expected Recovery Scenario (Short-term / Mid-term / Long-term)
5.5. Key Action Points for Outsourced Services Providers