The number of alcohol consumers in India continues to rise on the account of rising urban population. Consuming alcoholic beverages has become a customary tradition for a majority of people residing in India's urban cities. Changing lifestyles and increasing incomes are compelling them to consume alcohol on a frequent basis. Future Market Insights recently published its study on India's alcohol market, which estimated that more than INR 2.5 trillion worth of alcohol was consumed in 2016. The study further projected that consumption of alcohol in India is less likely to decline in the years to come. By the end of 2026, more than 14 billion litres of alcohol will be sold across India.
After a comprehensive study of this market, our analysts have come to a conclusion that political instability and economic slowdown are two major factors expected to hinder the growth of the premium alcohol market in India. For instance, India has different regulations from the rest of the world. Every state has different rules for alcohol consumption. In some states such as Gujarat sale of alcohol is banned whereas in some states there is a time limit on the sale of alcohol. The study also demonstrates market dynamics that are expected to influence the current environment and future status of the India alcohol market over the forecast period. The primary objective of this report is to offer updates on trends, drivers, restraints, value forecasts, and opportunities for manufacturers operating in the India alcohol market.
For more insights into the market, request a sample of this report@https://www.futuremarketinsights.com/reports/sample/rep-in-201
According to the report, revenues amassed from sales of alcohol in India will soar vigorously at 7.4% CAGR, and reach INR 5.1 trillion value by the end of 2026. In terms of volume, India's alcohol consumption in 2016 has been estimated to have surpassed 8 billion litres and will grow at 5.5% CAGR in the due course of forecast period. An in-depth analysis on India's alcohol distribution indicated that just above three-fourth of alcohol consumed in the country is government controlled. In 2016, alcohol distributed in India through open market sales made revenues worth over INR 400 billion. Meanwhile, about 550 million litres of alcohol was auctioned in India by the end of 2016.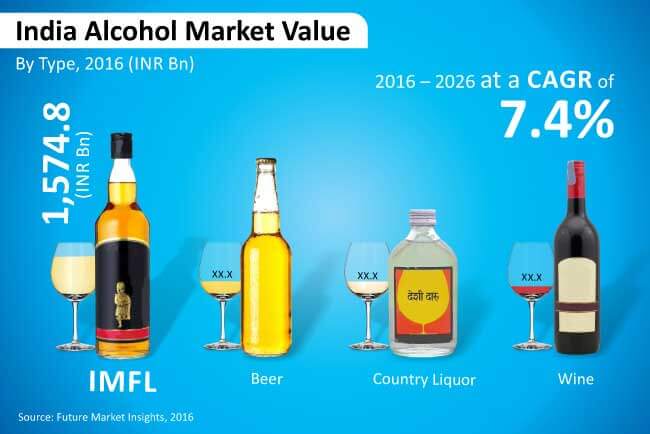 Request for Customization @ https://www.futuremarketinsights.com/customization-available/rep-in-201
The key segments covered in this report are:
By Type
IMFL

Brandy and Cognac
Rum
Whiskies
White Spirits
Others

Beer
Wine

Red Wine
White Wine
Rose Wine

Country Liquor
By Make
Imported Liquor
Indian Made Foreign Liquor
Foreign Liquor Bottled in India
Indian Made Indian Liquor
By Gender
By Ingredients
Grains
Molasses
Fruits and Vegetables
By Distribution Market
Government Controlled
Open Market
Auction Market
By Region
South Zone
North Zone
East Zone
West Zone
Buy Complete Report @https://www.futuremarketinsights.com/checkout/201
Table Of Content
1.Executive Summary
2.Assumptions & Acronyms Used
3.Research Methodology
4.India Alcohol Market Overview
5.India Alcohol Market Analysis and Forecast, By Type, 2016–2026
6.India Alcohol Market Analysis and Forecast, By Make, 2016–2026
7.India Alcohol Market Analysis and Forecast, By Gender, 2016–2026
8.India Alcohol Market Analysis and Forecast, By Ingredients, 2016–2026
9.India Alcohol Market Analysis and Forecast, By Distribution Market, 2016–2026
10. India Alcohol Market Analysis and Forecast, By Region, 2016–2026
11. South Zone Alcohol Market Analysis and Forecast, 2016–2026
12. North Zone Alcohol Market Analysis and Forecast, 2016–2026
13. East Zone Alcohol Market Analysis and Forecast, 2016–2026
14. West Zone Alcohol Market Analysis and Forecast, 2016–2026
15. Competition Landscape