Rising focus on health and fitness are attracting consumers towards products that contain less amount of calories. On the back of this factor, there is increase in consumption of sweeteners such as isomaltulose. According to a study by Future Market Insights (FMI), isomaltulose sales will continue rising, enabling the market reach an overall valuation of US$ 711.1 Mn by 2021.
The metabolic effect of isomaltulose is more favorable for those with type 2 diabetes than sucrose, as isomaltulose has opposing release profiles of the gut hormones GIP and GLP-1. Isomaltulose in the intestine decreases GIP secretion, increases GLP-1 secretion, while at the same time maintaining a certain level of insulin secretion, thus avoiding extreme blood glucose fluctuations.
As for the regulation of the metabolism of blood glucose, isomaltulose is more suitable than typical table sugar. This encourages customers to opt for isomaltulose products over table sugar. As a result of these factors, food grade isomaltulose will remain highly sought-after. According to FMI, food grade isomaltulose will account for over 90% of sales in the market in terms of grade.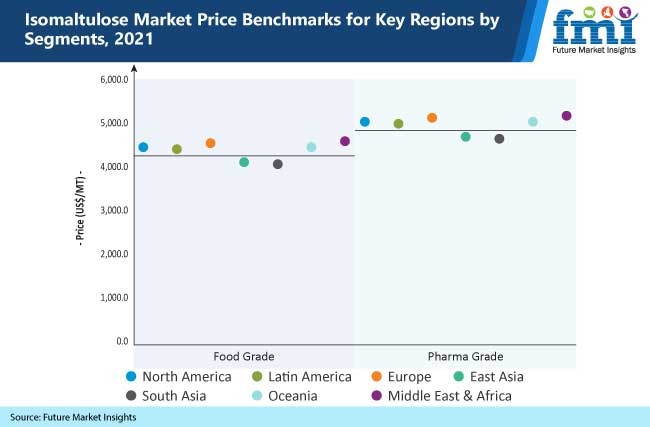 Key Takeaways from the Isomaltulose Market Study
Isomaltulose market will register a CAGR of 5.3% between 2021 and 2031, driven by increasing inclination for sugar alternatives among consumers
As a result of rising prevalence of obesity and diabetes, consumers in the U.S. will showcase high demand for sugar alternatives. This will catapult the U.S. to the fore, enabling it to account for over 90% of the North America isomaltulose market.
Demand in the U.K. will be driven by increasing focus on health and wellness. The rising incidence of cardiovascular ailments will create opportunities for sales, enabling the U.K. market to exhibit above 3% y-o-y growth in 2021
In terms of revenue, the China dominated the East Asia Isomaltulose market with a share of 70.5% in 2021
Within Europe, Germany, France, and Italy will showcase considerably high demand
"In the sugar substitutes industry, the growing need to turn to lower-calorie diets has been a key enabler and accelerator of production, resulting in isomaltulose market growth. As a result, many sugar substitute brands are gaining popularity and acceptance among developed-economy populations." said a lead analyst at FMI
Clean Label Food Products Gaining Traction
Over the last few years, demand for clean label food has seen a significant increase across the globe. Increasing consumer understanding of the medical benefits of products that contain natural ingredients and solid support by worldwide ingredient manufacturers in developing these products are major factors driving demand for clean label ingredients, as these are manufactured without using chemicals, additives, and artificial ingredients, and minimally processed. Willingness to pay a premium for products that offer health benefits is higher in emerging markets than anywhere else. The most desirable qualities include products that are GMO-free, have no artificial coloring / flavors, and are all natural while also helping to meet essential nutritional needs.
For More Details, Ask Analyst @ https://www.futuremarketinsights.com/ask-question/rep-gb-13118
Who is winning?
A few of the leading players operating in the Isomaltulose market Cargill Inc, Anhui Elite Industrial Co.,Ltd, Merck KGaA, Now Foods, BENEO GmbH, ErgoNutrition, Qingdao Oriental Tongxiang International Trading Co.,Ltd, and Others.
BENEO's scientifically validated functional carbohydrates are contained in PalatinoseTM, a new product from one of the leading producers of functional ingredients. After three years on the market and more than 70 brands, Luked's energy boost drink 3Action Guarana-Speed on Top is the newest RTD drink to contain PalatinoseTM.
Get Valuable Insights into Isomaltulose Market
Future Market Insights, in its new offering, provides an unbiased analysis of the Isomaltulose market, presenting historical demand data (2016-2020) and forecast statistics for the period from (2021-2031). The study divulges compelling insights on the Isomaltulose market based on By Grade (Food Grade and Pharma Grade), By End Use (Confectionery, Bakery Products, Breakfast Cereals and Bars, Dairy Products, Frozen Desserts, Beverages, Flouridated Salt, Table Top/ Spoon-for-spoon Sweeteners, Supplements and OTC Medicine, and Ingredients) across seven major regions (North America, Latin America, Europe, China, Asia Pacific, Oceania, and Middle East and Africa).