Sustained consumption of petroleum and lubrication products by manufacturing and industrial sectors continues to drive demand for jerry cans at a global level. Despite emergence of intermediate bulk containers (IBCs) as a cost-competitive and space-conserving alternative, the demand for jerry cans remains healthy owing to high adoption by food & beverages and chemical industries. The global jerry cans market is set to exhibit a steadfast CAGR of 5% during 2019 – 2029.
Manufacturers are focusing on new innovative packaging to increase sales, which include refilling of gas in jerry cans. With advancements in shipping and logistics industries, manufacturers are providing gas knobs in jerry cans as a part of new innovative designs. Furthermore, intercontinental trade of petroleum, oil, and lubricants is expected to remain positive in the next five years, thereby driving sales of jerry cans.
Key Takeaways – Jerry Cans Market Study
The food & beverages industry will remain the key end user of jerry cans, attributing to ascending demand for vegetable oil, juices, and milk.
Manufacturers are developing products to meet end users' specific requirements such as their demand for premium grade jerry cans to sustain fuels at the desired temperature. These developments, on the backdrop of value creation such as cost efficiency, increased storage capacity, and sustainability of plastic jerry cans, allow customers to gauge substantial long-term benefits.
Plastic jerry cans account for over 85% of overall sales and would remain prominent in the global jerry cans market in next ten years. Metal jerry cans on the other side, will witness gradual demand.
Jerry can manufacturers are leveraging their in-house research, testing, and development capabilities to innovate products in the industrial chemical sector.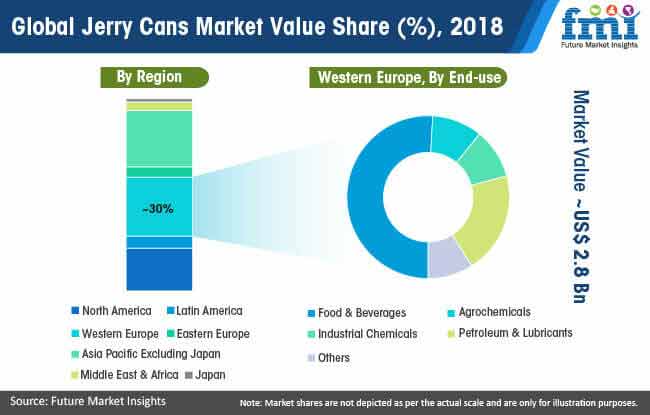 The industrial sector is expected to exhibit increasing usage of larger and higher-value containers such as customized jerry cans. Furthermore, the demand for jerry cans is anticipated to significantly heighten in years to come, as manufacturers as well as suppliers in the food & beverage products have been consistently focusing on raising their production bars.
For more insights into the market, request a sample of this report@        https://www.futuremarketinsights.com/reports/sample/rep-gb-5801
Manufacturers Eying Opportunities in Europe and South Asia
Over the past several years, the food & beverages industry has witnessed astonishing growth in regions such as European and South Asian countries. Leading jerry can manufacturers are targeting these regions to capture a prominent market share. Countries such as India, France, and Germany are leading milk producers, which create enormous opportunities for jerry cans manufacturers to strengthen their business footprints in these regions. Rising industrial manufacturing outputs also support the growth of jerry cans market. In 2018, the Grief Inc. announced the expansion of its CorrChoice sheet feeder network with the addition of new jerry cans facility.
More Valuable Insights on Jerry Cans Market
Future Market Insights, in its new offering, offers an unbiased analysis of the global jerry cans market, analysing historical demand from 2014-2018 and forecast statistics for 2019-2029. The study unravels growth projections on the jerry cans market on the basis of material (plastic and metal), capacity (below 10 litres, 10-25 litres, and above 25 litres), and end use (food & beverages, agrochemicals, industrial chemicals, petroleum & lubricants, and others), across the seven major regions. The food & beverages segment is further sub-segmented into vegetable oil, juices & milk, and others. The agrochemicals segment is further sub-segmented into fertilizers and pesticides. The industrial chemical segment is further sub-segmented into hazardous and non-hazardous, petroleum & lubricants, and others.
Key Questions Answered by the Report
What is the size of the jerry cans market?
The jerry cans market is expected to grow at a steady 5% CAGR between 2019 and 2029. The market reached a US$ 2.8 billion valuation in 2018.
Which is the largest market for jerry cans?
Western Europe is a major market for jerry cans. Growing production, consumer spending and exports of edible oils is a key factor supporting regional growth.
Which are the top companies in jerry cans market?
Plastic Container Packaging Corporation, Time Technoplast Ltd., KaduJaya Perkasa, Greif Inc., WERIT KunststoffwerkeW, and Scepter Canada Inc. are among the key market players in the global jerry cans market.
What are the applications of jerry cans?
Jerry cans find extensive use in the food and beverage sector for bulk storage and retail food packaging formats. The market is also gaining demand through oil and petroleum, chemical, sanitary supplies, and agriculture product storage applications.
From what materials are jerry cans produced?
Manufacturers produce jerry cans from 2 materials – metal and plastic. The production of plastic jerry cans has grown relatively higher on the back of odor reduction and leak proof properties.
What is the outlook on North America jerry cans market?
Evolving industrial trends, growth in consumer spending and improvements in manufacturing technologies drive demand for jerry cans in North American markets in the long term.