Future Market Insights (FMI) in a new study has presented optimistic outlook for the marine radar market, especially with the advent of next generation solid state radars. The demand is expected to remain consistent through the forecast period, enabling the market register Y-o-Y growth at little above 2% in 2021.
Maritime safety and efficiency is of utmost concern when it comes to merchant marine. Hence the segment dominates in terms of application and position is expected to remain impact through the course of the report's forecast period. Also, the rising military and naval application to enable market players maintain a strong footing.
According to FMI, X-Band radar holds significant share in the market. It is also used in a wide range of applications including merchant marine, fishing vessels, yacht/recreational and military/ naval. Technology advancement and growing demand for progressive intrusion detection systems are underpinning the market growth. FMI has projected the market's valuation to reach US$ 971 Mn by the end of 2031.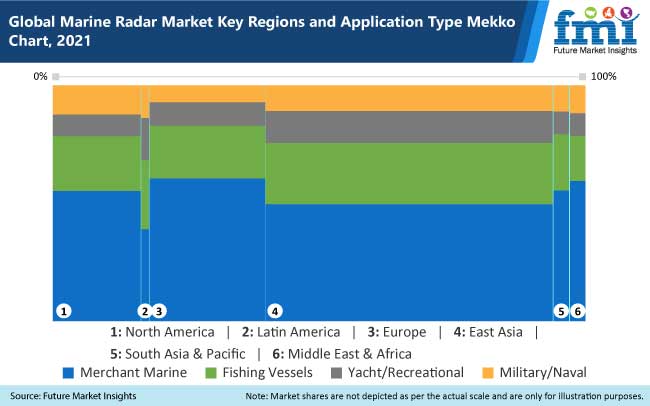 For more insights into the market, request a sample of this report@ https://www.futuremarketinsights.com/reports/sample/rep-gb-4258
Key Takeaways of Marine Radar Market Study
The global marine radar market is projected to expand at a CAGR of ~2.4% by during the forecast period of 2021-2031

The U.S. will remain a key pocket for sales, accounting for over 90% of the North America Market based on value in 2021

Slump in growth is likely in the U.K. following the pandemic outbreak in 2020. FMI projects the market to record -0.5% Y-o-Y growth in 2021. However, recovery is on cards 2022 onwards

Germany will remain a bright spot for sales in Europe, while negative growth is likely in France as well

After sluggish return in 2020, sales in both Japan and South Korea market are likely to improve
"With the increase of naval fleet and quantum of capital investments for navigation and communication systems across regional defence sectors at a healthy rate, the demand of marine radar is expected to be buoyed in wake of the mentioned factor. Furthermore, market is also expected to evolve towards maintenance & services domain for the market participants to extend their business footprint." says a FMI analyst.
The demand for Marine Radar is expected to grow at moderate rate owing to its increasing consumption in Merchant Marine application. Military Naval is the segment is expected to grow during the forecast period with fastest CAGR. Naval sector plays an important role in structuring command on the marine radar market. China and India are the major target locations for supply of Marine Radar for manufacturers.
Who is Winning?
The global marine radar market is equally integrated at global and regional levels. Some of the leading players included in the report are FURUNO ELECTRIC CO., LTD., Northrop Grumman Corporation, Lockheed Martin Corporation, Saab AB, Japan Radio Co. Ltd., BAE Systems, JRC (Alphatron Marine), and Garmin, Raytheon Company, Wärtsilä SAM Electronics Gmbh, Transas Marine International AB and others. To gain competitive advantage in the market, market participants are involved in acquisition activities expansion, merger, and expansion with regards to excessive market growth.
For Information On The Research Approach Used In The Report, Request TOC@ https://www.futuremarketinsights.com/toc/rep-gb-4258
Key Questions Answered in the Report
Which is the most lucrative market for marine radar?
China currently leads the global market for marine radar. China will continue accounting for more than half of the East Asia market for marine radar through the forecast period.
Which type of marine radar is more in demand?
X Band Radars are highly preferred for many applications. The demand for X Band Radars is expected to remain high in the near future, especially due to its increasing use in various applications in merchant marine and fishing vessels.
Which end-use application is exhibiting high demand for marine radar?
Marine radar are widely used in merchant marine applications. Their usage in fishing vessels and yacht/recreational is rising day-by-day.