Future Market Insight (FMI) estimates that packaging testing revenues will increase significantly from 2021 to 2031, with worldwide revenues up 12.3% year over year in 2021. Driven by introduction of new standards and regulations to increase sale of packaging testing equipment, the packaging testing market is forecast to reach valuation of US$ 12.60 Billion by the end of 2021.
Consumers are seeking convenient packaging options which are lab tested and stand true on the parameters of quality and quantity defined by regulation committees. Package testing is performed on packaging materials using scientific equipments to evaluate the suitability of contact material with processed and frozen foods, medicines drugs, etc.
Increasing demand for recyclable and biodegradable packaging has fueled the demand for packaging testing for different packaging materials under different conditions. Pharmaceutical drugs and food and beverage manufacturers are employing packaging testing to fulfill the complex packaging standards to build brand reputation. These factors are emerging as the key growth drivers in packaging testing market.
Introduction of new standards by International Organization for Standardization, ASTM International, European Committee for Standardization, TAPPI, Military Standards, and ISTA (International Safe Transit Association) are also making a positive impact on the market growth.
Increasing consumer demand for rugged product packaging along with growing demand from product manufacturers for packaging that are highly durable and keeps product safe from impurities and damage will propel the packaging testing market growth throughout 2031.
Medical products and devices are required to go variety of testing services to evaluate the strength and durability of medical device packaging and ensure compliance with defined regulations and standards. Similar consumer electronics companies are also engaging in package testing to eliminate product damage by poor packaging. Rise in number of testing procedures like water-proof testing and drop testing is expected to generate significant revenue in packaging testing market.
Key Takeaways from FMI's Packaging testing Market Study
North America packaging testing market is poised to grow at a prolific 10% CAGR during the forecast period. Growth uptick can be attributed to strict regulatory compliances issued by U.S. Food and Drug Administration, high demand for packaged foods and increase in consumption of medicines in U.S. and Canada.
Driven by rise in export and production of sustainable and safe packing in U.K. and Germany, Europe packaging testing market is forecast to grow at astronomical CAGR of 11.2% through 2031.
Japan will account for 26% of East Asia packaging testing market share, in the wake of rising geriatric population and increasing demand for pharmaceutical drugs for treating chronic diseases in the country.
South Korea market will exhibit significant growth owing to increasing demand for sustainable packaging for ready-to-eat and drink food & beverages in the country. South Korea will hold around 14% of East Asia packaging testing market share in 2021.
Food and beverage packaging testing registered stupendous growth due to rise in consumption of ready-to-eat packaged foods during pandemic crisis in 2020. The modern packaging offers longer shelf life for necessary food items, and thus are becoming common in households.
"Rise in cases of chronic ailments have accelerated the demand for pharmaceutical drugs across the globe. Growing need for safe and secure packaging to protect the drugs will drive the market growth in upcoming years," says the FMI analyst.
Competitive Landscape
According to FMI, market players are looking to ramp up their production capabilities as they are planning to introduce new and innovative packaging testing solutions. Strategic partnerships between market players are on the cards, to gain the upper hand in this competitive environment.
In July 2021, ProAmpac, a leading flexible packaging company started new innovation and collaboration center in Rochester, New York. The company aims to expand its physical and analytical laboratory testing services portfolio for multiple applications.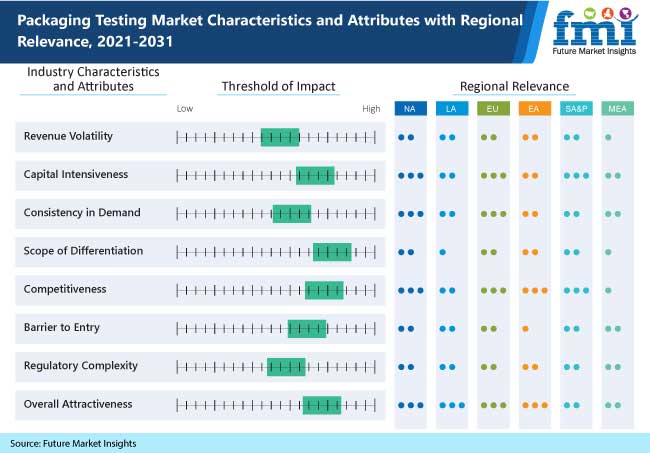 Liquibox and WestRock, two leaders in sustainable packaging collaborated and developed a "Ships In Own Container (SIOC)" bag-in-box solution for Amazon in 2021. This new packaging system reduces waste and eliminates the leakages, costly returns and brand reputation damage.
Prominent players operating in the packaging testing market are:-
SGS SA
Eurofins Scientific SE
ALS Limited
TUV SUD AG
Mérieux NutriSciences Corporation
Microbac Laboratories Inc.
National Technical Systems Inc.
EMSL Analytical Inc.
Institut fur Produktqualitat GmbH
Campden BRI
For Information On The Research Approach Used In The Report, Ask Analyst @ https://www.futuremarketinsights.com/ask-question/rep-gb-12655
More Insights into Global Packaging Testing Market
In its latest report, FMI offers an unbiased analysis of the global packaging testing market, providing historical data for the period of 2020-2030 and forecast statistics for the period of 2021-2031. In order to understand the global market potential, its growth, and scope, the market is segmented on the basis of material type (plastic, metal, paper and paperboard, glass, wood and others), testing type (physical, chemical, and microbiological), packaging application (food and beverages, healthcare, pharmaceuticals, medical devices, chemical and fertilizers, personal care and cosmetics, electrical and electronics, automotive, and industrial), across seven major regions (North America, Latin America, Europe, East Asia, South Asia, Oceania, and Middle East and Africa).
About Packaging Division at Future Market Insights
The Packaging division at FMI provides an in-depth historical analysis and granular projections of the global packaging market. Ranging from packaging materials to designs & formats, FMI has an exhaustive market research database, serving clients with unique offerings and strategic recommendations. With a repository of 750+ reports, the team analyzed the packaging industry comprehensively in 70+ countries. The team evaluates every node of the value chain and provides end-to-end research and consulting services; reach out to explore how we can help