Banking on superior design and performance parameters when compared with wooden pallets, paper pallets continue to be a strong potential contender holding the future of pallet industry. Though accounting for a negligible share in the current global pallet market, paper pallet is expected to see a robust 6% CAGR during 2019 – 2029. This strong growth outlook, as suggested by a new research study of Future Market Insights (FMI), is majorly attributed to complementarity of paper pallet with the Lightweighting trend. It also warrants a higher level of in-transit security and compatibility with process automation that is underway.
Adoption of paper pallet is on a slight yet constant rise owing to its resilient structure and complete recyclability. Cost efficiency would remain an add-on, opines the report. Through 2029, the current market value of paper pallets is projected to double. The electrical & electronics industry is expected to be a prominent end-use industry owing to ascending demand for shelf-ready paper pallets for displaying bestsellers such as smartphones, tablets, and laptops. Besides, lucrative opportunities within the cosmetics and personal care sector is another factor expected to boost the growth of the paper pallet market.
To Get Sample Copy of Report visit @ https://www.futuremarketinsights.com/reports/sample/rep-gb-7227
Key Takeaways – Paper Pallet Market Study
Paper pallets are available in customizable formats. However, the Grocery Manufacturers Association standards prefer pallets of size 48 inch x 40 inch. This study analyzes that end-users are expediting the demand for small-sized paper pallets.
Depending on load lifting and storage conditions, two-way paper pallets are more economic for manufacturing and provide good strength for load lifting. However, the key limitation of two-way pallet is that it offers less flexibility and constraint of load lifting from all directions. Market players are addressing this limitation by developing four-way pallets.
Analysis on the basis of pallet structure reveals that hybrid pallet market is witnessing a significant rate of growth over the recent past. Along with the combined benefits of honeycomb and corrugated pallet for load carrying, hybrid pallet ensures buckle-free load lifting.
In contrary to their wooden and plastic counterparts, paper pallets do not require chemical processes to maintain their shelf life which will boost their preference in the long run. Paper pallets are highly resistant against fungal and bacterial impact and thus ISPM-15 compliance is not mandatory for their usage. Furthermore, advancements in engineering technologies and paper pallet designs has also been translating into improved load carrying capacity. End users are thus expected to initiate a mass shift from traditionally used pallets to more sustainable paper pallets.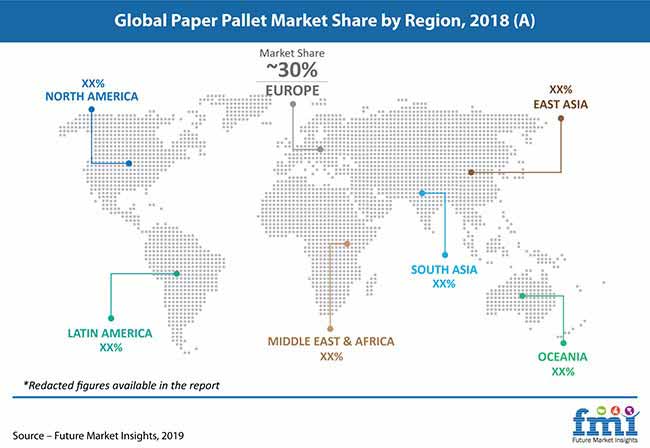 Key Players Focusing on Market Consolidation and Innovation
The study offers detailed insights on the competition landscape of global paper pallet market which is prominently operated by DS Smith Plc, Smurfit Kappa Group, Conitex Sonoco, Oji Holdings Corporation, and Tat Seng Packaging Group Ltd. While strategic M&A and collaborative alliances will remain in the bandwagon of developmental activities of these key companies, they are also expected to plan heavy investments in new launches. Innovative product launches will help them stand out in this young market.
In August 2019, London-based unit of DS Smith plc. company, DS Smith Hungary, launched paper fiber pallet with the investment of HUF 3 Bn (US$ 6.9 Bn). The company soon acquired TRICORE Packaging and Logistic AG for business expansion in Europe. Earlier in 2018, Smurfit Kappa Group introduced TOPPSafe™, a corrugated, lightweight, and hexacombed pallet top that replaced heavy wooden and plastic pallet tops.
Download Methodology of this Report @ https://www.futuremarketinsights.com/askus/rep-gb-7227
More About Paper Pallet Market Report
Future Market Insights, in this new offering, offers an unbiased analysis of the global paper pallet market, analyzing historical demand from 2014-2018 and forecast statistics for 2019-2029. The study unravels growth projections on the paper pallet market on the basis of size (42 inch x 42 inch, 44 inch x 44 inch, 48 inch x 40 inch, and 48 inch x 45 inch), product (two way pallet and four way pallet), pallet structure (honeycomb, corrugated, and hybrid), and end-use industry (food and beverages, pharmaceuticals, cosmetics & personal care, electric & electronics, healthcare, and automotive) across seven major regions.
PAPER PALLET MARKET TAXONOMY
The global paper pallet market is segmented in detail to cover every aspect of the market and present complete market intelligence to readers.
Size
42 inch x 42 inch
44 inch x 44 inch
48 inch x 40 inch
48 inch x 45 inch
Product
Pallet Structure
Honeycomb
Corrugated
Hybrid
End-use
Food & Beverages
Pharmaceutical
Cosmetics & Personal Care
Electric and Electronics
Healthcare
Automotive
Region
North America
Latin America
Europe
South Asia
East Asia
Oceania
Middle East and Africa