The power tools market is anticipated to expand at a promising 6% CAGR from 2020 to 2030. According to a recent FMI report, the power tools market is expected to face significant challenges for the duration of the coronavirus pandemic. The sharp slump in industrial and manufacturing activity is hurting the demand for power tools in the short term. On the other hand, online sales channels will be essential to sustain revenue flow during the crisis period.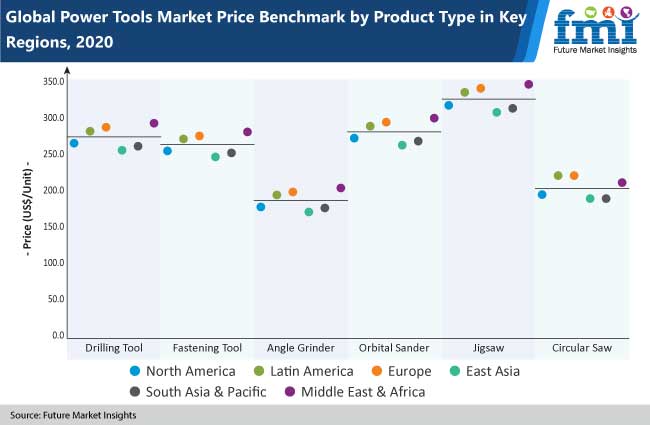 "The growing popularity of DIY trends has resulted in increasing power tool applications in household settings. Consequently, manufacturers are focusing on the development of superior safety features. This aids in reducing risk of injury and bolsters adoption of power tools in numerous non-technical applications," says the FMI analyst.
Request a report sample to gain comprehensive market insights at https://www.futuremarketinsights.com/reports/sample/rep-gb-760
Power Tools Market – Important Takeaways
Electric power tools are fast gaining ground to surpass pneumatic alternatives, owing to improvements to performance of rechargeable battery technologies, and lower energy consumption.
Fastening and drilling applications account for significant market share owing to improvements in durability and resistance to temperature and shock.
Asia Pacific will reflect a rapid growth rate owing to extensive industrialization and urbanization in countries such as China and India.
Power Tools Market – Driving Factors
Continued, rapid growth of construction activities on a global scale, remains the primary driver behind the power tools market.
Innovations in performance and automation of power tools in industrial applications, is contributing to adoption rates.
Power Tools Market – Leading Constraints
High costs of purchasing electric power tools is a key obstacle to sales and adoption.
Volatility in the prices of raw materials required to manufacture power tools holds back market growth.
Expected Impact on Market by Coronavirus Outbreak
The coronavirus is impacting the power tools market in multiple fronts. Lockdown measures have resulted in closure of factories, and disruption of logistics. In addition, the trade restrictions imposed during the outbreak has created raw material shortages, which will negatively impact pricing and inventory in the short term. However, the popularity of DIY practices, coupled with online sales channels will help to partially mitigate revenue losses.
Explore data on the power tools market with 101 figures, 21 tables and the ToC. You will also find market segmentation on https://www.futuremarketinsights.com/askus/rep-gb-760
Key Segments
Product Type
Drilling Tool
Fastening Tool
Heat Gun
Angle Grinder
Chain Saw
Orbital Sander
Jigsaw
Impact Wrench
Circular Saw
Technology
Application
Manufacturing

Metal Fabrication
Automotive
Railways
Aerospace
Furniture
Others

MRO Services

Facility Management
Automotive
Aerospace
Other Industrial

DIY
Construction
Sales Channel
Region
North America
Latin America
Europe
East Asia
South Asia & Pacific
Middle East and Africa (MEA)

Contact Sales for Further Assistance in Purchasing this Report@ https://www.futuremarketinsights.com/checkout/760
Product Synopsis
A recent market study published by FMI on the Power Tools Market includes global industry analysis for 2016-2020 & opportunity assessment for 2021-2031, and delivers a comprehensive assessment of the most important market dynamics. After conducting thorough research on the historical and current growth parameters of the Power Tools Market, the growth prospects of the market are obtained with maximum precision.