The demand witnessed in the global precision stainless steel market is increasing at a rapid pace. With its use across various sectors including industrial, civil, mechanical, and others increasing, Future Market Insights (FMI) has forecast the precision stainless steel market is to reach US$ 3.2 Bn dollars by 2029.
Precision stainless steel comes in many varieties and this feature combined with its easy workability makes it popular among industries. Players are on the lookout for every type of precision stainless steel to design and manufacture their industrial goods.
As there is a constant rise in the manufacturing of industrial goods, the growth prospect of the precision steel market seems promising. FMI's study offers a comprehensive overview of the market. It studies the key growth drivers as well as gauges investment feasibility across various segments. Some of the key takeaways from the report are highlighted below.
To Get Sample Copy of Report visit @ https://www.futuremarketinsights.com/reports/sample/rep-gb-9833
Key takeaways from the precision stainless steel market:
The under 0.1mm category is expected to take up approximately 25% of the global precision stainless steel market. It is also expected to reach 800 million dollars by 2029
With precision stainless steel being used for the manufacturing of seamless pipes and tubes, the automotive segment is said to have a strong foothold with a CAGR of 3.8%
Precision stainless steel also has its use in the electronics and transportation industry. This guarantees a 2/5th share value in the global market between 2020-2029
East Asia is expected to overtake other regions and create an opportunity to reach 388.7 million dollars by 2029
By 2029, South Asia is expected to expand by 1.4 times of current market value
"Some of the leading manufacturers operating in the global precision stainless steel market are aiming to capitalize on opportunities prevalent across high potential markets in East Asia. Expansion of automotive sector and construction activities in China, Japan, and South Korea are causing shift of focus among companies from developed to high potential markets," said FMI analyst.
Demand Likely to Reduce during COVID-19
The global precision stainless steel market has witnessed a reduction in demand for precision stainless steel owing to the pandemic. Covid-19 has caused a disruption in the supply chain of industries across the globe.
Lockdown orders enforced in regions such as Europe, Asia, and North America have hampered production activities in across plants. This heavily impacted the global precision stainless steel market.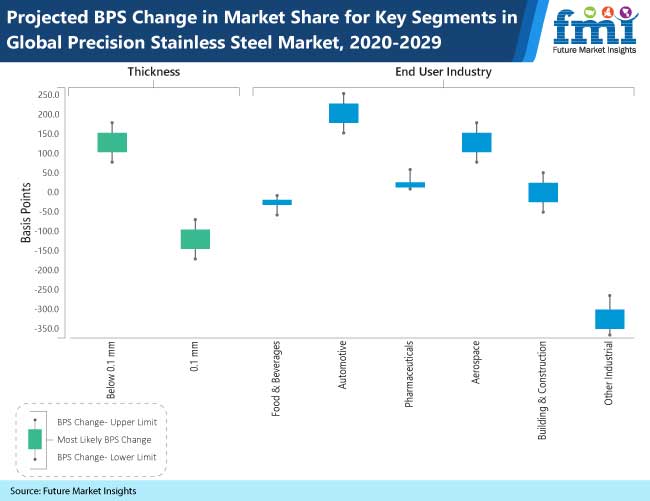 Who is winning?
Top players of precision stainless steel contribute approximately 40-45% to the global market value. Some of the leading key players are Acerinox, Baoshan Iron & Steel Co., AK Steel Corporation, Outokumpu Oyj, Jindal Stainless Group, and Aperam.
These players are trying to cope up with the after-effects of the pandemic and implement new strategies to get back to their production processes.
More Valuable Insights on the Precision Stainless Steel Market:
Future Market Insights (FMI) has provided an unbiased analysis of the precision stainless steel market. FMI has analyzed the global market based on historical data from 2015-2019 and opportunity assessment from 2020-2029. In terms of thickness, the precision steel market is segmented into below 0.1mm and 0.1 mm. On the basis of end-use industry, the market is segmented into food & beverages, automotive, pharmaceuticals, aerospace, building & construction, and others. Regionally, the market can be segmented into North America, Europe, Latin America, MEA, East Asia, South Asia, and Oceania.
Precision Stainless Steel Market Segmentation
Material Type
Below 0.1 mm
0.1 mm to 0.4 mm
End-user Industry
Food Industry
Automotive
Pharmacy
Construction
Industrial
Aerospace
Regional Outlook
North America – US, Canada
Latin America – Brazil, Mexico, Argentina, and the rest of Latin America
Europe – Germany, Russia, Italy, France, U.K, Spain, BENELUX, Nordic, Poland, and the rest of Europe
South Asia – India, Thailand, Indonesia, Malaysia, Vietnam, and the rest of South Asia
East Asia – China, Japan, South Korea
Oceania – Australia, New Zealand