Favorable government policies and expansion of online presence by leading market players are enabling growth in the pump and dispenser market, finds Future Market Insights (FMI) in a new study. Demand for pumps and dispensers has surged considerably in the last few months and the trend is likely to continue through near-term assessment period in response to the increasing sales of hand washes and spray sanitizers amid COVID-19.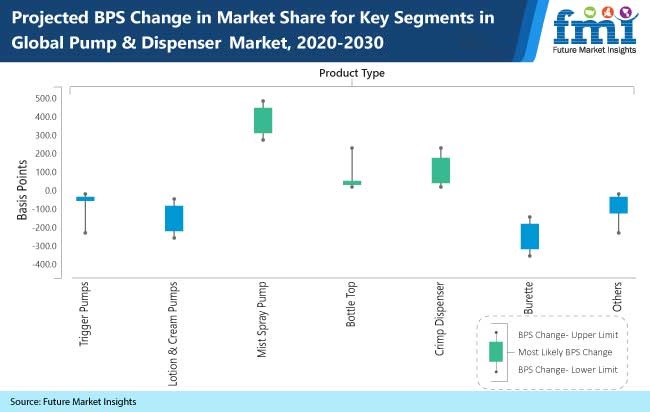 Request a report sample to obtain authentic analysis and comprehensive market insights at @ https://www.futuremarketinsights.com/reports/sample/rep-gb-6663
Pump and dispensers are usually used in packaging products like creams, lotions, sauces, shampoo, chemical products, face wash, body washes, cleaning products, skin care products, shower gel, and others. They reduce the chances of product wastage while dispensing and can be reused, making them sustainable options. Increasing demand for pump and dispensers for packaging and skin care is expected to propel growth in the market.
Key Takeaways from Pump and Dispenser Market Report
The pump and dispenser market is expected to grow at a CAGR of 4.3% between 2020-2030
East Asia is predicted to dominate the market due to increasing demand for food packaging, cosmetics and pharmaceuticals. Rising government initiatives to improve manufacturing is also expected to contribute towards market growth
Increasing sale of products on ecommerce websites has created lucrative opportunities for manufacturers
Demand from cosmetics & personal care segment will continue rising through the forecast period
Fluctuating raw material prices of high density polyethylene (HDPE) and polypropylene (PP) is expected to limit market growth
COVID-19 Impact Analysis
The COVID-19 pandemic has disrupted various industries including the pump and dispenser market. The lack of raw materials saw a decline in production. The market experienced a -0.4% CAGR during 2020. It is expected to rise at a moderate pace 2021 onwards due to increasing demand for soap dispensers and sanitizers due to hygiene concerns.
Who Is Winning?
Companies operating in the market are focusing on developing technology and creating innovations to improve the production process. Some are even adopting more sustainable methods by using recycled materials. In 2019, Silgan Dispensing launched products created using post-consumer recycled (PCR) plastic, in order to improve sustainability and create an eco-friendly initiative.
Some of the key players in the pump and dispenser market are Nature Home Decor, Creative Home, Mason Jar Lifestyle, Perfume Studio, Toilet Tree Products, Youngerbaby, Rail, Hayward, Kleine Wolke, LOGAN, CJH, VCCUCINE and ZmOffers.
Valuable Insights into The Pump and Dispenser Market Report
Future Market Insights (FMI) has presented a detailed analysis on the pump and dispenser market with the inclusion of an assessment for the years 2020-2030. The market has been divided into several segments in order to provide an insightful analysis. On the basis of the product type, the market is divided into trigger pumps, lotion & cream pumps, mist spray pumps, bottle top, crimp dispenser, burette and others. Based on the application, the market is divided into body lotions, hand care lotions, reagents, perfumes & deodorants, liquid soap, shampoos & conditioners and others.
The market is segmented based on material type into plastic, metal and glass. The plastic segment is further divided into polyethylene (high density polyethylene (HDPE) and low density polyethylene (LDPE), polyethylene terephthalate (PET), polyvinyl chloride (PVC), polypropylene (PP) and others. On the basis of end use, the market is divided into cosmetics & personal care, homecare, pharmaceutical, chemicals & fertilizers, laboratories, automotive and others. The market is segregated based on geography into North America, Latin America, Europe, Middle East and Africa, East Asia, South Asia and Oceania.
Get Complete TOC Of this Report @ https://www.futuremarketinsights.com/toc/rep-gb-6663
Key Segments
Product Type
Trigger Pumps
Lotion & Cream Pumps
Mist Spray Pump
Bottle Top
Crimp Dispenser
Burette
Others
Material Type
Plastic

Polyethylene (PE)

High – Density Polyethylene (HDPE)
Low – Density Polyethylene (LDPE)

Polyethylene Terephthalate (PET)
Polyvinyl Chloride (PVC)
Polypropylene (PP)
Others

Metal
Glass
Application
Body Lotions
Hand Care Lotions
Reagents
Perfumes & Deodorants
Liquid Soap
Shampoos & Conditioners
Others
End Use
Cosmetics & Personal Care
Homecare
Pharmaceutical
Chemicals & Fertilizers
Laboratories
Automotive
Others
Regional Outlook
North America – U.S., Canada
Latin America – Mexico, Argentina, Brazil, Rest of Latin America
Europe – Germany, Italy, France, U.K., Spain, BENELUX, Russia, Rest of Europe
Middle East and Africa – GCC Countries, Turkey, Northern Africa, South Africa, Rest of MEA
East Asia – China, Japan, South Korea
South Asia – India, Thailand, Malaysia, Indonesia, Rest of South
Oceania – Australia, New Zealand
Contact Sales for Further Assistance in Purchasing this Report @ https://www.futuremarketinsights.com/checkout/6663
Product Synopsis
A recent market report published by Future Market Insights on the pump & dispenser market provides global industry analysis for 2015-2019 & forecast for 2020-2030. The report offers a comprehensive assessment of the most important market dynamics. After conducting thorough research on the historical, as well as current growth parameters of the pump & dispenser market, the growth prospects of the market are obtained with maximum precision.