Future Market Insights (FMI) projects that the global railway bearings market will grow in value at a CAGR of 5.7% between 2020 and 2030.
According to the study, as governments invest significantly to improve railway infrastructure, demand for locomotive components, including railway bearings is likely to grow. Moreover, the availability of a wide range of railway bearings – such as cylindrical, tapered, angular contact, etc. – enables adoption based on diverse application-specific requirements.
Owing to the expansion of railway networks, there is a high demand for high-reliability and low-maintenance bearings that can withstand harsh physical conditions. According to the study, market players are directing their focus towards the innovation of advanced bearings. Manufacturers are coating bearings with ceramic or polymers to give insulation properties and are opting for other innovations.
The report opines that the growth of the market will behold fluctuations during the COVID-19 pandemic owing to hindered operations in the railway sector. However, governments and private railway network operators are introducing policies and investments to cover lost revenue opportunities, and this is likely to alleviate the impact to an extent.
Key Takeaways
The global railway bearings market is poised to surpass a valuation of US$ 4.5 Bn by 2030.
Roller bearings will remain top-selling category, accounting for over 3/5th of market value through the assessment period.
Based on application, the wheels segment will capture nearly half of global market value.
By type of train, freight trains will account for over 40% of global value, ascribed to high spending by private freight rail network operators on timely maintenance and upgrades.
The aftermarket segment will channel nearly 65% of revenue to the market owing to increased spending on aftermarket servicing.
Europe will reign supremacy over the regional landscape, capturing around 2/5th of market share.
East Asia, South Asia, and Pacific will cumulatively account for nearly 40% of global value, backed by soaring investments to develop railway networks.
"Market players are focusing on developing advanced yet cost-effective railway bearings that require minimal maintenance in order to build a loyal consumer base," remarks FMI analyst.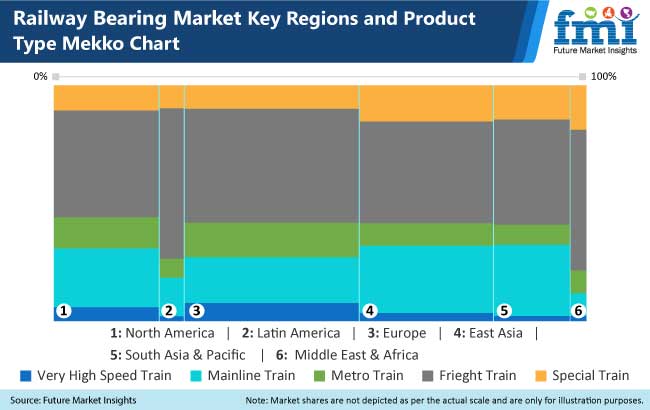 COVID-19 Impact
COVID-19 pandemic is expected to adversely impact the growth of the market as operations in the railway sector, including maintenance and production, come to a screeching halt. Moreover, hampered productions and travel restrictions are decelerating the demand for railway bearings during the pandemic and the downtrend is likely to prevail through 2020.
However, governments are investing in the railway sector to lower the long-term impact. For instance, China's Zhejiang provincial government increased its spending on railways in the first half of 2020 to cope up with the losses caused by COVID-19. Such initiatives will alleviate the impact to an extent.
Who is Winning?
Railway bearings manufacturers are focusing on developing innovative and cost-effective products and are entering strategic partnerships to achieve the same. On these lines:
In March 2020, NSK Ltd. developed low maintenance, high-reliability gearbox bearings which can be used for large and small gears
In September 2020, NSK Ltd. announced that its bearings found adoption in Japan's Shinkansen bullet train.
In November 2018, Russia based AB SKF, announced its partnership with Siemens, to improve railway reliability.
For Information On The Research Approach Used In The Report, Ask Analyst @ https://www.futuremarketinsights.com/ask-question/rep-gb-8007
FMI's report includes profiles of some of the most prominent names in the market including NSK Ltd., The Timken Company, JTEKT Corporation, National Engineering Industries Limited, Amsted Rail Company, NTN Corporation, Schaeffler Group, SKF AB among others.
To Know More About Railway Bearings Market
A new market research report published by Future Market Insights (FMI) on the global railway bearings market offers an executive-level blueprint of the market. It offers insights into demand trends and provides analysis of opportunities over the forecast period, 2020-2030. The report examines the market through four different segments – product type, train type, application, sales channel, and region. The report also provides extensive assessment of pricing by different key market dynamics, life cycle analysis, and technologies that are being deployed in the supply and product adoption across several end-use industries.
About the Automotive Division of FMI
The automotive division of FMI offers a novel approach and innovative perspective in the analysis of the industrial automation market. Comprehensive coverage of capital, portable, process, construction, industrial, and special purpose machinery across the manufacturing sector and distinctive analysis about the installed base, consumables, replacement, USP-feature-application matrix make us a pioneering voice in the industry. We are preferred associates with established as well as budding industry stakeholders, and channel partners when it comes to sustaining, growing, and identifying new revenue prospects.