Increasing use of transportation fuel is likely to have a direct impact on the demand for refinery catalyst, according to a recent report published by Future Market Insights (FMI).
Catalytic processes are imperative for the production of transportation fuels such as gasoline, diesel, jet fuel and others from petroleum. Evolving composition of transportation fuel composition requirements to match the environmental regulations and changes in engine design are expected to drive the refinery catalyst market.
Environmental regulations are getting stricter across the world. Considering this, with the need for cleaner emission growing stronger, companies are looking for newer ways to reduce their harmful emissions.
In order to adhere to these stringent rules, the use of cleaner emission fuels is encouraged. This has led to high use of low Sulphur fuels as these cause less damage to the environment. Refinery catalysts play a major role as they are critical in reducing Sulphur from fuels. Owing to these applications, global refinery catalyst market is expected to experience a surge in demand.
Furthermore, the increasing uses of different catalysts such as Fluidised Catalytic Cracking (FCC) and Hydroprocessing technologies are poised to boost the market growth. The report offers exclusive insights into the market. Some of the key takeaways are highlighted below:
Key Takeaways
Asia Pacific is expected to emerge as the most lucrative market for refinery catalysts during the forecast period
North America and Europe are likely to exhibit witness substantial growth during forecast period 2020-2030
FCC is projected to emerge as the most lucrative product type, however, the hydrotreating segment expected to witness highest growth during the forecast period
Zeolites likely to remain the highest used ingredient segment
Rising use of transportation fuel to boost growth of global refinery market.
"Regulations encouraging the use of cleaner emission fuels are expected to get more stringent in the near future as concerns over environmental safety is taking precedence globally. Hence the role of refinery catalysts in lowering the Sulphur levels of fuels is expected to gain more prominence, providing huge market potential for manufacturing companies in the industry" said an analyst at FMI.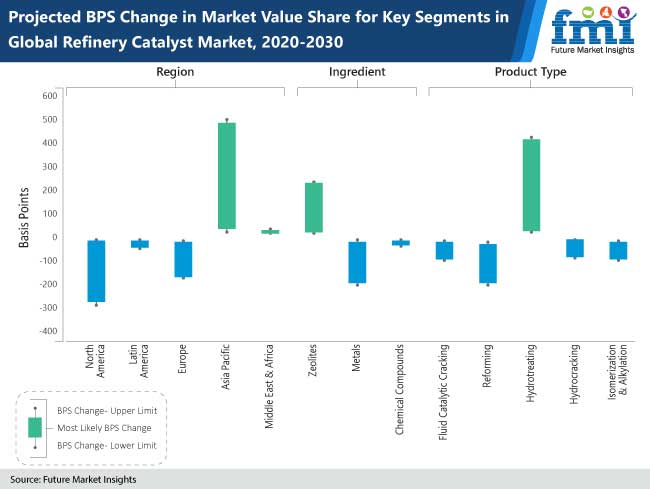 COVID-19 Impact on Refinery Catalyst Market
COVID-19 pandemic is impacting the global economy since its advent. Refining catalyst market is affected by the impact pandemic had on the petrochemical industries across the world. The pandemic has affected all aspects of business.
With restricted productions and lack of labor due to the social distancing norms, the manufacturing companies are still recovering from the impact. This negative impact is expected to lead to a drop in demand of refinery catalysts in 2020.
As transportation was restricted across worst hit countries for a significant time during the year, the demand took a huge dip. Decelerating growth was recorded as crude oil prices went to an all-time low with negative pricing for the first time.
Additionally, with end-use industries affected in the regions such as Asia Pacific, North America and Europe, a significant drop in year on year growth rate is expected. Although the market has suffered losses, it is expected to pick itself up by the beginning of 2021.
For Information On The Research Approach Used In The Report, Ask Analyst @ https://www.futuremarketinsights.com/ask-question/rep-gb-11168
Who is Winning?
Global refinery catalyst market encompasses established players who operate internationally as well as regional players. This has resulted in a highly competitive market. The key strategies adopted by players include strengthening supplier base and improving distributor networks.
Furthermore, product innovations is a key strategy employed by large players to sustain in the market and gain advantage over competitors. For instance, key player in the global refinery catalyst market, BASF has announced launch of a new fluid catalytic cracking (FCC) catalyst product for gasoil feedstock. It is based on the multiple framework technology (MFT) by BASF.
This new product has confirmed its ability to deliver better economic performance during trials. This is achieved through butylene selectivity, high conversion and coke selective bottoms upgrading in order to increase refiner's profitability.
Some of the key players in the global refinery catalyst market are Exxon Mobil, Albemarle Corporation, W.R. Grace and Co., Honeywell International Inc., Clariant AG, BASF SE, Axens SA, Haldor Topsoe A/S.
Get to Know More about Refinery Catalyst Market  
The research report analyzes the total sales of refinery catalyst on the basis of volume (Units) and value (US$ Mn). The market is projected on the basis of factors such as petrochemical industry growth, fuel sales, global GDP growth, industry value added, and government regulations. The scope of the research report includes only new sales of refinery catalyst for OEM. The report offers critical insights into the refinery catalysts market in terms of product type (FCC, reforming, hydrotreating, hydrocracking, isomerization and alkylation), ingredients ( zeolites, metals and chemical compounds), and across 5 key regions (North America, Latin America, Europe, Asia Pacific & Middle East & Africa)
About Chemicals & Materials division of FMI
The Chemicals & Materials division at FMI offers distinct and pin-point analysis about the chemicals & materials industry. Coverage of the chemicals and materials market extends from commodity, bulk, specialty and petrochemicals to advanced materials, composites, and nanotechnology. The team also puts special emphasis on 'green alternatives', recycling and renewable technology developments, and supply-demand trade assessment. Our research studies are widely referred by chemical manufacturers, research institutions, channel partners, and government bodies for developing – 'The Way Forward'.