Future Market Insights recently published a detailed study on worldwide sales of and advancements in modern-day roofing materials, and it reveals that the global market value reached approximately 115 Bn in 2018. An exponential increase in number of both of residential and commercial buildings, catering to ever-rising population, are mainly triggering the sales of roofing materials.
As the global focus on sustainability of every aspect of an industry intensifies, manufacturers are increasingly targeted towards materials with low impact on the environment. Moreover, greater awareness of the value of roof space and potential of unique roofing materials other than keeping occupants warm and dry has been influencing the innovation strategies, opines the FMI study.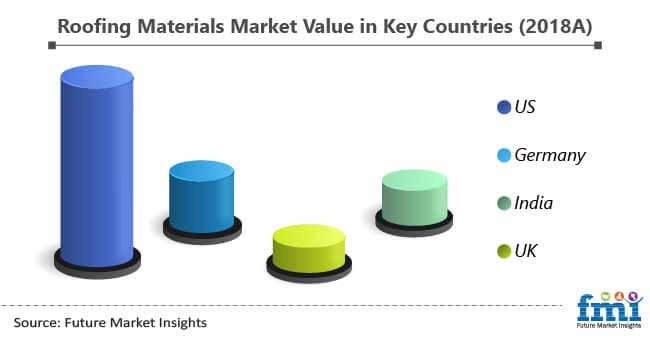 Roofing Materials Market Study: Key Takeaways
The global roofing materials market is projected to record CAGR of 4.2% during the forecast period (2019-2029).
North America's market, accounting for 46% of the total value, will continue to exhibit an impressive growth rate through 2029.
High growth opportunities are expected in Asia Pacific, due to rapid expansion of construction industry in developing countries
In 2018, total sales of roofing materials in India accounted for revenues worth over US$ 7.3 Bn.
Asphalt shingles are projected to account for relatively high share, following restrictions on bitumen in developed markets.
New installation of roofing materials will continue to influence growth strategies, while manufacturers are focusing on capitalizing on rapidly increasing retrofitting activities.
High adoption in residential sector remains key growth influencer, while rising application in commercial setting is likely to result in increased market share.
Visit For Sample>>https://www.futuremarketinsights.com/reports/sample/rep-gb-5659
"With Tesla launching the third version of its Solar Roof Tiles or textured glass shingles that could send electricity to the company's home batteries, key players are hard pressed to increase their investments in greener and versatile roofing materials. Moreover, these players will need to show duality in their approach to stay ahead of the curve. In addition to sustainable offerings, manufacturers are required to ensure ease of installation and low maintenance costs," says the FMI analyst.
Manufacturers Eyeing Lucrative Opportunities in Developing Markets
In recent years, a number of population in urban cities of Asian pacific countries have been increasing on a significant pace, thereby potentially raising the need for both residential and commercial buildings. This, in turn, is weighing on same scale as increasing demand for roofing materials. In the view of growing labor concerns across the globe, market players are seeing developing countries from manufacturing perspective, where operation as well as labor costs are relatively low. Furthermore, in Middle East & Africa, demand for roofing materials is expected to grow strong going forward, owing to recent economic development in several countries.
For any queries linked with the report, ask an analyst >>https://www.futuremarketinsights.com/ask-question/rep-gb-5659
Green Roofing with High Aesthetic Appeal: A Key to Gain Competitive Edge
In order to align with sustainability trends while maintaining an aesthetic appeal of their products, roofing companies and shingle manufacturers are increasingly entering into partnership with designers to offer consumer-centric products. Maintaining a long-term relationships with customers by offering better quality products and services also remain a key focus area of manufacturers.
Table Of Content
Chapter 1. Executive Summary
1.1. Market Overview & Product Definitions
1.2. Segmental Outlook
1.3. Competitive Insights
Chapter 2. Roofing Materials Market Dynamics & Scope
2.1. Market Segmentation
2.2. Penetration and Growth Prospects
2.3. Industry Value Chain Analysis
2.3.1. Manufacturing Trends
2.3.2. Technology Trends
2.3.3. Cost Structure Analysis
2.4. Technology Overview
2.5. Regulatory Framework
2.5.1. Product Classification Codes
2.5.2. Standard & Compliances
2.5.3. Safety
2.6. Key Market Dynamics
2.6.1. Market Driver Analysis
2.6.2. Market Restraint Analysis
2.6.3. Industry Challenges
Chapter 3. Business Environment Analysis: Roofing Materials Market
3.1. Industry Analysis – Porter's
3.1.1. Supplier Power
3.1.2. Buyer power
3.1.3. Threat of substitutes
3.1.4. Threat of new entrants
3.1.5. Competitive rivalry
3.2. PESTEL Analysis
3.2.1. Political Landscape
3.2.2. Economic Landscape
3.2.3. Social Landscape
3.2.4. Technological Landscape
3.2.5. Environmental Landscape
3.2.6. Legal Landscape
Chapter 4. Roofing Materials Market Trend Analysis by Product
4.1. Market Share Analysis, 2019 – 2029
4.1.1. Asphalt Shingles
4.1.1.1. Market estimates and forecasts, 2014 – 2029 (US$ Mn) (Mn Sq Meter)
4.1.2. Concrete & Clay Tiles
4.1.2.1. Market estimates and forecasts, 2014 – 2029 (US$ Mn) (Mn Sq Meter)
4.1.3. Metal Roof
4.1.3.1. Market estimates and forecasts, 2014 – 2029 (US$ Mn) (Mn Sq Meter)
4.1.4. Plastic Roof
4.1.4.1. Market estimates and forecasts, 2014 – 2029 (US$ Mn) (Mn Sq Meter)
4.1.5. Other
4.1.5.1. Market estimates and forecasts, 2014 – 2029 (US$ Mn) (Mn Sq Meter)
Chapter 5. Roofing Materials Market Trend Analysis by Application
5.1. Market Share, 2019 – 2029
5.1.1. Residential
5.1.1.1. Market estimates and forecasts, 2014 – 2029 (US$ Mn) (Mn Sq Meter)
5.1.2. Non-residential
5.1.2.1. Market estimates and forecasts, 2014 – 2029 (US$ Mn) (Mn Sq Meter)