Future Market Insights in its latest released report projects over 3% annual growth in the global security labels market, which will propel the total market size to be over US$ 45 by 2030. The expansion of the retail sector, its remarkable evolution, and changing consumer consciousness have collectively stimulated the growth of allied industries such as labelling and packaging.
Demand to make retail more organized with improved and efficient inventory management is expected to up the demand for security labels. Future Market Insights predicts that the ever-expanding food & beverages and pharmaceutical markets will propel the demand for advanced security labels that come to RFID and NFC technologies.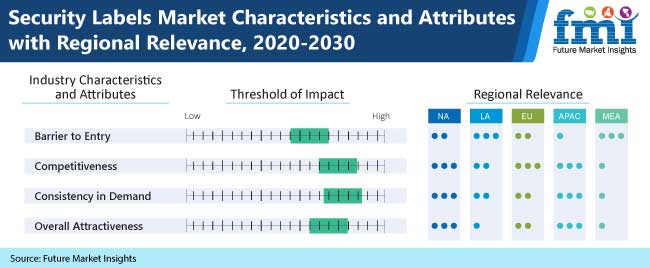 Growing e-commerce and bulk buying have significantly created a need for the right labelling to ensure proper asset tracking, tracking of warehouse locations, and safe storing of the product until it reaches the buyer. The need to differentiate products on shelves has compelled security label manufacturers to offer high-quality labels that satisfy the packaging and labelling objectives of their clients operating in retail and food markets.
Request a Complete TOC of this Report with figures:
https://www.futuremarketinsights.com/toc/rep-gb-2624
The use of security labels reduces the chances of package tampering, which ensures the right delivery of products to consumers. Security labels also allow fast and reliable authentication of genuine products, which is essential for safeguarding customer's interests.
Identification of authentic products from counterfeit one has been noted as the key market driver as it maintains product integrity. Analysts have assessed each of these factors in detail to ascertain them as powerful market forces responsible for market growth.
Key Takeaways of Security Labels Market Study
Food & beverage industry is estimated to account for more than 2/5th of the security labels demand by 2030
Barcode labels to have an incremental opportunity of US$ 5 Bn by 2030
Plastic, as a raw material, estimated to account for 45% of the global market by value and is expected to reach slightly over US$ 20 Bn by 2030
VOID pattern type is estimated to account for more than 60% by value of the market share by 2030
Boxes & cartons estimated to account for half of the market share by 2030 owing to ease of application due to flat surface of boxes and cartons
East Asia is estimated to have an incremental opportunity of US$ 6 Bn by 2030 with presence of large number of packaging products manufacturers.
Unique Identification Technology and IoT to Boost the Demand for Security Labels
RFID technology, which offers unique identification and real-time information, is expected to give security labels the much-needed overhaul. While it does increase the price of security labels, RFID enables accurate tracking of products. From the date of manufacturing to expiry, asset tracking, and inventory management, the modern security labels are expected to simplify many issues for end-users.
This technology coupled with the Internet of Things and cloud computing technologies used across verticals is expected to enhance security labelling as the best solution for ironing out the creases in logistics and supply chain. Easy access to information about products, information about warehousing, storing, and final dispatch can be easily managed with such labels.
RFID security labels are also expected to make lab work error-free as they largely remove the element of human interaction for reading, sorting, shelving. Such benefits are expected to favour market growth in the coming years.
One of the challenges that brand owners face is maintaining and developing a positive brand image. Companies strive to achieve positive impression by improving product performance, reliability, and creating value. However, counterfeit products can tarnish the positive brand image and gray market of the products can result in margin shrinkage. To overcome the challenge, security labels are anticipated to play a vital role in authentication of products. This is likely to boost the demand for security labels in the years to come," says an FMI analyst.
Impact of COVID-19 on Security Labels Market
The short term impact of the COVID-19 pandemic can be felt through the shortage of raw material and disturbed supply chains in the security labels market. While this has caused the sales to plummet, the pandemic has also highlighted the need for it security in the pharmaceutical, healthcare, and R&D industry.
The growing clinical trials and increasing diagnostics have created a dire need for security labels across labs and research and development centres. Increasing pressure to find a vaccine for COVID-19, will need accurate labelling of samples, thus generating massive demand for security labels.
Investment by governments in these clinical trials across the globe is also expected to up the demand for security labels in indirect ways.
Market Taxonomy
The global security labels market is segmented in detail to cover every aspect of the market and present complete market intelligence to readers.
By Product Type
Barcode
Holographic Labels
RFIDs
EASNFC
Others (QR codes, etc.)
By Material Type
Plastic
Polyester
Vinyl
PP
Others
Foam (EPS)Foil
Paper
By Pattern Type
VOID
Checkboard
Destructible
Others Customized Patterns
By Application
Bottles & Jars
Boxes & Cartons
Bags & Pouches
Other Containers (IBC's, Drum etc)
By End-use Industry
Food & Beverage Industry
Healthcare & Pharmaceutical Industry
Chemicals & Fertilizers Industry
Electrical & Electronics Industry
Personal Care & Cosmetics Industry
Others (Homecare, etc.)
By Region
North America
Latin America
Europe
East Asia
South Asia
Oceania
MEA
Security Labels Market Landscape
Avery Dennison Corporation, 3M, CCL Industries Inc., Brady Corporation, Zebra Technologies Corporation, Honeywell Corporation are the top players operating in the Security Labels Market. Furthermore, Covectra, Inc., UPM Raflatac, Tesa SE, Mega Fortris Group, Sato Holdings Corporation, Muehlbauer Holding AG, Invengo Technology Pte. Ltd and Smartrac Group are prominent players in the security labels market. The Tier 3 players in the market hold 63-70% in the global Security Labels Market. In conclusion, key players contribute 20-30% of the global market.
Security Labels Market Report
Future Market Insights, in its new report, offers an unbiased analysis of the global Security Labels Market, analysing historical demand from 2015-2019 and forecast statistics for 2020-2030. The study reveals growth projections on the Security Labels Market on the basis of product type (barcode, holographic labels, RFIDs, Electronic Article Surveillance (EAS), Near Field Communication (NFC) and others), material type (plastic, foam (EPS), foil and paper), pattern type (VOID, checkboard, destructible and other customized patterns), application (bottles & jars, boxes & cartons, bags & pouches and other containers), end-use industry (food & beverage, healthcare & pharmaceutical, chemicals & fertilizers, electrical & electronics, personal care & cosmetics and others )and across seven regions.