Years from now, when the world's gross population swiftly surpasses 10 billion, feeding these people will become the most critical challenge for all nations. Averting even a slight chance for such impending global starvation, governments from around the world have begun compelling farmers & agro-industrialists towards boosting their farm yield. And, a steadfast adoption of multiple smart agriculture solutions is aptly serving this purpose. The demand for smart agriculture solutions is also gaining traction among farming sectors riddled with soil & water degradation. A worldwide adoption of smart agriculture solutions, thus, ensures stability in global crop productivity and increases presence of sustainable cropland management practices.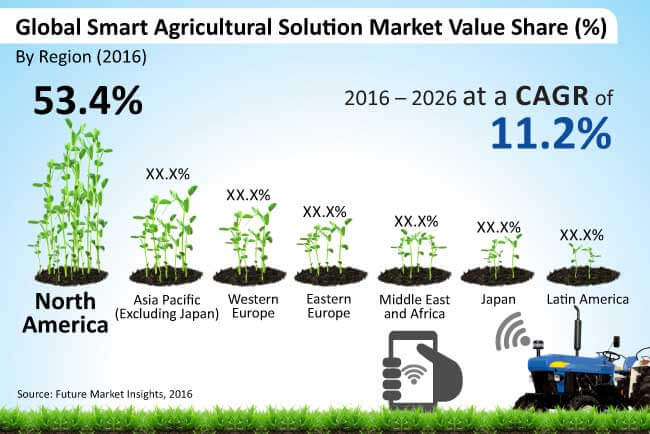 Apropos its latest research report, Future Market Insights presently values the global market for smart agriculture solutions at US$ 13,785 Mn. The report further projects that by the end of 2026, nearly US$ 40,000 Mn worth of revenues will be amassed by global smart agriculture solution market – registering an impressive CAGR of 11.2%.
According to the report, titled "Smart Agriculture Solutions Market: Global Industry Analysis and Opportunity Assessment, 2016-2026," adoption of smart agriculture solutions will keep surging on the account for wider availability of low-cost sensors, rising need to eliminate soil erosion from intensive farming, and soaring adoption of M2M-based monitoring & tracking systems. Although, companies providing smart agriculture solutions are still struggling to deploy their offerings due to lack of internet and wireless connectivity in farmlands & rural areas.
Request for a Sample Report with Table of Contents: http://www.futuremarketinsights.com/reports/sample/rep-gb-939
Global Smart Agriculture Solutions Market: Key Players & Dominant Regions
The report profiles key players in the global smart agriculture solutions market, which include, Dirt Road Data, Inc., AgJunction LLC, Iteris, Inc., Agribotix LLC, AgriSight Inc., CropMetrics LLC, Granular, Inc., Site-Specific Technology Development Group, Inc., SemiosBio Technologies Inc., and Trimble Navigation Ltd. Since these companies are based across the US and Canada, the report has unmistakably deemed North America as the world's largest smart agriculture solutions market. In 2016, more than 50% of global smart agriculture solution revenues was accounted by North America. Nonetheless, the adoption of smart agriculture solutions will gain traction in the Asia-Pacific excluding Japan region. Through 2026, the APEJ smart agriculture solution market is anticipated to exhibit revenue growth at 13.7% CAGR.
As the world showcases active implementation of smart agriculture solutions, tech companies and component manufacturers are also partaking in the market's growth. Hardware and component parts required for installing smart agriculture solutions are comparatively bringing more revenues than smart farming software. In 2017 and beyond, half of global smart agriculture solution revenues will be accounted by global sales of hardware components. Among which, more than US$ 10,000 Mn worth of GPS-enabled ranging systems will be consumed globally by the end of forecast period. Likewise, the demand for drones will also gain traction, registering a value CAGR of 12.2%.
Preview Analysis on Global Smart Agriculture Solution Market Segmentation By Component – Hardware (Sensor Monitoring System, Smart Detection System, GPS Enabled Ranging System and Drones), Software and Services (Climate Information Service, Supply Chain Management Service, Others (System Integration and Consulting Service)), By Solution – Automated Machinery Guidance Control, Tractor Collision and Obstacle Detection, Machinery Safety and Parameter Monitoring, Variable Rate Technology, Building and Premises Surveillance: http://www.futuremarketinsights.com/reports/smart-agriculture-solution-market
Based on the type of service, climate information services will gain rampant adoption, and the market will also exhibit speedy growth in demand for system integration, maintenance and consulting services. Key findings in the report also indicate that controlling the guidance of automated machinery in cropfields will be the largest application of smart agriculture solutions. Correspondingly, adoption of smart agricultural solutions is expected to gain momentum in tractor collision & obstacle detection purposes, and for variable rate technology applications.