As per a recent report by Future Market Insights (FMI), global sales of survival tools are likely to soar at 7.4% CAGR through 2030. Growth will be driven by a growing sentiment on self-protection amidst a rapidly changing environment.
In survival tools industry, which has witnessed moderate growth and expansion into the mainstream market, it is imperative for players to recognize their consumers and devise future-proof strategies (and products) to stand out among their peers.
Since January 2020, three important events have scaled up demand for survival kits – outbreak of COVID-19, bushfires in Australia, and assassination of Iranian military leader.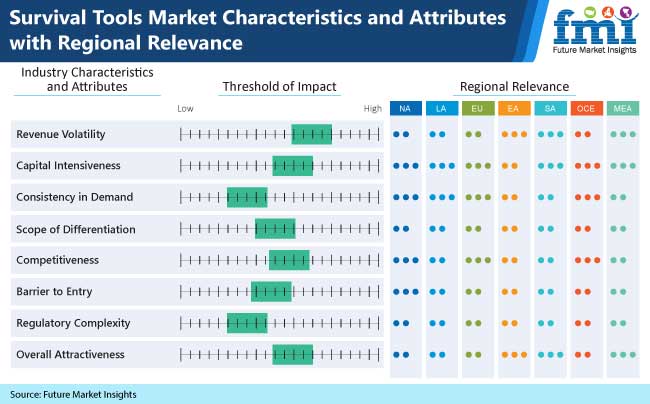 Key Findings
Pocket tools to remain preferred among consumers
Manufacturers continue to use stainless steel to develop survival tools
Adoption of survival tools to remain prominent in hiking activities
Players to invest in multi-brand stores for substantial sales of survival tools
North America and Europe to represent most lucrative opportunities for survival tools market players
"Generation X (Xers) have been key factor driving revenue leaps for survival tools market over recent past. The demographic cohort has essentially transformed the concept of 'survivalism' from hobby to lifestyle. Moreover, Xers prioritize self-reliance and resilience and are attracted towards 'survival schools' to learn to live with basics," says analyst at FMI.
COVID-19 Impact on Survival Tools Market
While many industries are striving to click revenue targets as several countries, globally, come to grips with the COVID-19 pandemic, the survival tools market has been booming. Despite survival tools industry was not prepared for catastrophe of this scale, sales remain unaffected by the onset of the pandemic.
Demand for survival tools is increasing following COVID-19 contagion. Consumers are increasingly purchasing pocket tools, first aid kits, and ropes to prepare for doomsday scenarios.
The COVID-19 pandemic has triggered drastic changes in consumer lifestyle. Consumers are continuously seeking ways to stock up on essentials such as medicines, survival kits, and food.
While certain regions of hard-hit countries are opening up, consumers are still facing dearth of all sorts of odds and ends. In addition, as various regions are being exposed to the second wave of COVID-19 pandemic, there are uncertainties regarding further tightening of lockdown restrictions.
The COVID-19 recession has reset the bars for how manufacturers engage with suppliers and consumers. As these trends sweep across market landscape, survival tool manufacturers must rethink existing operating models and supply chains.
For More Details, Ask Analyst @ https://www.futuremarketinsights.com/ask-question/rep-gb-12420
Survival Tools Market – Competitive Intelligence
The global survival tools market is highly fragmented, with several players racing towards capturing leading value share. In an effort to survive the rising market competition, manufacturers are focusing on new launches and acquisitions, for instance,
UST has developed new camping equipment that accent excellent durability and functionality. In addition, the company has started leveraging 100% recyclable packaging to its new offerings, and will phase out conventional packaging.
Tender Corporation has acquired Bushwacker Backpack & Supply, which is maker of Counter Assault label of personal-defense items such as bear spray and tools for self-defense and law enforcement.
More About Survival Tools Market?
Future Market Insights, in its new study, provides compelling insights about the survival tools market that encloses industry analysis for 2015 – 2019 and opportunity assessment for 2020 – 2030. The report offers unbiased assessment on survival tools market through five different categories – product type, material type, application, sales channel, and region. The global survival tools market research study delivers insights of pricing by different life cycle analysis, product life cycle, major market trends and technologies that are being utilized in the development of survival tools and product adoption in various end-user industries.