As per FMI – an ESOMAR-certified market research firm, the global patient lateral transfer market is expected to reach US$ 519.3 Mn by 2030.
The likelihood of patients moving and getting lifted from stretchers or bed causing back injuries, strain to caregivers and healthcare workers owing to forceful exertion, repetitive movement, and awkward posture can't be ruled out. Patient lateral transfer devices come to the rescue over here.
Patient lateral transfer devices lessen friction during transfer of patients and prove to be equally beneficial for patients.
Key Takeaways
Air-assisted transfer devices held the largest market share in 2019 and the winning streak is expected to continue in the forecast period
Asia-Pacific is looked upon as a promising market due to growing awareness about the need for patient lateral transfer devices along with improvement in healthcare infrastructure
Covid-19 to escalate the market in the year 2020, and further traction expected with the onslaught of chronic devices
Individual product promulgation is a key trend observed in the market
"The patient lateral transfer market is subject to exclusive branding by the key players. This trend coupled with the outbreak of Covid-19 is expected to propel the market in the forecast period" – FMI analyst.
Get Report Sample Copy @ https://www.futuremarketinsights.com/reports/sample/rep-gb-12381
Key Participant Insights
The global patient lateral transfer market exhibits higher growth potential along with key players projecting their brands. The competitive factors include product differentiation, technology, and competitive pricing.
For instance – McAuley Medical's Gold Rollboard, Patient Mover Slide Boards, and Handy Rollerboard Accessories, HoverMatt Air Transfer System from HoverTech, Himm-Rom's HandyTube Manual Transfer Aid and Patient Transfer Board are doing the rounds at present.
The other players are also in the race. As such, there exists fierce competition over here. If players opt for partnerships/joint ventures, the competitive landscape would take a cutting-edge turn.
The players in the patient lateral transfer market include McAuley Medical, Inc., Patient Positioning Systems LLC, HoverTech International, Stryker Corporation (Sage Products LLC), Getinge AB (ArjoHuntleigh), EZ Way, Airpal, Inc., Arjo, Medline Industries, Haines Medical Australia, Sizewise, and Prism Medical.
FMI's report offers incisive insights on the key strategies of leading and tier II patient lateral transfer market players. A detailed analysis of business and product strategies is offered in the report.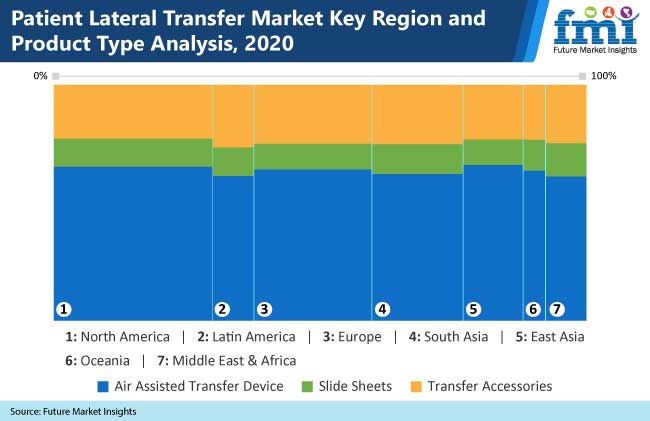 Want more insights?
Future Market Insights brings the comprehensive research report on forecasted revenue growth at global, regional, and country levels and provides an analysis of the latest industry trends in each of the sub-segments from 2015 to 2030. The global patient lateral transfer market is segmented in detail to cover every aspect and present a complete market intelligence approach to the reader.
The study provides compelling insights on patient lateral transfer market on the basis of product type (air-assisted transfer devices, slide sheets, and transfer accessories), usage type (single patient use, reusable), end-users (hospitals, clinics, ASCs) across seven regions.
Speak To Analyst For Queries about Report @ https://www.futuremarketinsights.com/ask-question/rep-gb-12381
Table of Content
Executive Summary
1.1. Global Market Outlook
1.2. Demand Side Trends
1.3. Supply Side Trends
1.4. Technology Roadmap
1.5. Analysis and Recommendations
Market Overview
2.1. Market Coverage / Taxonomy
2.2. Market Definition / Scope / Limitations
Key Market Trends
3.1. Key Trends Impacting the Market
3.2. Product Innovation / Development Trends
Key Success Factors
4.1. Product Adoption / Usage Analysis
4.2. Product USPs / Features
4.3. Promotional and Marketing Strategies
4.4. State-of-art/Evolution of Patient Lateral Transfer Replacement
4.5. Pipeline/Technology Advancements
4.6. Product Approvals and Launches
Global Patient Lateral Transfer Replacement Market – Pricing Analysis
5.1. Regional Pricing Analysis By Product Type
5.2. Pricing Break-up
5.2.1. Manufacturer Level Pricing
5.2.2. Distributor Level Pricing
5.3. Global Average Pricing Analysis Benchmark
Global Patient Lateral Transfer Replacement Market Demand (in Value or Size in US$ Mn) Analysis 2015-2019 and Forecast, 2020-2030
6.1. Historical Market Value (US$ Mn) Analysis, 2015-2019
6.2. Current and Future Market Value (US$ Mn) Projections, 2020-2030
6.2.1. Y-o-Y Growth Trend Analysis
6.2.2. Absolute $ Opportunity Analysis
Market Background
7.1. COVID19 Crisis Analysis